If you're living under the impression that the Internet is free and unrestricted, you'll be in for a rude surprise when you travel to certain countries. If you're unprepared for your business trip to China, you'll find that apps like Gmail, YouTube, and Facebook are blocked by the country's great firewall.
But geo-restrictive limitations are also sometimes imposed by the content provider in your country. Netflix, for instance, allows access to its US-based content when you're in the US. So, there's a chance that you may be deprived of your favorite show if you're taking a brief vacation overseas.
You don't want to be caught by surprise, especially when you're traveling to countries with high internet restriction. Instead, you'll want to subscribe to a VPN service, bypass geo-restrictions, and regain normal access to the Internet.
Of course, there are many virtues to having a VPN than merely streaming Netflix in a foreign country. It is the ideal protection for your devices in an increasingly menacing virtual world. It keeps you hidden from the sight of hackers and encrypts your data if it's intercepted.
CyberGhost has caught our attention as being one of the most well-rounded VPNs. While we're raving about it, we wanted you to try it out for yourself and experience how it performs before deciding if it's the right VPN for you. After all, you ought to be selective when there are hundreds of VPNs competing to get you on board as a paying subscriber.
Why CyberGhost VPN?
We've been testing numerous VPNs, and it's safe to say that CyberGhost literally puts a "wow" factor to our testing experience. It lives up to its promise to keep the Internet safe for its subscribers, by employing OpenVPN as its default protocol along with the AES-256 encryption.
Besides these top-notch securities, CyberGhost VPN is proven to suffer from no DNS-leak, a glitch that may expose the IP address of your device to eavesdroppers on the Internet. The VPN installer also passes the watchful eyes of a malware detector, so there's no worry of getting your device infected when installing the software.
At the moment of writing, CyberGhost VPN has a vast network with more than 4800 servers in 61 countries. It is also supported on a broad range of platforms, including Windows, Mac, iOS, Android, and FireTV. You can make the best use of it since a single account allows up to 7 simultaneous connections.
Some VPNs are rather ambiguous when it comes to declaring their logging policies, but not CyberGhost. It clearly states that it does not acquire or store any data that can be used to incriminate the users. Also, the company is based in Romania, and it's therefore not required to share its data with authorities.
One of the issues that irk VPN users is the client software itself. Thankfully, CyberGhost has got everything right with its software. You'll find the software intuitively designed and easy to use.
It's also both torrenting and Netflix friendly. It has a dedicated Netflix server that randomly changes its IP address to prevent being blocked by Netflix. With remarkable connection speeds, you'll have a pleasant experience streaming or file-sharing with this VPN.
The icing on the cake is CyberGhost's customer support, which is nothing short of excellent. You can get help from the live chat, or submit an old-fashioned request to its customer support. Also, it has an abundance of resources in its knowledge base that may answer your queries.
Why Try CyberGhost Free Trial?
As much as we love CyberGhost, we believe that there isn't a single VPN that's built to suit everyone. Therefore, we strongly encourage you to try it out for free before deciding if it's your cup of tea.
The only issue is, it doesn't offer a free VPN trial in the traditional sense, except for a CyberGhost Chrome extension.
However, a browser extension will not provide the full experience of a fully-fledged VPN. When you're using a VPN browser extension, only the traffic originating from the browser is protected by the encryption. You'll still be vulnerable when you're using apps like Skype as nothing else is protected.
Also, browser extensions are known to be slower than using the actual VPN software. If security is a huge concern, you don't want to leave your computer partially vulnerable by only protecting the browser data. You'll need a fully-fledged VPN to enjoy the speed, protection, and anonymity, especially if you need access to geo-restricted contents.
So, how do you try CyberGhost for free?
The answer lies in its money-back guarantee policy. CyberGhost offers a 45-day refund policy for any of its 6-months or above plans. If you intend to go by the monthly plan, you're secured by a 14-day refund period.
Taking advantage of the refund policy is the best way to try out every feature on this comprehensive VPN and make an informed decision. And regardless of the plans that you choose, you'll have ample time to test out CyberGhost.
How to Start CyberGhost Free Trial
As prudent consumers, you shouldn't take our words for granted or anyone else's. We're going to show you how you can leverage on the 45-day money-back guarantee and try out CyberGhost free account.
Follow these instructions to claim your CyberGhost free trial.
Open up the CyberGhost website on your browser. Click the Buy Now button.
2. Choose any of the plans. The 1-month plan is protected by a 14-day refund while the others have a 45-day money-back guarantee.
3. Select your payment option and complete the checkout process.

4. When you've completed your payment, you'll be brought to the completion screen, and the CyberGhost installer will automatically download. If the download didn't start, click Download CyberGhost VPN.

5. Install CyberGhost VPN on your computer/mobile/tablet.
6. Check your email for your sign-up confirmation, username, and temporary password. You'll want to change it to your preferred password. Click the Change Password button.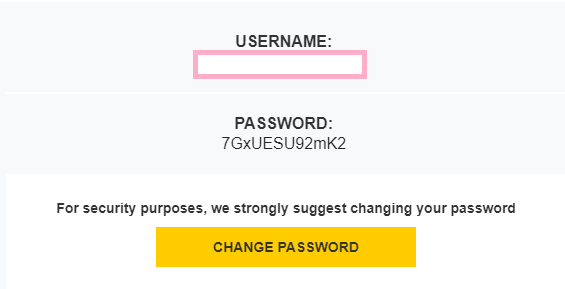 7. At the password recovery page, click the Recover button.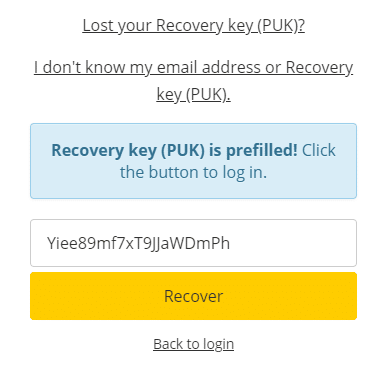 8. You'll be directed to your account dashboard. At the Account Setting, click the Edit button.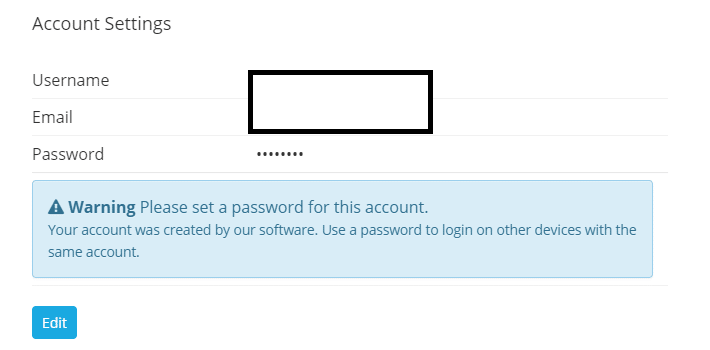 9. Fill in your new password at the dialog and click Save. Download the recovery token. It'll be useful to recover your account if you've lost your credentials.

10. Launch the VPN software and log in with your new username and password.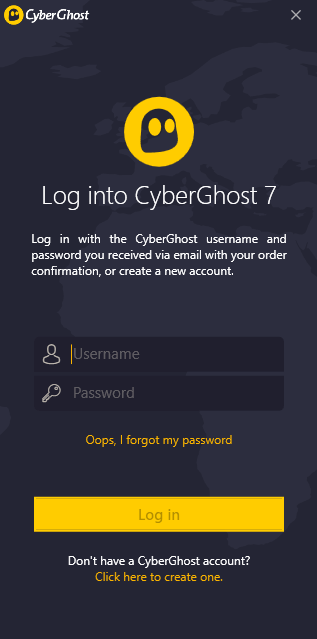 11. Click the Connect button to start connecting your device to a CyberGhost secure server. You now have full access to all its premium features.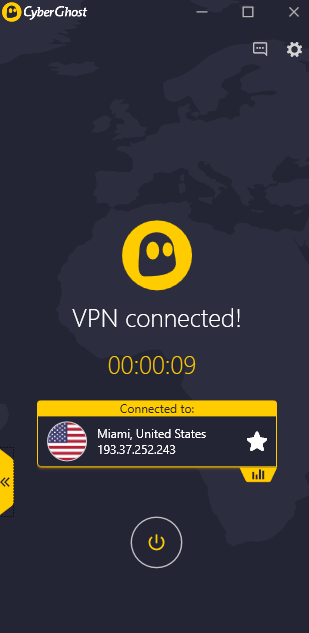 How to Claim Your 14 or 45-Day 100% Money-Back Guarantee from CyberGhost
Now that you've got a taste of CyberGhost, you'll either choose to continue the subscription or consider other alternatives. If you chose the latter, follow these guidelines to claim your refund.
Note that you'll need to submit the refund request before the 14 or 45 days are up, depending on your subscription plan. Launch the CyberGhost website on your browser. Click MyAccount and sign in with your credentials.
1.Click My Subscriptions on the left panel.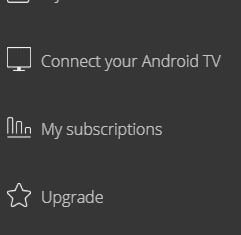 2.Click the Active button on the right of your subscription.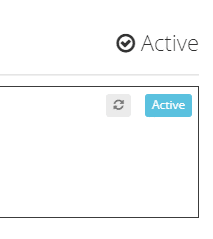 3.A detailed page of your subscription will be loaded. Click Deactivate automatic renewal and confirm the subsequent dialog prompt.

4.The next step involves getting a refund. Click Support on the left panel.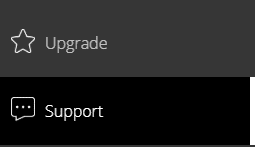 5.Click the Contact Us button to get to the support request form.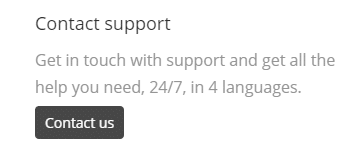 6.Fill the details in the form accordingly and write that you intend to request a refund on your paid subscription.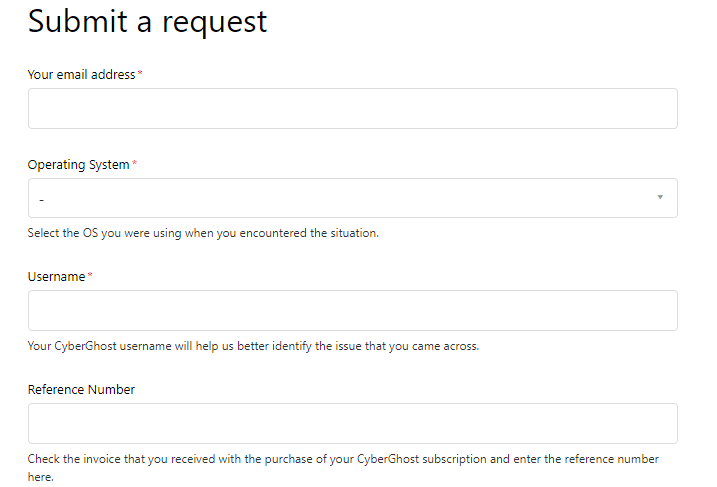 6.Check your email for a response from CyberGhost. Reply and confirm that you'll need a refund and it will be duly processed.
Summary
It's never a good idea to be caught unprepared when you're traveling to a country with strict internet censorship. You'll find yourself at a loss when the common tools and apps become nothing but dysfunctional icons on your devices.
Netflix fans should also never feel guilty for carrying on their obsession with the latest show while going on a vacation abroad. VPNs offer security and anonymity for internet browsing. Besides, it also provides access to geo-restricted contents.
CyberGhost is one of the top-rated VPNs that is pretty established in various aspects. Unfortunately, it doesn't offer a free VPN or traditional free trial. However, you can take advantage of its 14 or 45-day money-back guarantee policy by following the instructions that we've shown.
Within the trial period, you have full access to all of its features. Netflix and torrent users will be delighted at the choice of dedicated servers for streaming and file-sharing. Getting your money back is also an easy process as it has responsive customer support.
There's no reason not to try out CyberGhost as we've covered in this guide. Don't take internet freedom for granted, especially if you're planning for a trip abroad.