Being labeled as the Best VPN is no mean feat, especially in this highly-competitive industry. In this ExpressVPN review, we'll have an unbiased stance as we take a more in-depth look into its offerings, features, and services.
Table of Contents
ExpressVPN stands out amongst competitors with its blazing connection speed. Speed is crucial for VPN users, especially when it comes to streaming and downloading large chunks of files.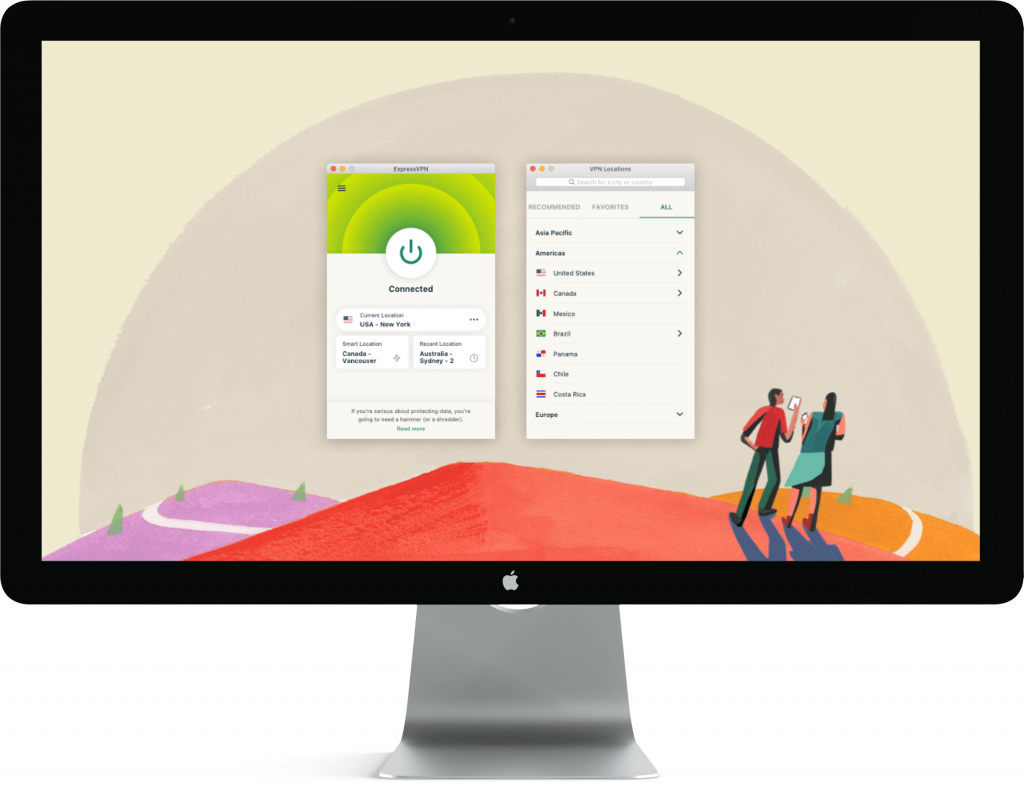 The highly-acclaimed VPN also boasts a considerably large network of servers with over 3,000 servers in 94 countries around the world. It's quite impressive when compared to other leading VPNs.
You can install ExpressVPN on popular platforms like Windows, Mac, Android, and iOS devices. But the icing on the cake is that it supports router installation which provides protection to all devices connected to it.
ExpressVPN Reviews: Are They True?
Chances are, you've come across other Express VPN reviews and have been blown away by the glowing praises heaped on the VPN provider.
It makes you wonder if such an ideal VPN exists or if it's just a marketing ploy to get more subscribers? For instance, comparison sites often claim that Express VPN boasts highly-impressive download speeds when compared to its peers.
Also, you'll find ExpressVPN reviews backing up its relatively-expensive price, which now costs $6.67/month. 
Is it worth parting with your hard-earned money for ExpressVPN? Are the recommendations by the ExpressVPN reviews justifiable to signing up for its service? 
We'll give you nothing but the truth in this ExpressVPN review.
ExpressVPN Pros
The glowing feedback garnered by ExpressVPN isn't without their merits. We've conducted our research into the company and have tested out ExpressVPN on various devices. Admittedly, we're impressed by how ExpressVPN shines in various departments.
1. Superb Connection Speed
ExpressVPN not only delivers impressive connection speed but it's arguably one of the fastest in the VPN industry. This means you can expect a pleasant browsing experience and bid goodbye to frustrations of buffering when you're streaming movies.
To prove our claim, we tested our internet connection speed before and after connecting to ExpressVPN.
Here's how the internet speed looks like without a VPN connection.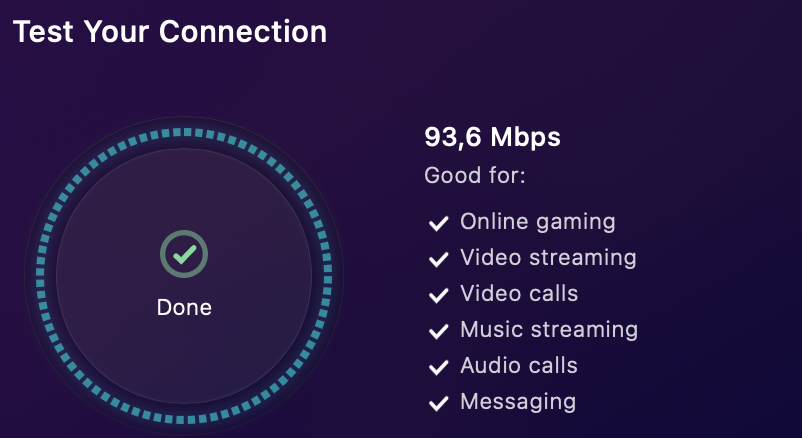 And check out the impressive download and upload speed after connecting to an ExpressVPN server in the US all the way from Europe.
2. First-Class Security
The perfect definition of air-tight security is ExpressVPN. Blazing speed aside, VPN users expect that they are protected from hackers, government agencies, and other malicious acts at all times when the connection is established. 
ExpressVPN, being one of the most trusted VPNs, has a range of features in-store to maximize security.
Top on the list is the AES-256 encryption. It is a super-secure encryption algorithm used by the US Government and other security-sensitive applications. With the AES-256 operating with a 256-bits key, the encryption is technically impossible to break even with all the existing supercomputers combined.
For data to be channeled safely to the Internet, VPN protocols are used. ExpressVPN provides a range of highly efficient and secure protocols to choose from, including the popular OpenVPN and L2TP/IPSec.
While ExpressVPN allows you to pick your preferred protocol, it also has an option that automatically selects the best protocol based on your device's security and speed.
3. Strict No-Logging Policy
When a VPN claims to have a strict no-logging policy, we found there's a need to dig deeper into the finer details. You wouldn't want to be blindsided by VPNs with a dubious logging policy.
Thankfully, ExpressVPN has a transparent and well-defined logging policy. On its website, ExpressVPN claims that it doesn't store any sensitive information that may compromise the privacy of its users.

Every VPN needs to store a minimal amount of information to facilitate the smooth operation of the service and support. Likewise, ExpressVPN does store some information that is highlighted on its website.
After looking into the fine print, we found nothing suspicious with its logging policy.
4. Extensive Features
VPNs are not perfect, and ExpressVPN is well aware of the fact. Instead of being in denial, ExpressVPN has built a couple of neat features into its client software to mitigate potential issues on the service.
The Network Lock is ExpressVPN's version of the kill switch. In the event of a dropped connection to the VPN server, the Network Lock disables all online activities. By halting internet connection, none of your credentials will be exposed to the public.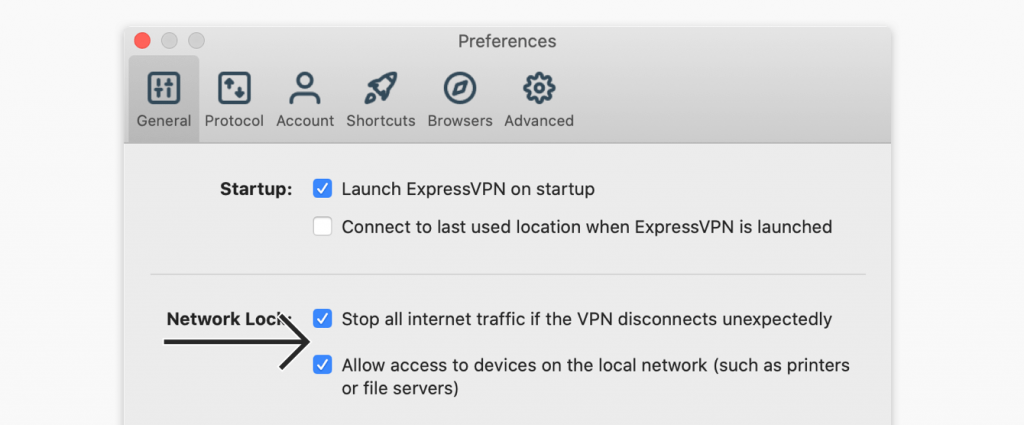 ExpressVPN also features a Split-Tunneling mechanism. In typical VPNs, the connection between a device and the internet is tunneled through a VPN server. WIth Split Tunnelling, you can configure apps to go through a VPN server or to connect to the Internet directly. This is because some apps don't function well with a VPN connection.
5. Supports A Broad Range Of Platforms 
ExpressVPN is truly a versatile VPN when it comes to compatibility. Besides the popular operating platforms mentioned (Windows, Mac, iOS, Android), ExpressVPN works on Linux, Chromebook, Nook, Kindle Fire, and Routers.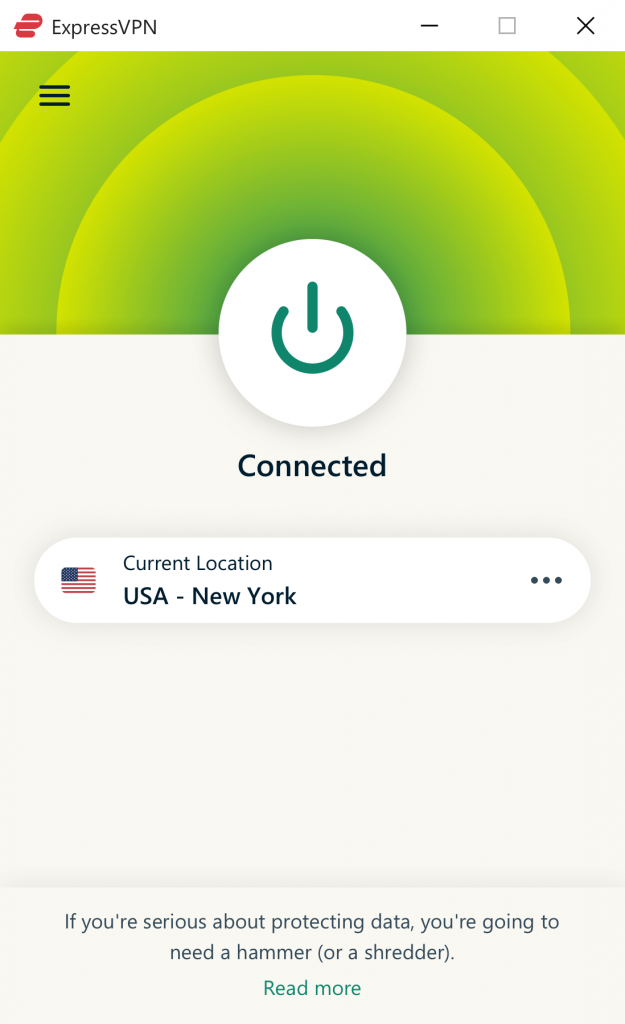 Not all VPNs can be installed on routers. By providing this option, ExpressVPN enables protection to every device that is connected to the router.
You can also download ExpressVPN browser extensions for Chrome and Firefox. However, we would like to point out the fact that VPN browser extensions only protect traffic from the browser and not other apps in the device.
ExpressVPN also makes it easy for gaming consoles and smart TVs. It can be installed on PlayStation, Nintendo Switch, Xbox, Apple TV, Amazon FireStick and Samsung SmartTV.
With a little guidance, you can connect Chromecast, Roku, and Nvidia Shield to ExpressVPN too.
You don't get that many VPNs supporting such a diverse range of devices. ExpressVPN has been more than impressive in this respect.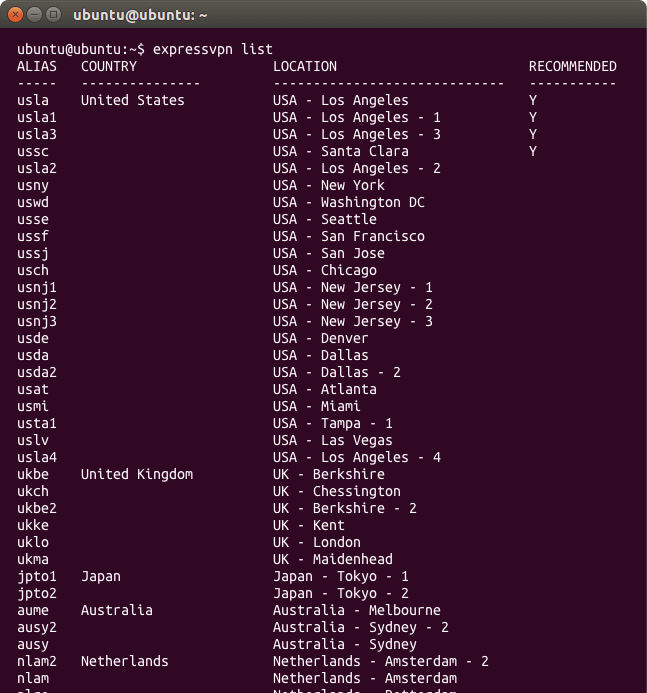 6. Unblocks Netflix
It seems that Netflix-support is a gem for fans of the streaming giant. However, as Netflix is fine-tuning its server to ban VPN server connections, few can state such claims.
ExpressVPN is one of the few VPNs that have the upper hand in securing a Netflix connection.
As ExpressVPN doesn't explicitly state its support for Netflix-access, we had a quick conversation with the customer support and confirmed our findings.
Coupled with ExpressVPN's impressive connection speed, Netflix fans will have a pleasant experience streaming their favorite shows.
7. Torrenting-Friendly
As threats of cyberattacks are increasing, the torrenting community has a greater need to stay safe. Using a VPN seems to be the perfect solution as it masks the IP address of the torrent users.
ExpressVPN is a torrent-friendly VPN provider. You can be assured that you remain safe from hackers when sharing files amongst other P2P users. To do so, simply connect to any ExpressVPN server before you launch the torrenting software.
To be safe, ExpressVPN recommends that you confirm that your IP address is masked before you use a torrenting software.
While we don't condone illegal file-sharing, none of your torrenting activities on ExpressVPN are traceable by ISP and government agencies. To be extra-safe, make use of the Network Lock feature.
8. No DNS and IP Leakage
DNS and IP leaks are notorious privacy issues that plague VPNs. These problems inadvertently expose the IP address of the users even when they are disconnected from the VPN server. It is the last thing you'll want to suffer from after subscribing to a service that is supposed to provide you absolute privacy.
Thankfully, ExpressVPN suffers neither DNS nor IP leaks.
You can test for IP or DNS leakage with IPleak.net. When connected to ExpressVPN, you shouldn't be getting your original IP address on the diagnostic screen.

9. Easy to Use
VPNs employ complicated technology to protect their internet users. However, VPN software need not be complicated.
ExpressVPN proves that it's scoring the right points again as installing and connecting to the VPN server on its app is a breeze.
With the controls intuitively designed, you don't have to read pages of user guides before using it.
10. Responsive Customer Support
Customer support, or the lack thereof, has been punching holes in the reputation of some VPN providers. Thankfully, you can expect helpful and responsive customer support from ExpressVPN.
While the ticketing system remains part of ExpressVPN's support mechanism, you can opt for the quicker 24/7 live chat support. We've tested out asking generic questions on the live chat support, and we can assure that you're not chatting with a bot.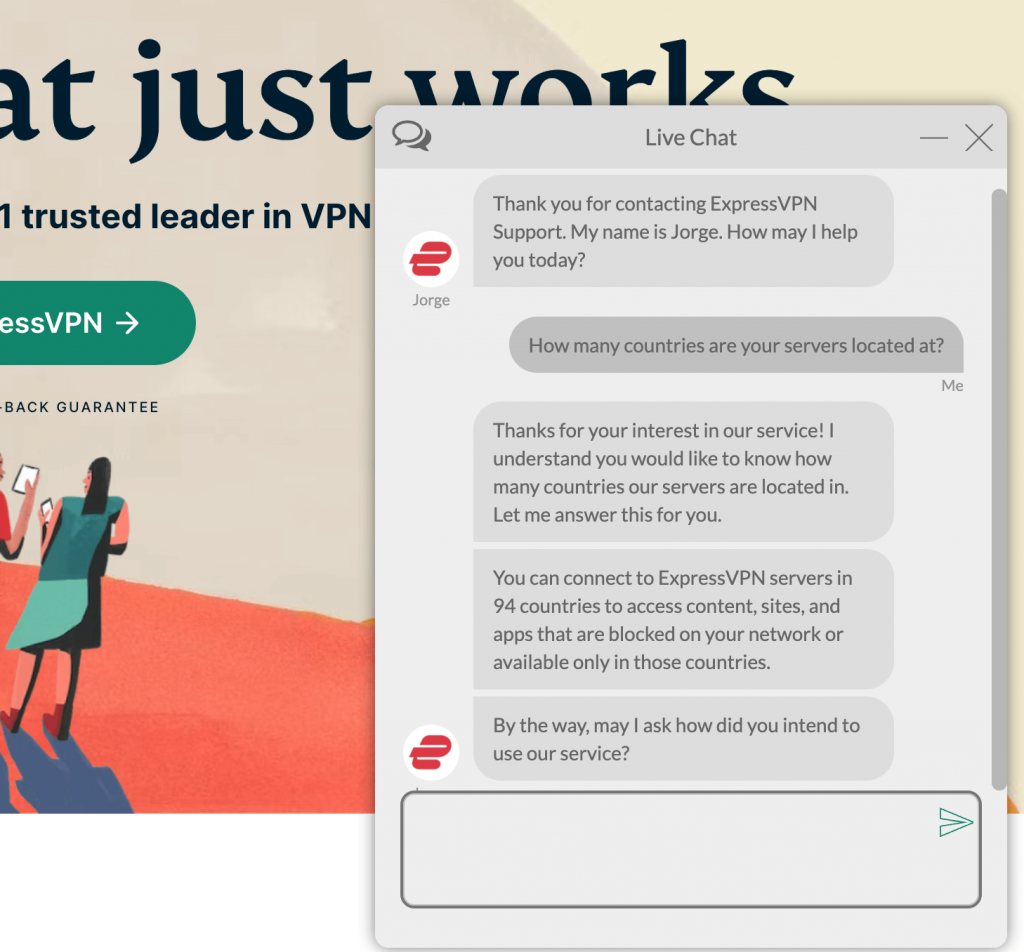 Knowing that you have instant access to support is a plus point when it comes to choosing a reliable VPN and is one of the factors that makes the cost worth it.
11. Safe Jurisdiction
The fact that ExpressVPN is based in the British Virgin Islands is a relief to many users. The choice of location excludes ExpressVPN to data retention laws. In other words, no government agencies have authority in requesting the handover of data stored by ExpressVPN.

Of course, ExpressVPN has a strict no-logging policy in place, which means it couldn't turn in data that it didn't have. But being located in the British Virgin Islands prevents occasional legal harassment by intelligence agencies.
12. Trusted Server Technology
The server technology employed by ExpressVPN deserves mention as it enhances the privacy protection of its users. Unlike typical VPN servers, ExpressVPN uses servers that don't store information on hard drives.
Instead, all of its 3000+ servers rely on RAM which doesn't retain data when the power is switched off. This means that all of the servers will begin in a fresh state upon a power reboot. With no data being retained, the risk of a data breach is drastically reduced.
13. Multiple Device Connection
The average number of internet-connected devices owned by an individual has increased, and ExpressVPN has matched the trend by increasing the concurrent connection to 5 devices. 
You can connect to ExpressVPN from a computer, iPhone, SmartTV, and a couple of other devices with a single paid account.
ExpressVPN Cons
It seems that ExpressVPN has done a great job of impressing us. Is it too good to be true? After much deliberation, the only complaint that we have is the rather high cost of ExpressVPN.
1. Costly Monthly Plans
To get all the features and benefits of ExpressVPN, you'll have to subscribe to any of the 3 advertised plans. ExpressVPN has a 12-months plan that costs $6.67 per month. Other options are a 6-month plan costing $9.99 and a $12.95 monthly plan.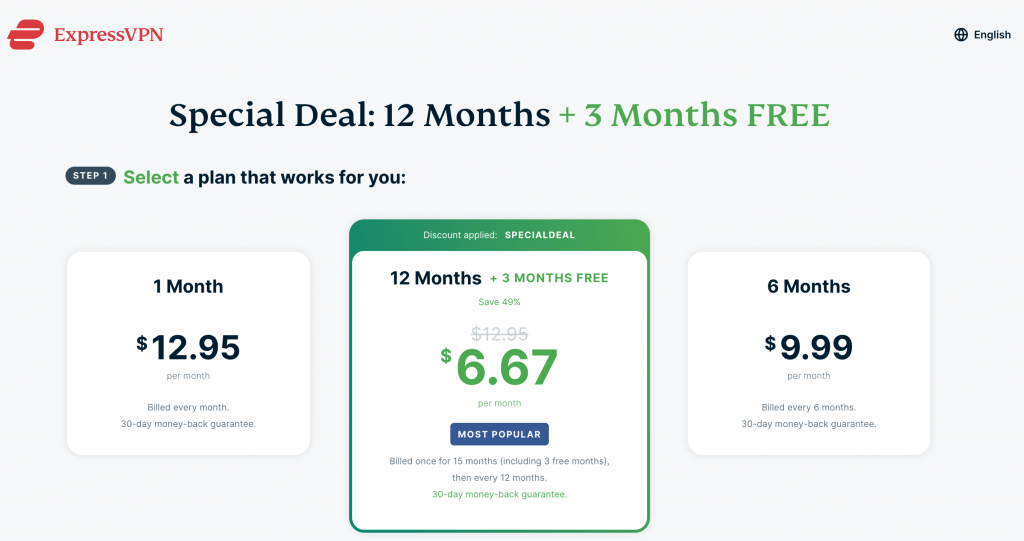 In all honesty, ExpressVPN subscription fees are on the high side amongst the top VPNs. It isn't meant for users who are on a tight budget. Considering that ExpressVPN has all the features that make a great VPN, forking out an above-average price is justifiable.
The good news is, you can test ExpressVPN without risking your hard-earned cash. ExpressVPN offers a 30-day-money-back guarantee policy for any of its subscription plans. That's more than enough to test out every feature on the VPN software.
2. No Way to Test Before Paying
Unlike it is with some competitors, ExpressVPN won't even let you take a look at its features before paying. When you download and first open the app all you get is a sign-in form, where you can put in your code (which you get after paying).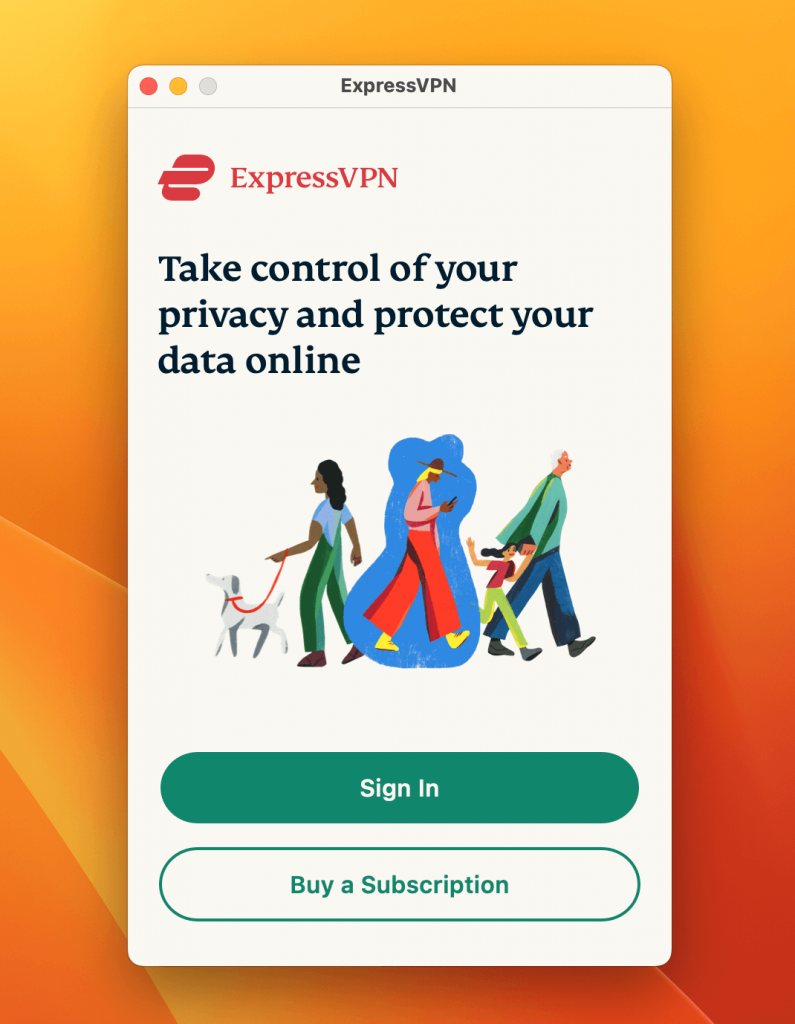 While the 30-day money-back guarantee helps here a bit, it is still is kind of suspicious for most people that you can't even see the UI before you give your money to ExpressVPN.
What Do People Say About ExpressVPN?
ExpressVPN has a great rating of 4.7/5 on Trustpilot (with more than 18,000 reviews). Which certainly says a lot about its popularity and quality.

On Google Play, the app has more than 50 million downloads, with an average rating of 4.3. And on M App Store ExpressVPN is rated 4.7.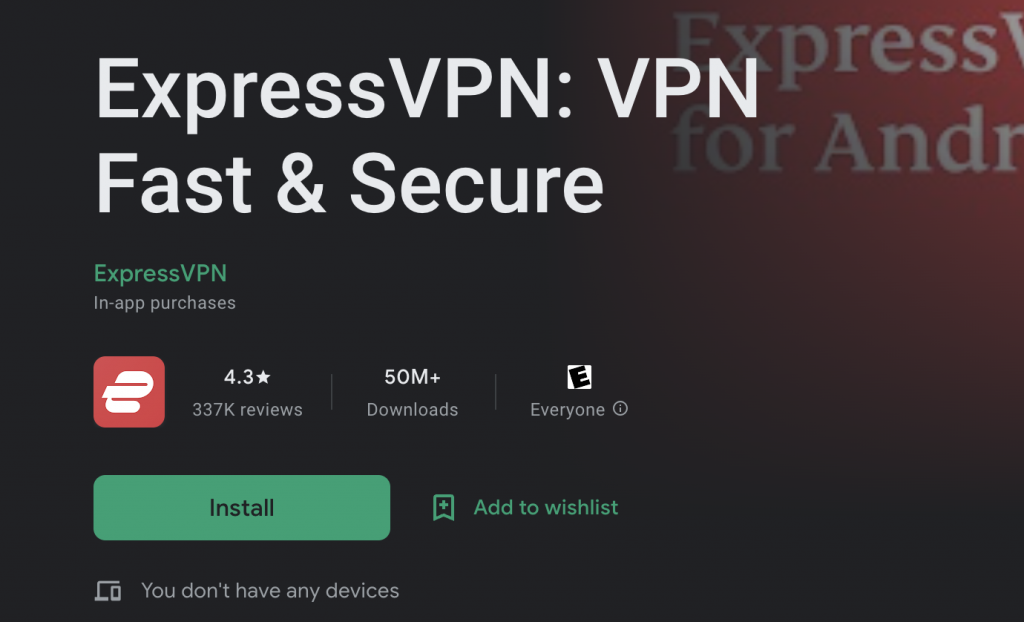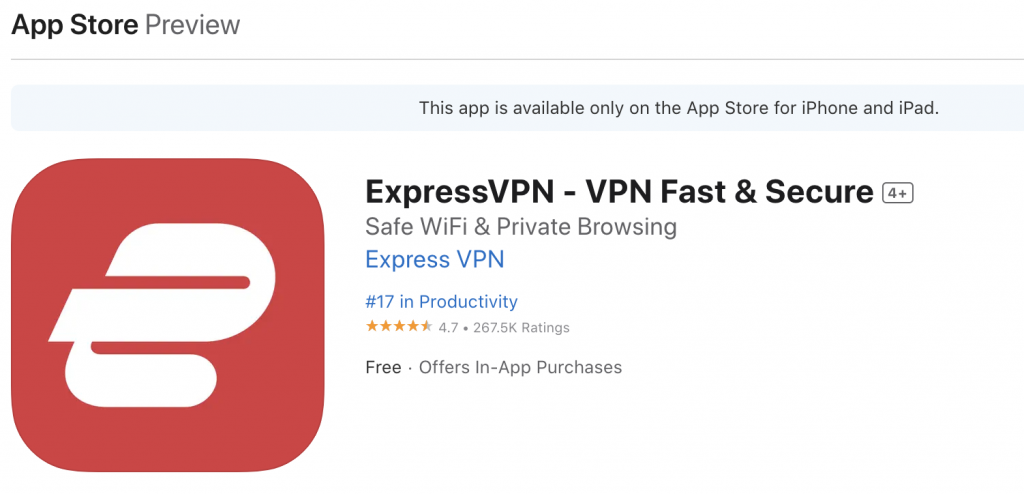 Do We Recommend ExpressVPN?
ExpressVPN has everything needed to live up to its status as one of the best VPNs. On top of the military-grade encryption, ExpressVPN relies on its Trusted Server Technology to protect the privacy of its users.
It's rare for us to review a VPN that supports a diverse range of platforms yet remains user-friendly. With features like Network Lock and Split Tunnelling, ExpressVPN gives you additional protection and flexibility on top of the fundamental VPN technology.
We're also impressed by how ExpressVPN can easily unlock Netflix libraries in various countries. Of course, its fast connection speed has convinced that ExpressVPN is truly value for money.
You don't get to see many VPNs that boasts convincing performance in so many areas. Do we recommend ExpressVPN?
Of course, it's a solid Yes.