If you feel annoyed when someone peers over your shoulder to read your email, you ought to be alarmed that possibly hundreds of hackers may be scrutinizing it word by word as you hit the send button. The Internet is only as safe as you believe it is.
With data breaches occurring at data centers and news of online hacking victims catching the headlines, it pays to be prudent when you're on the web. These days, internet security comes in the form of a VPN or virtual private network.
A VPN keeps you off the radar from the watchful eyes of hackers by encrypting every single bit of data exchanged between the device and the Internet. It also ensures your privacy by using the IP address of the virtual servers in various countries instead of the device.
The growing concerns of internet security or rather the lack thereof, has seen hundreds of VPN service providers launching their services. Today, you're spoilt for choice when it comes to getting a VPN, and that introduces another problem on its own.
Of course, you can leverage on the free plans that some VPNs offer but they often have limited features and don't provide you with the depth of experience enjoyed by paid subscribers. One such VPN has caught our attention, and it's none other than Hotspot Shield.
Trying out a premium service is the best thing to do before committing financially to a VPN.
We managed to try out the premium version of Hotspot Shield for free, and we'll guide you through the steps on how to do that in this article.
Table of contents:
Why Hotspot Shield VPN?
With the huge number of VPNs vying for attention, Hotspot Shield is one of the few that stands out. For a start, it has a massive user base that crosses the 650 million mark, and it has been operational since 2005.
Hotspot Shield boasts a sleek VPN client software, which is easy to install and use. Of course, the fundamental value of a VPN is its inherent security, and Hotspot Shield is equipped with a proprietary VPN protocol that offers both security and performance.
You can expect reasonably quick connection speeds when you're connected with Hotspot Shield to its numerous servers. This is a prerequisite for torrenting as well as streaming content from Netflix, which are both supported by Hotspot Shield. You can also expect a good number of servers supporting Netflix.
Your privacy is assured as Hotspot Shield has more than 2,500 servers in 25 countries. Also, Hotspot Shield supports devices operating on popular platforms, including Windows, Mac, iOS, and Android. You can also connect up to 5 devices to the VPN on a single account.
While Hotspot Shield is based in California, it has a strict no-logging policy and history has shown that it has never submitted user data to the authorities.
Of course, customer support plays a crucial role in ensuring a pleasant experience with a VPN, and Hotspot Shield doesn't disappoint. If you run into trouble with the service, you can contact the customer support on a 24/7 live chat or the conventional contact form.
Why Try Out Hotspot Shield's Premium Version for Free?
Like most VPNs, you need to be a paid subscriber to enjoy the unlimited features of Hotspot Shield. While it does have a FREE mode, you shouldn't be making a decision to subscribe based solely on that. That's because the free version of Hotspot Shield offers a very limited experience.
In Hotspot Shield's FREE mode, you're only able to access a single virtual location in the US. Also, you'll have advertising banners interrupting your browsing experience. It can be annoying when you're trying to stay away from ads in any form.
Users of the FREE mode are also limited to 500 MB of download capacity per day, which rules out enjoying contents like Netflix. Also, you won't have the privilege of the live chat and email support if you're using the non-premium version.
To be frank, we strongly discourage you from basing your judgment on the free mode of Hotspot Shield as the experience is very limited.
Instead, you'll want to sign up for the Hotspot Shield premium account and try out the VPN without restriction. And if you're worried about parting with hard-earned money before making a judgment, we've got you covered, or at least Hotspot Shield does.
When signing up for the first time, you get to enjoy a 45-day 100% money-back coverage on any of Hotspot Shield's premium plans. You'll be getting full access to all of its servers in 29 locations, unlimited data bandwidth, and live chat customer support.
On a premium account, you'll also be able to try out 5 different devices with the VPN. Of course, your browsing experience will not be interrupted by advertisements, unlike in the free mode.
If you're happy with Hotspot Shield, you can continue with the premium plan after the 45 days trial period; else, you can request a refund from its helpful customer support.
How to Activate Hotspot Shield's Free Trial
As promised, we'll guide you through the process of claiming your Hotspot Shield free trial by leveraging its 45-day money-back guarantee policy. That's ample time to check out each of its features and decide if it's the right VPN for you.
Follow this step-by-step guide, and you'll be getting the full protection of Hotspot Shield in no time.
1. Open Hotspot Shield homepage on your browser and click on Pricing on the top menu.
2. On the pricing page, choose any one of the subscription plans. They are all protected by the 45-day money-back guarantee policy.
3. Enter your valid email address to proceed.
4. Choose your preferred payment mode from Credit Card, Paypal or Other supported methods.
5. You'll receive an email with the link to activate your Hotspot Shield premium account. Follow the instructions to activate your account.
6. After activating your account, you'll be able to access your Hotspot Shield dashboard. Download the VPN for your device's operating system. In this case, we're downloading Hotspot Shield for Windows.
7. Once the download is complete, install Hotspot Shield on Windows. Upon installation, launch the VPN and enter your login credentials. You now have unlimited access to Hotspot Shield premium.
How to Claim Your 45-Day 100% Money-Back Guarantee From Hotspot Shield
If you're happy with Hotspot Shield, feel free to continue the subscription. Else, you can request a full refund within 45 days of your sign up date.
Thanks to its responsive customer service, getting a refund from Hotspot Shield is easy. You can ask for a refund in the live chat or send an official request to its customer support.
In this article, we'll guide you on initiating a refund process on its support form.
1. Open up Hotspot Shield's home page and click Support on the top menu.

2. In the support page, click Contact Support on the right.

3. You'll be brought to a submission request form. Select "Purchase-Related" from the drop-down box.

4. A detailed submission form will be loaded. Insert your email address and fill in the description stating that you'll like to cancel your subscription and request for a refund. Click Submit.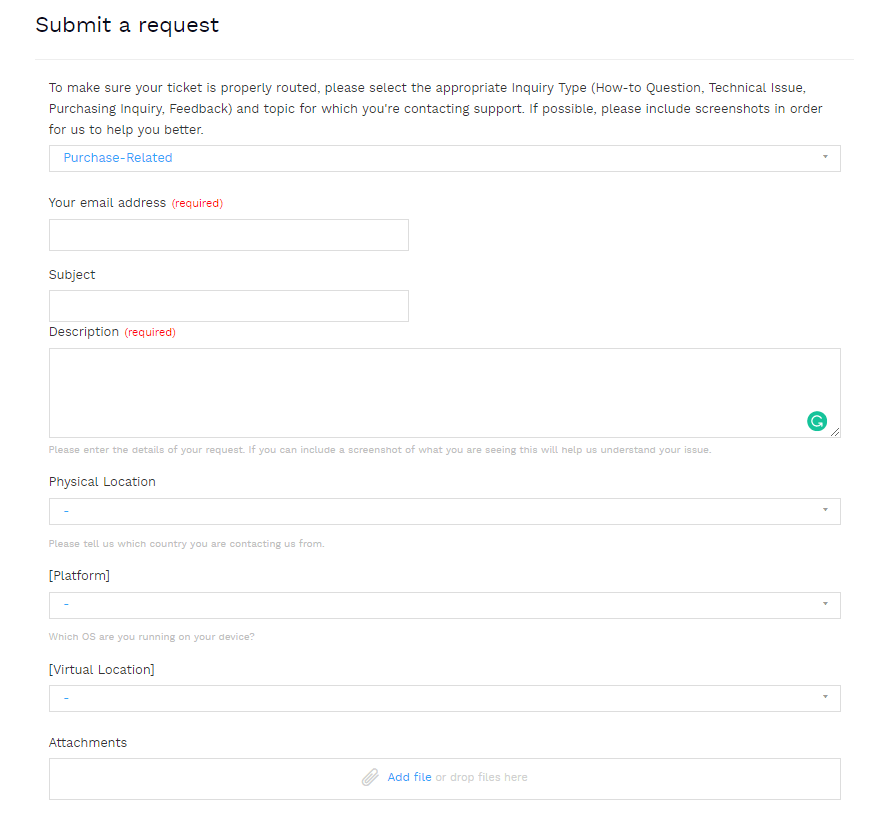 5. You'll get a reply from Hotspot Shield's customer support within 24 hours. Confirm that you are canceling the premium subscription and ask for a refund.
Once that's done, your subscription will be canceled and you will get the refund.
Summary
Whether you're trying to stay safe on the Internet or hope to catch your favorite show on Netflix while you're abroad, getting a VPN helps. Hotspot Shield is one of the top-rated VPNs that you ought to try.
While Hotspot Shield offers a free mode, it is quite limited in features and won't be a great way to test the full capability of the VPN and if it suits your requirements. The best way to check out Hotspot Shield is to sign up with one of its premium plans and get unlimited access.
Before you join its 650 million paid subscribers, you ought to try all of its features risk-free. We've shown you how you can easily claim your Hotspot Shield free trial and be protected by its 45-day money-back guarantee.

If you don't feel that Hotspot Shield is right for you or you want to check out other VPNs, you can request a full refund, and it will be processed in a short period. However, if you're happy with HotSpot Shield, you can choose to continue with the subscription. With absolutely zero risks and a promise of a full refund, you should sign up for a free trial account now.