If you're reading this article on your mobile, you ought to be concerned. Unlike what you think, your latest Android phone may not be as secure as you've imagined. In fact, it is safe to assume that mobile phones are less secure than computers. The choice becomes very simple: to use free (or paid) VPN or not.
Mobile phone users have greatly outnumbered people using conventional computers. Such a trend has resulted in security concerns as cyberattacks on mobile phones, especially those operating on Android has been increasing at an alarming level.
As sophisticated as your Android phone is, it is a sitting duck in the vast network of the internet. That's because its IP address is an open book for the public and the data exchange between the device and web servers can be intercepted and interpreted easily.
To keep Android phones safe, users have been turning to VPNs or Virtual Private Network. These services enable them to keep their online activities from the prying eyes of both hackers and government by cloaking the IP address of the phones and also employ some of the most secure encryption techniques in the industry.
Android users have also flocked to install VPN to gain access to geo-restricted contents. This means you can access Netflix US contents even if you're traveling abroad.
In this article, we'll guide you through in choosing the right VPN for your mobile and present you with a list of the best free VPNs that work on Android:
Why You Need a VPN For Your Android Device
For most individuals in today's highly-connected world, a couple of minutes of internet outage is unthinkable. The same applies to leave your home without your mobile phone for hours. If anything, an average individual spends more than 4 hours a day on their mobile phone.
And with high-speed public WiFi easily available, you're always connected to the internet, one way or another.
While the internet connection is increasingly fast and reliable, the risk of cyber-attacks has grown exponentially too, particularly if you're connected to a public WiFi. Public WiFi is notorious for offering little to no security features like encryptions, leaving you exposed to malicious hackers on the prowl.
As we've mentioned, installing a VPN is handy in ensuring your online safety. But when it comes to VPN, you'll be spoiled for choices as there are hundreds of competing products available.
Some of the factors that determine a good VPN is encryption, speed, user-friendliness, and Netflix-ready. The latter is crucial if you're hoping to use a VPN to access Netflix US when you're abroad.
Also, you'll want to choose between paid and free VPNs. While we have always stressed that paid VPNs offered the most secure protection, some free VPNs are decent choices when you're tight on budget.
With that said, free VPNs are usually limited in their features such as speed and the number of VPN servers. But the fundamental security of a VPN should never be compromised whether in free or paid versions.
The Best Free VPN for Android
Here are some of the best free VPN for Android to protect your online safety.
1. Hotspot Shield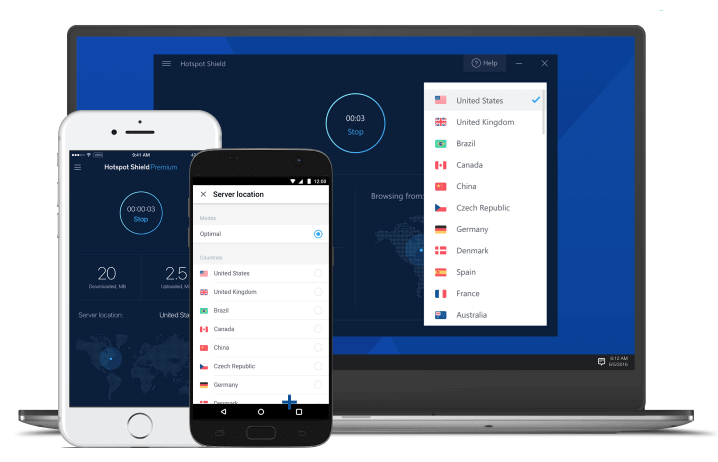 Hotspot Shield is known for its blazing speed and a futuristic-looking user interface. While the desktop versions are available with premium pricing, there is a free version of Hotspot Shield downloadable for Android. It is generally a great VPN for torrenting or Netflix access although these can be limited in its free app.
After downloading the Hotspot Shield Free, you'll be protected considerably by the VPN's security feature. It employs AES-256, a practically unbreakable encryption technique to conceal your data from the public. When launching the free VPN, you're limited to only one server in the US.
While the free version of the VPN is not as fast as its paid counterpart, you can expect a decent browsing speed on your mobile. The free VPN also caps you to a limit of 1GB of data daily, which effectively means it isn't suitable for content streaming. Besides that, you're also limited to a single connection instead of five of the paid version.
2. TunnelBear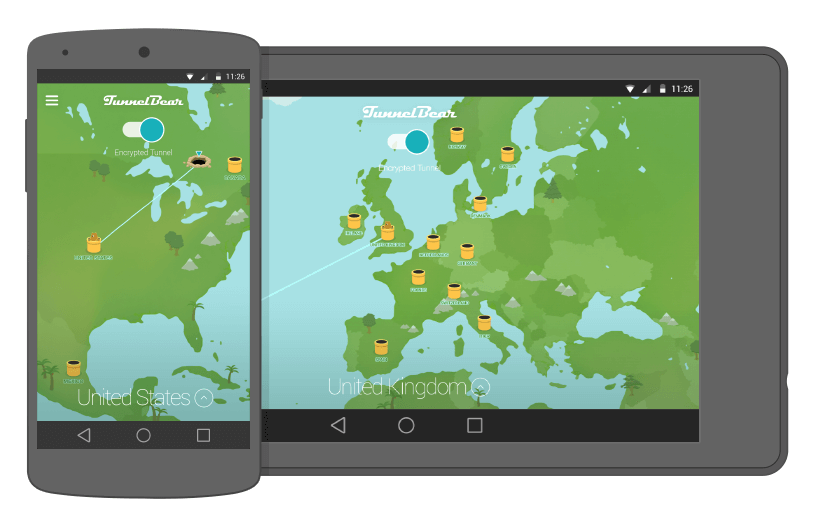 If you need a free VPN on Android that is as secure as its paid version, you'll want to check out TunnelBear. This VPN is available for free, and its only limitation is the 500MB per month data cap. Other than that, the free version is intended as a mean for users to try out the different features in TunnelBear.
You can be assured that you'll stay safe and anonymous on your mobile with TunnelBear. It uses the OpenVPN protocol and AES-256 encryption, a combination that ensures total security with a VPN. The TunnelBear also doesn't suffer from any DNS leak, which may otherwise compromise your location.
Tunnel Bear also has incredibly responsive customer support, although the same cannot be said of its connection speed. You may have trouble streaming media on TunnelBear, and it doesn't support Netflix, even on its paid version. However, if security is your main concern, this VPN is for you.
3. Assguard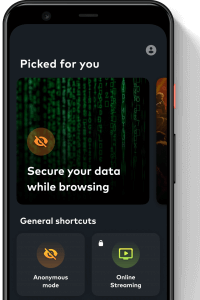 With a tongue-in-cheek name, this app is a powerful tool when it comes to UX in VPNs. Usability is Assguard's best part. Any activity user might be interested in — they may find it among numerous shortcuts. Whether it is about secure and anonymous browsing, or unblocking VoIP, social networks, watching US Netflix. It's equally user-friendly for users acquainted with VPN and beginners who strive with adding this service to their favorites. For those still hesitant about which features they need to enjoy their VPN experience, Assguard has clear tips and guidance.

Assguard's Android client is intuitive enough to suggest the most optimal server based on your location to ensure whenever you activate shortcuts, you connected right away. It's currently available only in 18 countries, but the team promises more updates in 2020.
4. ProtonVPN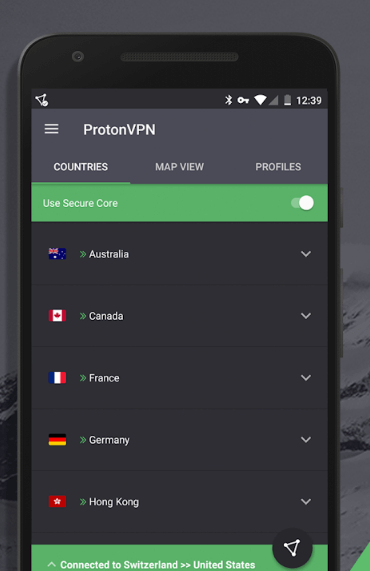 When the best of CERN scientists and Harvard Ph.D. researchers decide to build a VPN, the result is a VPN with impenetrable security in the form of ProtonVPN. It combines OpenVPN and AES-256 to provide bank-like security on your mobile phone. You're also assured that none of your online activities are logged in its policy.
The free ProtonVPN on Android is a limited version of its paid counterparts. One of the key restrictions that may affect browsing experience is its connection speed. You're only able to get medium connection speed in the free VPN. Also, you're limited to 1 device and access to servers in 3 countries.
While there is no browsing limit on the free version, you may have issues in streaming movies due to the average connection speed. You can expect timely customer support though from this VPN that excels in top-notch security.
5. FinchVPN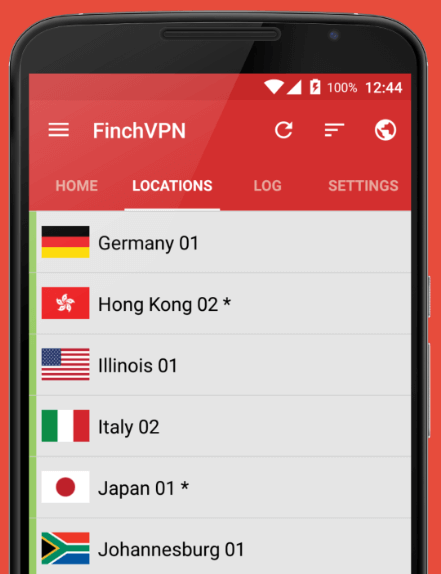 Data quota for free VPN can be highly restrictive for browsing experience. However, FinchVPN is particularly generous when it comes to its free version of VPN app for Android. Signing up for the free plan gives you 3GB of data per month, which is considerably higher than some of its competitors.
The free plan also limits you to the number of servers that you could use to 5 instead of 20 for premium users. Furthermore, none of the free servers can stream contents from Netflix. Surprisingly, FinchVPN has a decent connection speed when tested from various servers.
FinchVPN supports both OpenVPN and the older PPTP protocol. You'll want to choose the former as the latter is known to have known security issues and can be exploited. As for the user interface, you can expect a simple and functional app that is easy to navigate.
TOP 5 Paid Android VPN Apps
Summary
It's a fact that most Android phone users are unaware of the risks they are exposed to when they're connected to the internet. The fact that they're frequently connected to public WiFi further puts them at the mercy of malicious hackers.
VPN is an excellent tool in helping Android users to stay safe online and the increase in the various VPN providers only show that the security threat is real. By cloaking their IP address and encrypting data that flows into the internet, users are no longer vulnerable to cyberattacks.
For some users, choosing a VPN for Android can be a dilemma. While paid VPNs offer the best security and features, financial constraints can often influence their decision. Meanwhile, some users would like to test out the features and pay only if they're happy with the experience.
While free VPNs may have limited features, the security of the service cannot be compromised. This means that the free VPNs need to have highly secure encryption, which naturally points to the AES-256 and secure OpenVPN protocol.
We've listed some of the best free VPN that is compatible for Android, and they are highly recommended if you are hoping to stay off the radar of hackers and nosey government.