Are you looking for information on what is the best Chrome VPN (or whichever web browser you are using)? If you are keen on upholding your browser security and internet privacy, then VPNs (Virtual Private Networks) are something that you will want to use. Fortunately, you will find that there is no shortage of options when it comes to choosing a good VPN for popular web browsers. You just need to know where to look and what to look out for in the process.
What is a VPN in the Browser?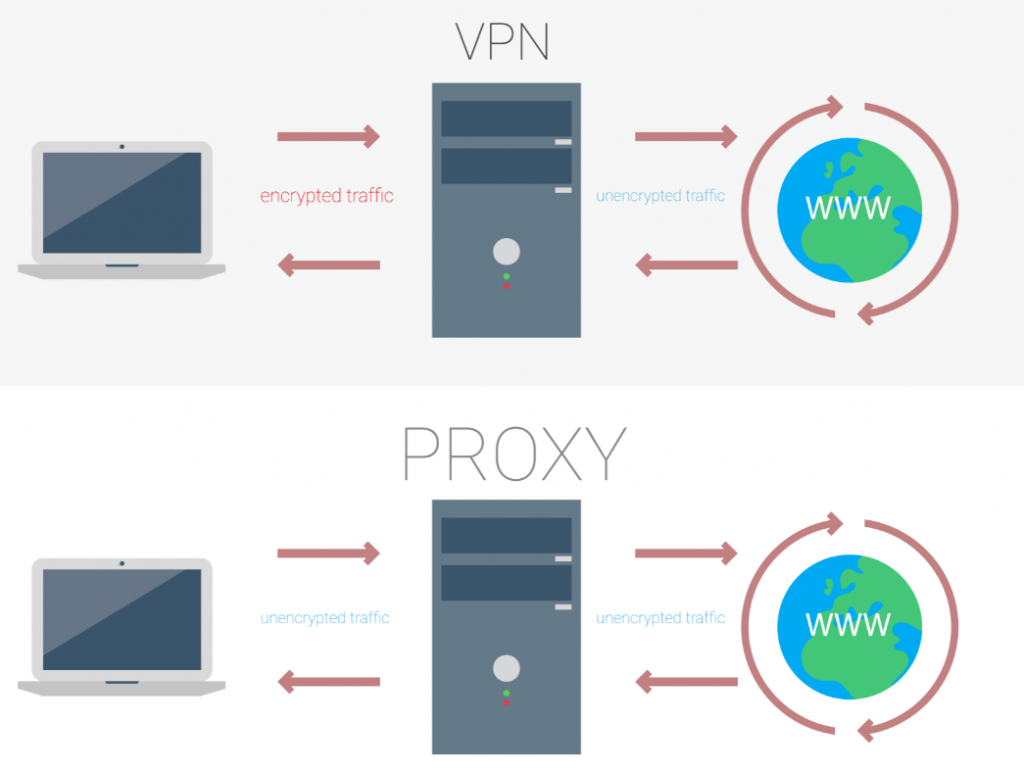 Strictly speaking, Browser VPNs are not Virtual Private Networks but rather a type of add-on extension that redirects the flow of traffic in and out of the web browser to an external proxy server. They differ from that of full-pledged VPN clients in that data between the user and the proxy server is mostly unencrypted save for the browser application. This means that a VPN extension has no control over the internet activity for other applications, such as online games, file sharing apps, email clients, and telecommunication apps
Another significant difference when it comes to using a VPN extension is that it cannot launch a VPN connection all by itself and, instead, creates a proxy connection that routes browser data through a proxy server. As a result, VPN extensions are widely regarded as less secure compared to VPN clients that encrypt all forms of internet data when active. Nevertheless, VPN extensions are an excellent alternative for users who are solely concerned about encrypting and masking browser traffic to protect their personal information or access geo-blocked content.
Browser proxy extensions are also a lot more straightforward and handy to use compared to VPN clients as there is no need to fumble over the settings on your device nor download and set up a separate application for secure web browsing.
Best VPN for Chrome
Most people use Google Chrome as their preferred web browser, and for a good reason. For one thing, Chrome is highly versatile thanks to a myriad of browser extensions that people can use to suit their browsing preferences. Among these are add-ons from reputable VPN Companies, which include the following:
uVPN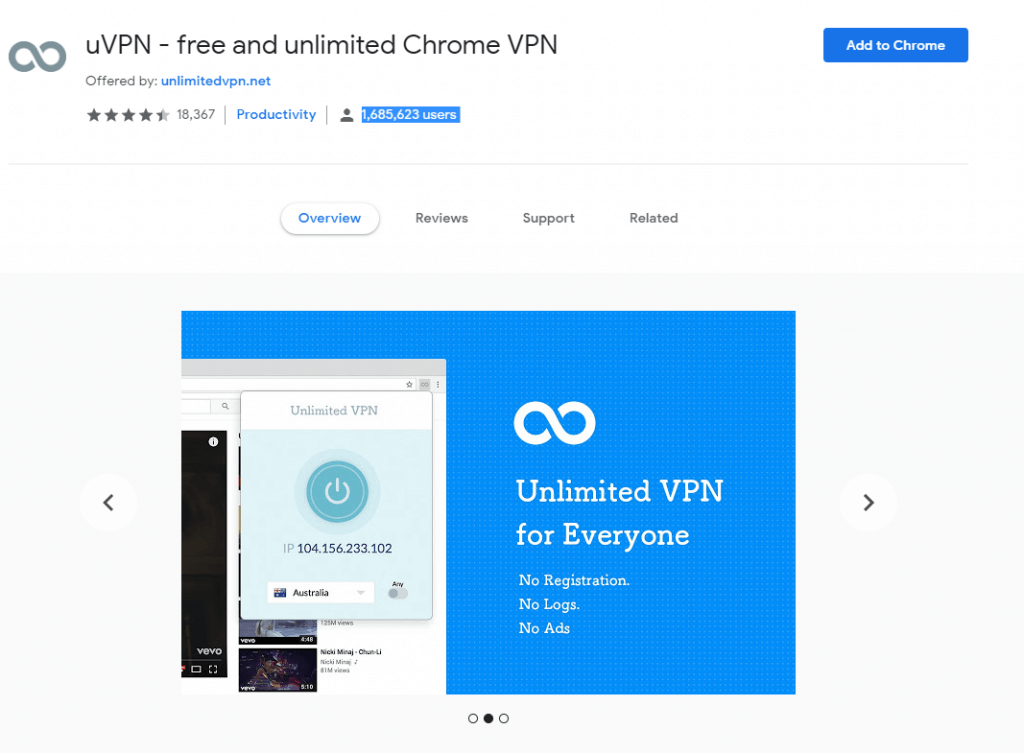 uVPN is the top-rated (at the time of writing) free and unlimited VPN extension for Chrome. There are no activity logs, and registration is optional. Once installed, users can just click on the connect button to use free of charge save for a few premium servers.
Zenmate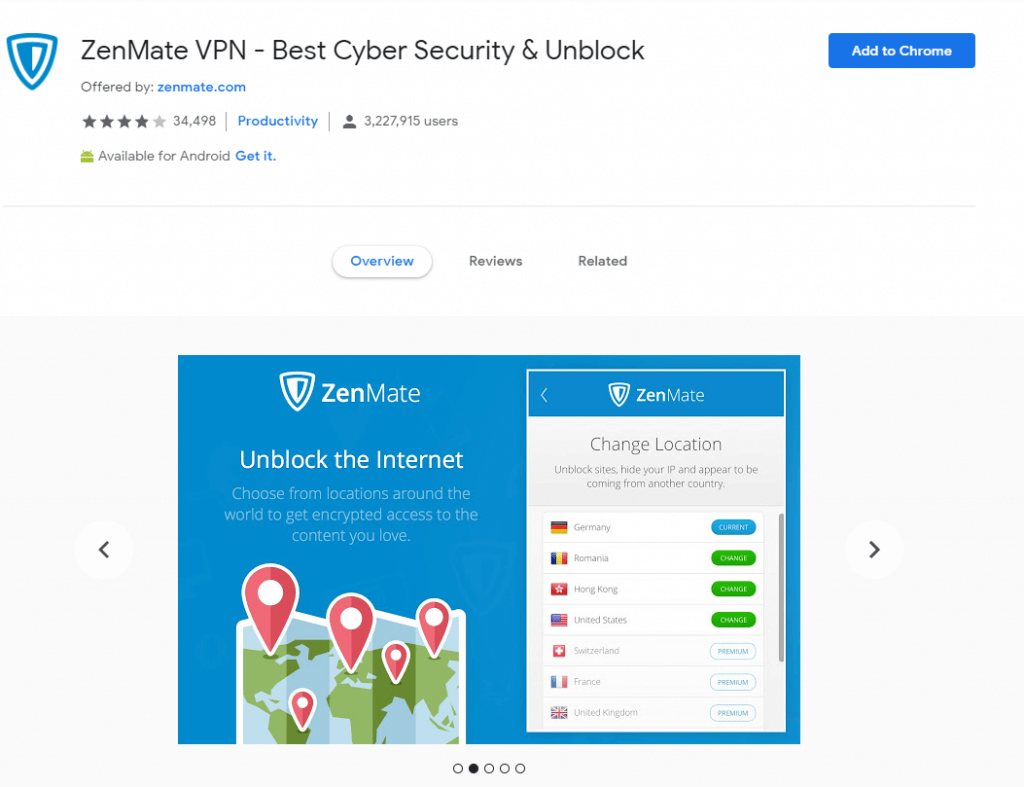 Zenmate is touted as one of the best VPN extension cybersecurity solutions available on the Chrome Web Store. Users can run it to encrypt their internet connection and unblock websites through their network of proxy servers. Like most other VPN extensions, Zenmate is free to use, although people can opt for premium service for better speeds, privacy, and security.
Free VPN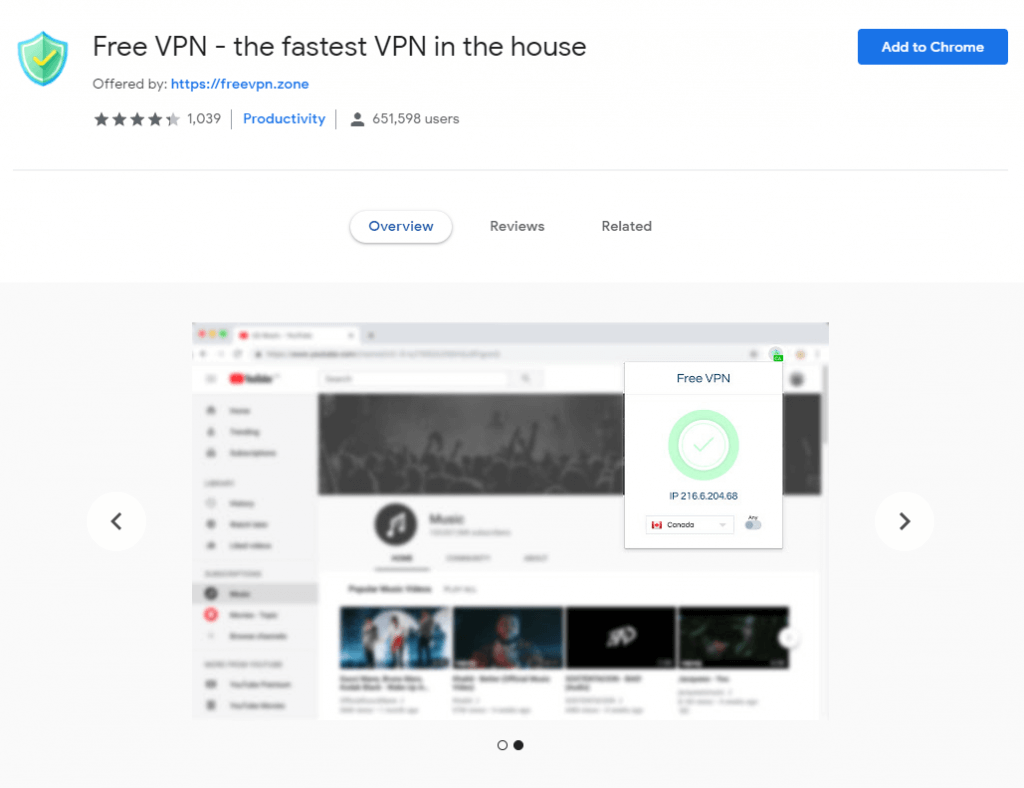 One of the fastest and highest rated (at the time of writing) free VPN extensions available for Chrome, Free VPN can be used to unblock just about any site and surf the web securely in utmost privacy.
VPN for Mozilla Firefox
If you are wondering what the best VPN for Firefox is, then you will be glad to know that you have no shortage of options. While it is not as popular as Chrome, approximately 5.1% of internet users (198 million people) prefer Firefox as their default web browser.
Proxy SwitchyOmega

Currently, the best-rated VPN extension on the Firefox Store is an add-on called Proxy SwitchyOmega. Unlike most other VPN extensions on Firefox, the latter is open source, which means that it is entirely free to use. That said, Proxy SwitchyOmega does not have its' own proxy server and works more like a proxy configuration tool. Users need to select a trusted proxy server for a particular website that they're accessing.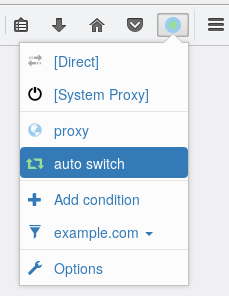 Fortunately, Proxy SwitchyOmega can switch and manage multiple proxies seamlessly with relative ease. Users can even set the extension to automatically switch to a specific proxy server when logging on to a particular website.

VPN for Opera Browser
Tunnelbear

If you are looking for a good VPN extension for the Opera Web Browser, then you cannot go wrong with Tunnelbear, a privacy-driven VPN company that offers both free and premium service tiers. Their paid service has no expiration but is limited to only 500MB worth of data per month, which is hardly enough for the average user.
On a positive note, even free users can access TunnelBear's proxy servers from 20 different countries all over the world. Once active, this VPN extension encrypts all data flowing in and out of the Opera web browser. The company does not keep user logs or use trackers and ad injectors of any kind, which is always a good thing.
VPN for Microsoft Edge

One of the best VPN extensions that you can get for the Microsoft Edge browser is an add-on called Hotspot Shield Free VPN. As the name implies, you can use it for free to surf the web in utmost privacy and security. However, they also offer a premium service that boasts faster server speeds and unlimited bandwidth and adds secure military-grade encryption for better security.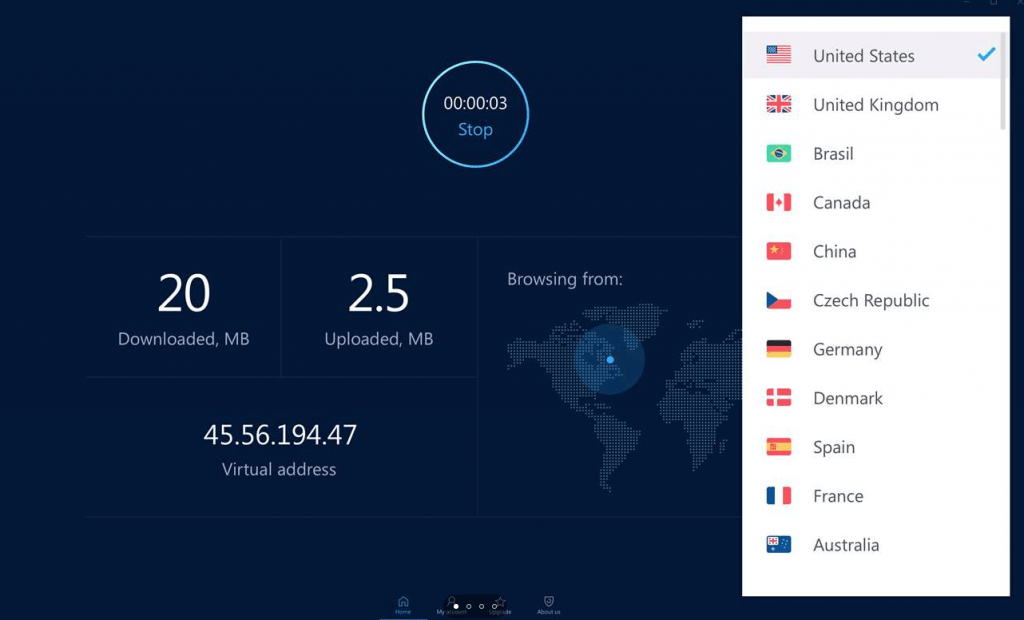 Hotspot Shield has thousands of proxy servers from over 25 different server locations around the world. Each one can be used to unblock content or applications, whether for work, school, or personal use.
Different Types of Proxy Extensions
Proxy connections come in various types, and the most secure Browser VPNs on the market use combinations of the following:
SSL Proxy (Secure Sockets Layer)
A proxy protocol is designed to secure data for transmission over a web browser. You will typically see this proxy connection in action when you make financial transactions over the web. It is symbolized by a padlock image just before the URL address at the top of the browser window. URLs protected by SSL are also expressed by "https" instead of "HTTP."
SSL proxy connections work as an intermediary between the user and the target server (the URL address being visited) to provide an added layer of security. They work by scrambling the connection between sender and receiver, which helps block unscrupulous individuals from stealing sensitive information as it is transmitted over the web.
FTP Proxy (File Transfer Protocol)
A proxy protocol is often used on applications that upload significant amounts of data to a web server. The latter is commonly used in web development for establishing a connection between the hosting server and the website data.
FTPs help with browser security by creating a safe environment for uploading data to a server through various means of caching and encryption. This makes it very difficult (if not impossible) for hackers to intercept sensitive information as it is being uploaded to a web server.
HTTP Proxy
While it does not contribute directly to browser security, an HTTP proxy is essential nonetheless as it plays a crucial part in creating a good browser user experience. All browsers use them to cache copies of frequently visited websites and quickly serve them to users without having to download webpage resources every time.
An HTTP proxy can also be used to filter out certain types of content from webpages and reformat webpages for viewing on specific devices.
Anonymous Proxy
As the name suggests, an Anonymous Proxy grants users a measure of privacy when accessing information over the web. It helps ensure anonymity by concealing the user's IP address, which unscrupulous individuals and organizations can exploit to steal sensitive information and send targeted advertisements without consent.
An anonymous proxy can also block pop-up ads and other invasive elements that jeopardize user privacy while surfing the web.
How to Choose a VPN Browser
Now that we have established the difference between full-pledged VPNs and Browser with VPN extensions, we can move on to choosing a VPN extension for your browser. No matter what type of web browser you use, you will find that there is a ton of options out there, which can make the selection process all the more difficult.
Know that not all VPN companies have browser extensions that you can use, and some of them work better than others. When deciding on a browser with VPN extension, you would do well to consider the following:
Does the browser with VPN extension have a separate VPN client? You may not see a need for a native VPN app that encrypts all internet data on your device. Still, it is an excellent feature to have should the need arise, and it's comforting to know that you don't have to go to another VPN company to get it.
Reliable proxy server performance and fast speeds
Capability to unlock geo-blocked content
Summary
As you have probably realized, there is a suitable VPN extension available for just about any type of web browser. The existence of each one is geared toward addressing the need for more freedom, privacy, and security when browsing the web. While a VPN proxy extension is undoubtedly not as robust of a security solution compared to full-pledge VPN clients, they are ultimately easier to set up and use. So, they ultimately contribute to creating a safer and freer environment for accessing information over the web, which makes its widespread use well worth considering.