A VPN or Virtual Private Network is a service that provides privacy and security for internet browsers. It does so by enabling end-to-end encryption, meaning any information leaving your device is unintelligible to hackers.
In recent years, the use of a VPN has gone beyond security and privacy. Users have found it useful for accessing geo-restrictive contents, such as streaming services like Netflix and Amazon Video.
It can be overwhelming trying to choose from the hundreds of VPNs available. We've handpicked some of the top VPNs and reviewed them using the above factors to save you the trouble of doing so.
Surfshark (from $1,99/month)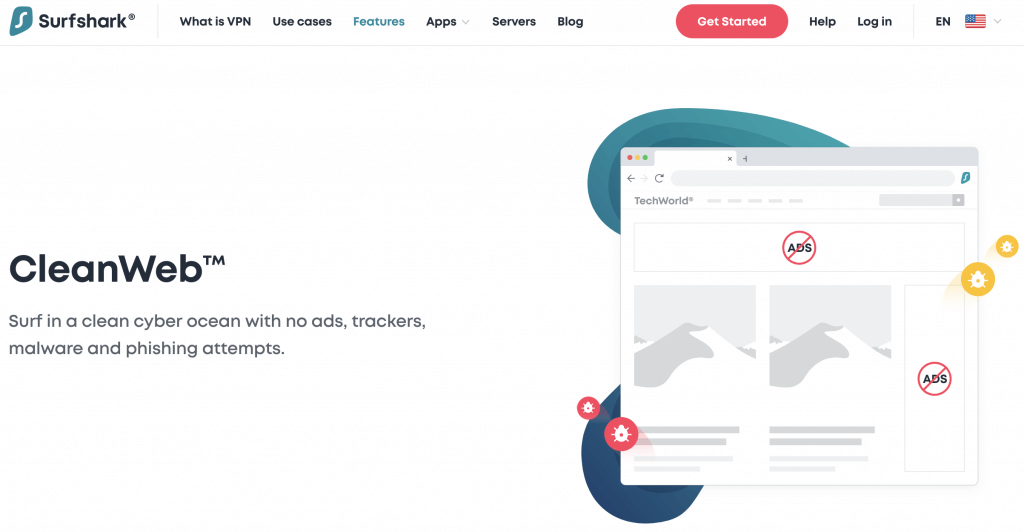 With a solid track record of zero DNS leaks, Surfshark is the VPN you'll want to use if online privacy means everything to you. It employs standard encryption protocols like OpenVPN, IPSec & IKEv2 to keep your data safe while you're browsing online.
Surfshark is under the jurisdiction of the British Virgin Islands. In other words, it means that it's not obliged to collect or surrender user data to any parties. And, with over 800 servers across 50+ countries, you have a wide range of options in masking your IP address.
Downloading on Surfshark is a pretty decent experience as the speed doesn't vary much from a direct connection to the internet. This means that you'll be able to watch your favorite show on Netflix without any problems. Surfshark is also a P2P-friendly VPN that allows torrenting.
The cheapest plan on Surfshark starts at $1.99 per month.
Pros
Leak-proof DNS protection.
No-logs policy.
Fast download speed.
Netflix and P2P friendly
Live chat support.
Cons
NordVPN (from $2,99/month)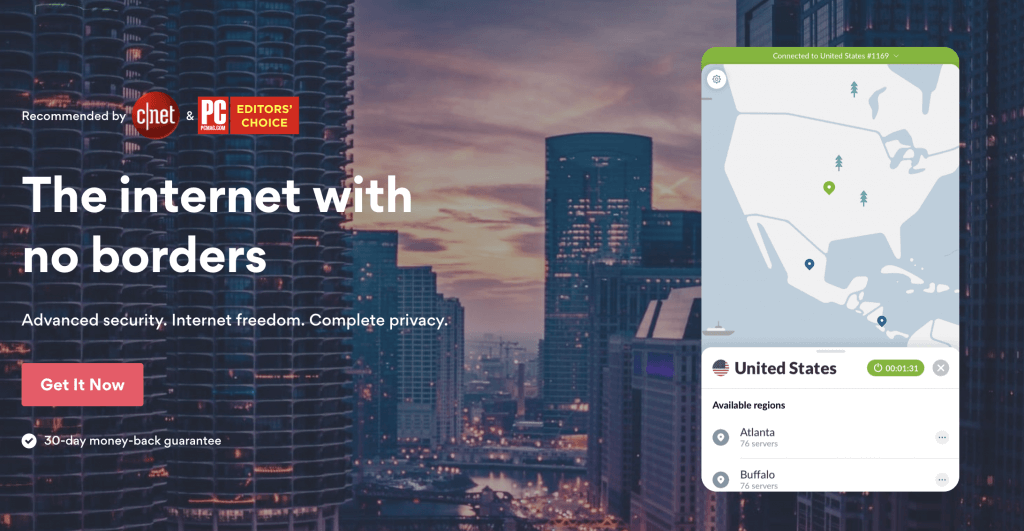 NordVPN is the most recognizable name amongst VPN providers. It boasts an extensive network of more than 5,200 servers that span over 60 countries. Besides featuring a user-friendly interface, NordVPN offers unparalleled security with a double encryption mechanism. It uses highly secure protocols like OpenVPN, IPSec & IKEv2.
If you're looking for a VPN to access geo-restricted contents, NordVPN doesn't disappoint. Its built-in SmartPlay technology allows access not only to Netflix but over 400 content providers, including Amazon Prime, BBC, and Pandora. With a speed that edges its nearest competitors, NordVPN can be used for torrenting without any issues.
With a strict no logging policy, you don't have to worry about misuse or your data being revealed if required by law. Furthermore, NordVPN is based in Panama, where it is not obliged to log or submit any of its subscribers' data. For all the superior features, NordVPN starts at $2.99 per month.
Pros
Secure protection features with no flaws.
Strict no logging policy.
Suitable for Netflix and torrenting.
24/7 live chat support.
Above average speed.
Cons
Slow in processing a refund.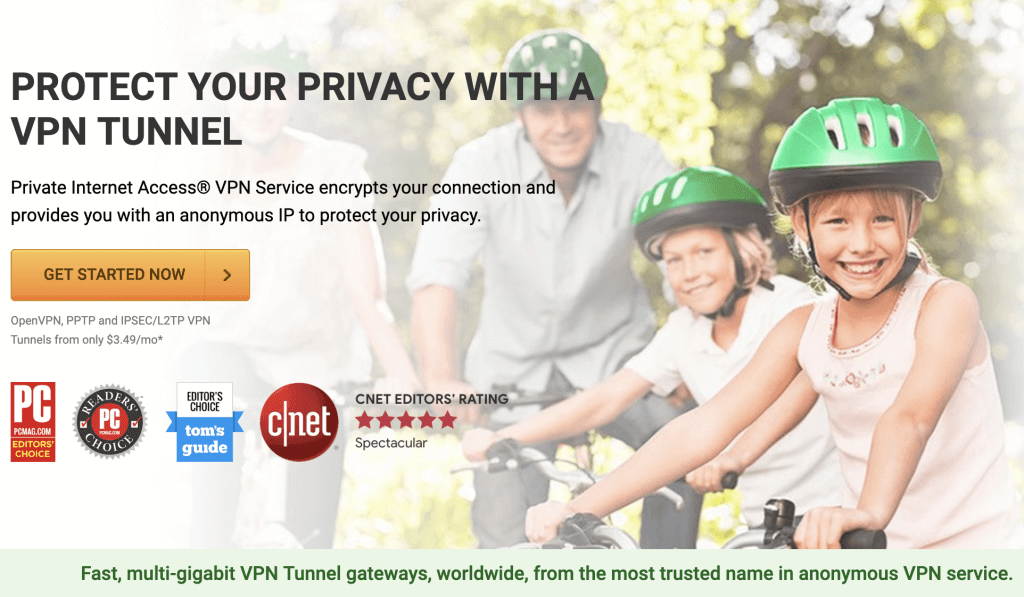 Connection speed is crucial, and Private Internet Access (PIA) doesn't fail in delivering what's claimed on its website. It showed consistent decent speed across its servers, and that is a sign of pleasant streaming experience. Unfortunately, PIA isn't a good choice for watching Netflix movies as its servers are blocked.
You can still use PIA for torrent file-sharing software as it is optimized for speed. You'll want to be cautious about its data logging policy though as PIA is based in the US. While PIA does not log browsing history and personal information, it is subjected to the law of the US in giving away information when required.
Other than that, PIA is a decent VPN with support for AES-256 encryption. It is also proven to have no DNS-leak issues that may otherwise compromise your location. While PIA doesn't have a live chat, it answers queries through email in a timely manner.
Private Internet Access is available from $3.49 per month.
Pros
Supports AES-256 encryption.
Torrenting-friendly.
Easy to use.
No logging policy.
Cons
No Netflix access.
Under the US jurisdiction.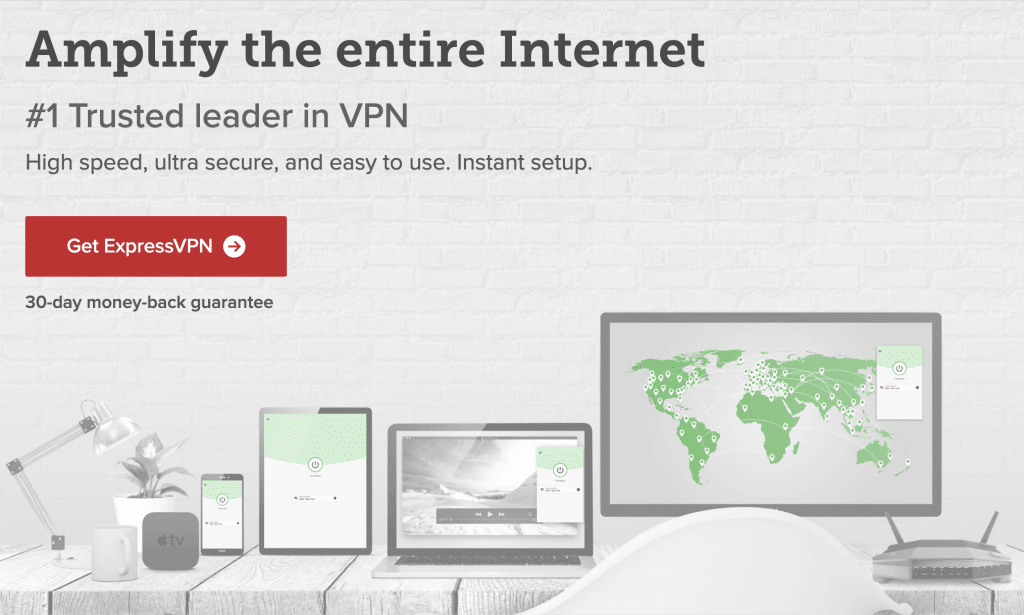 As the name implies, ExpressVPN is all about speed, while not compromising on other fundamental VPN features. It is arguably one of the fastest VPNs around. A blazing speed means that you'll have no issues using P2P software on ExpressVPN.
ExpressVPN also made user privacy a priority in its no logging privacy. While it does acquire certain parameters to enhance the user experience, critical info like IP addresses, browsing history, and traffic are not stored. It is also not obliged to do so as the company is registered in the British Virgin Islands.
While ExpressVPN has over 3,000 servers in 93 countries, over a handful of them can be used to access Netflix, namely the US, Canada, Netherland, and the UK. You'll remain safe online while browsing with ExpressVPN, thanks to its AES-256 and OpenVPN encryption protocol. If it means anything, the AES-256 is one of the strongest encryption methods around.
ExpressVPN starts from $6.67 per month.
Pros
One of the fastest VPNs.
Strict no logging policy.
Highly secure AES-256 encryption.
Allows torrenting and file-sharing.
Cons
Supports only 3 simultaneous connections.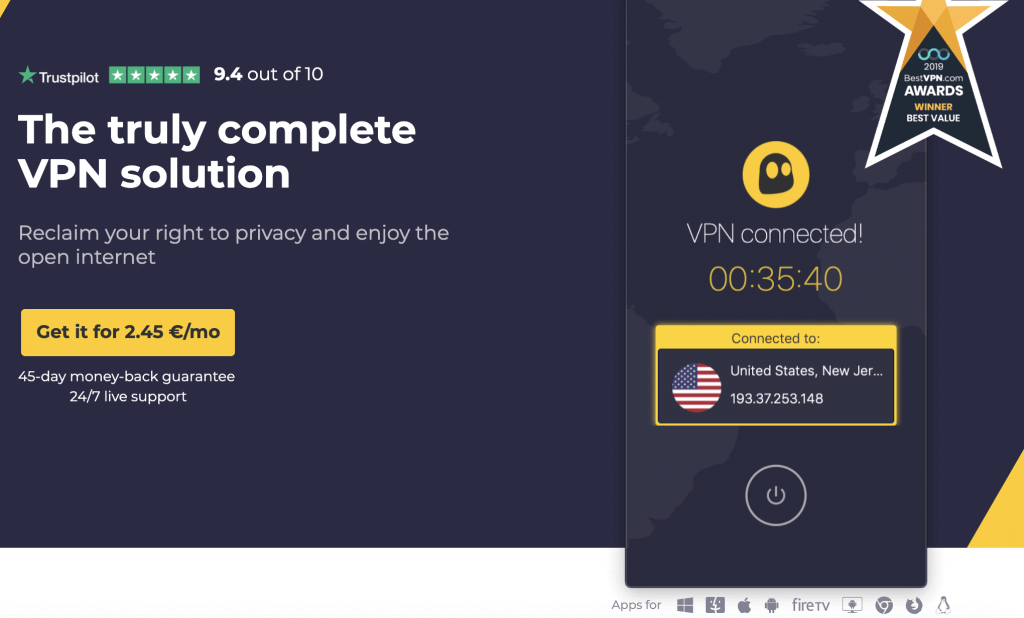 CyberGhost is a decent choice if you're looking for a VPN that's user-friendly and keeps you connected to Netflix as you travel around the world. It has an intuitive user interface that makes navigation easy. As for Netflix, CyberGhost has an exclusive server that keeps changing the IP address to avoid getting blocked.
You'll also have a reasonably secure experience when using CyberGhost. No DNS leaks are detected, and the connection is protected with OpenVPN and AES-256, two of the safest encryption protocols available. CyberGhost also practices a no logging policy.
Being a Netflix and torrent-friendly VPN, you'll expect a high streaming speed. Unfortunately, CyberGhost is found lacking in this aspect. One salvaging point is its speedy customer support that you can reach via live chat.
CyberGhost subscription starts at $2.75 per month.
Pros
User-friendly software.
Netflix and torrent support.
Decent customer support.
Supports up to 7 simultaneous connections.
No logging policy.
Cons
Not the fastest VPN around.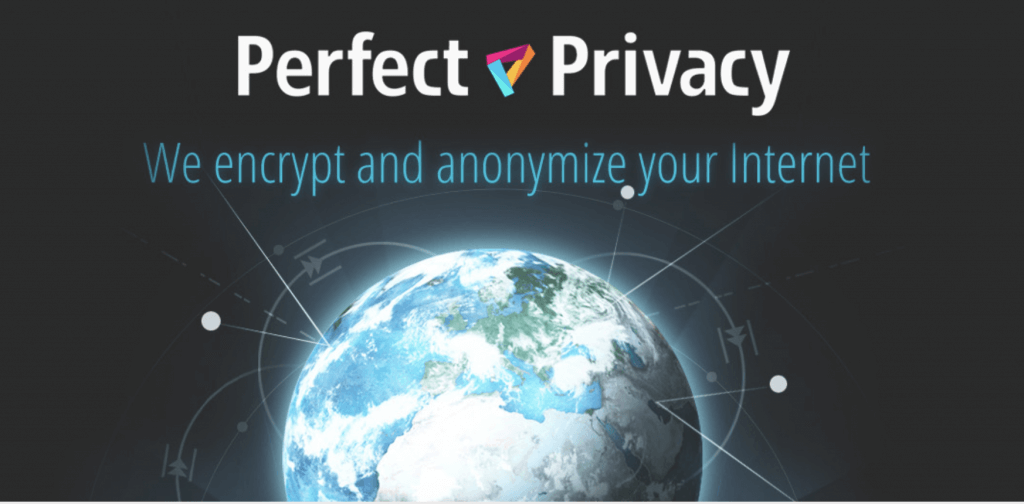 You'll be enjoying one of the safest VPNs when you've activated Perfect Privacy. It has your data encrypted with OpenVPN together with IPSec and SSH, which removes any possibility for hackers to decipher your data. Perfect Privacy is also tested to be leak-free, meaning there are no security flaws that may expose your location.
When scanning the lines on its logging policy, you'll find that Perfect Privacy does not retain any of your browsing activities. Using Perfect Privacy is quite straightforward as the software is built with simplicity in mind. Getting help from customer support is also an easy affair.
Despite all the security features, Perfect Privacy falters in terms of speed. It has a relatively slow speed that can affect streaming and file-sharing. It also has minimal support for Netflix, and only allows torrenting on its most expensive plan.
Perfect Privacy subscription starts at €8.95 per month.
Pros
No log retention policy.
Uses secure encryption protocols.
User-friendly application.
Decent customer support.
Cons
Slow download speed.
Limited torrent and Netflix availability.
IPVanish (from $6.49/month)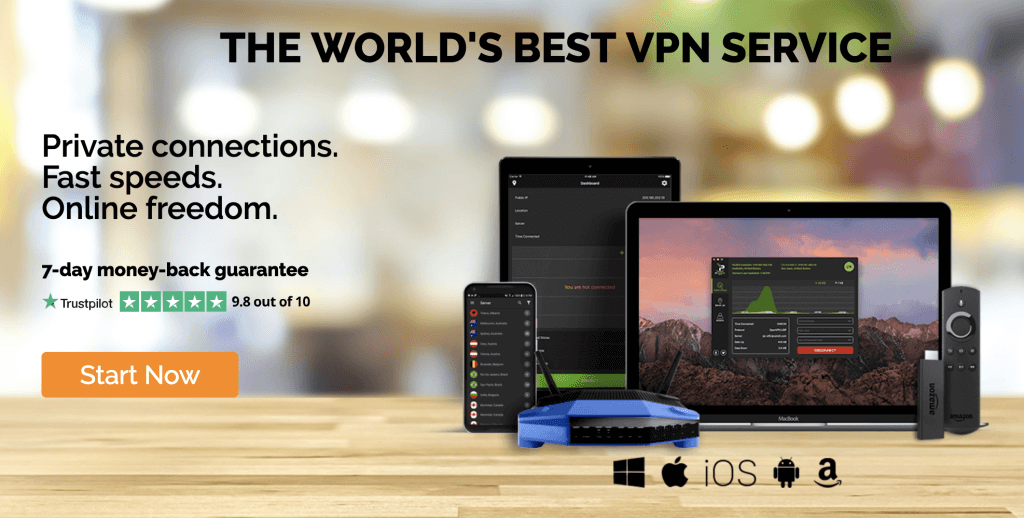 Speed is essential in choosing a VPN, and IPVanish doesn't disappoint. It boasts a reasonably fast connection across most of its 1200+ servers in over 60 different countries. IPVanish employs the AES-256 encryption to keep your connection secure when you're browsing on the internet.
The team at IPVanish did a great job with the client app as it is easy to install and navigate around. As for its zero-logging policy, IPVanish has a bad track record of handing over data to security in the past. It has since changed ownership, and the no-logs policy may be reinforced.
If you're used to sharing files on P2P software, you'll be glad to know that torrenting is highly supported on IPVanish. The same cannot be said about Netflix, as only one server in the US has been proven to work. To be fair, IPVanish does not claim to be Netflix-friendly.
Pricing for IPVanish starts at $6.49/month.
Pros
Impressive speed.
Secure AES-256 encryption.
User-friendly software.
Allows up to 10 connections.
Torrenting-friendly.
Cons
No live chat support.
Limited availability for Netflix.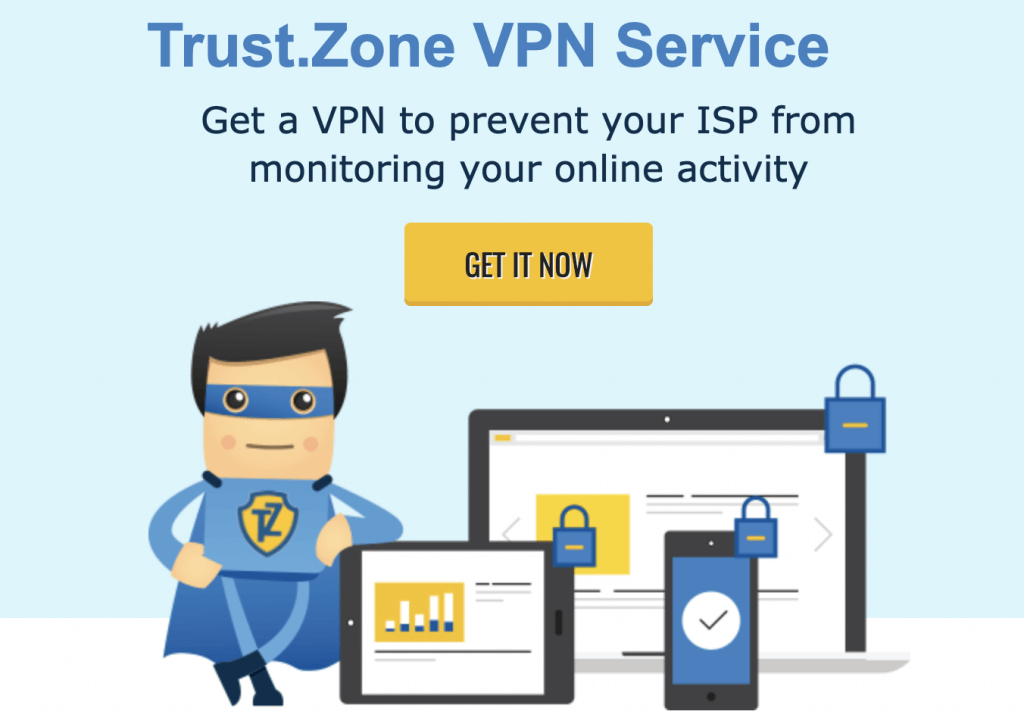 Trust.Zone inspires trust with its choice of encryption technology. Your connection is secured with OpenVPN and AES-256, making it literally impossible for a breach. Trust.Zone is also based in the Seychelles Islands, which does not have data retention laws.
If you're trying to access Netflix with Trust.Zone, you won't be left disappointed. The major streaming provider is accessible from most of its servers. You'll also be pleased with the speed of Trust.Zone, which is quite decent in comparison.
Trust.Zone is also relatively easy to use, and you'll have little to no problem with the installation. However, you may have difficulty in getting timely support as it only allows you to complete a contact form.
The cheapest plan for Trust.Zone starts from $2.88/month.
Pros
Uses secure OpenVPN and AES-256 encryption.
Not subjected to data retention laws.
Easy to use.
Supports Netflix and torrenting.
Cons
Limited customer support.
ibVPN (from $4.95/month)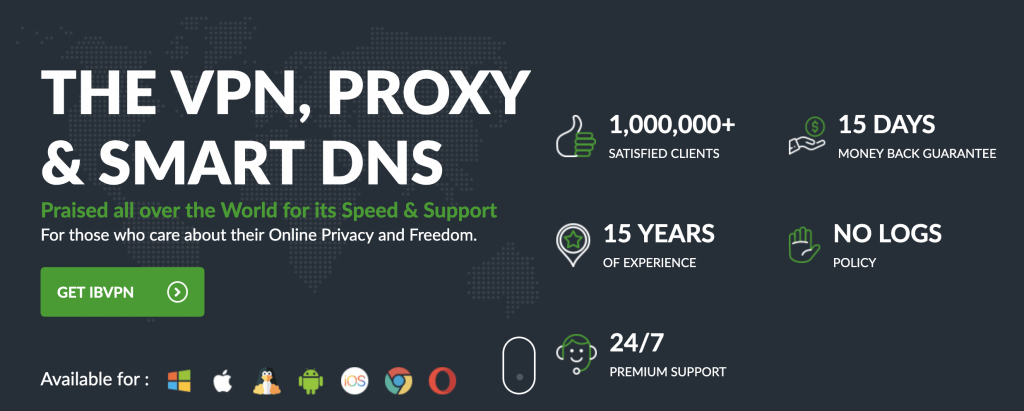 ibVPN is a decent VPN that keeps you safe from prying eyes on the Internet. It uses OpenVPN and AES-256 encryption to ensure your data is safe. There are no DNS leak issues with ibVPN, which means you need not worry about your location being exposed.
You can use ibVPN on a broad range of devices, including certain smart TVs, Kindle Fire, Chromecast, and Xbox 360, to name a few. Setting up ibVPN is a hassle-free affair as it is pretty intuitive.
Netflix users will be pleased that most of the ibVPN servers can be used to access the contents. However, you may not enjoy the fastest connection on some servers. ibVPN is also limited to a single connection only, which may be an issue if you're using a few devices concurrently.
ibVPN starts at $4.95/month.
Pros
Encrypts data with OpenVPN and AES-256 standard.
No logging policy.
Supports a broad range of devices.
User-friendly.
Cons
Connection speed may be slower at some servers.
Only supports 1 connection.
How To Choose The Right VPN Service
As the demand for a safer browsing experience increases, so do the number of VPN service providers. Going for the cheapest VPN may not be the wisest decision. Instead, consider these factors when choosing a VPN service.
Decent Download Speed — a VPN redirects your internet connection to a secure VPN server, but that doesn't mean it has to be slow. Ensure that the VPN has minimal latency for services like streaming to work perfectly.
Strong Privacy and Security Protection — Not all VPNs are built the same. You'll want to choose one that deploys the latest technology and protocols to ensure maximum privacy, protection, and security.
Data Logging Policy and Jurisdiction — When choosing a VPN, you'll want to read through the fine print to know how the providers are going to handle the data acquired from your device if any.
Torrenting and Netflix Support — If you're using VPN for Peer-to-Peer (P2P) download or watching Netflix, you'll want to ensure it has a reliable connection, a minimum latency, and flawless security.
User-Friendly and Great Support — Using a VPN should be intuitive if the software or app is developed with users in mind. Besides that, it helps to have a support team that is easily accessible when you run into certain issues.
Cost — While using free VPNs is strongly discouraged, a decent VPN shouldn't be ridiculously pricey either. The price has to be reflective of the quality of the VPN service provided.