The VPN industry is due for a revolutionary newcomer and ClearVPN may just fit the bill. Launched in late 2020, it comes as a fitting Christmas present for those who seek a safer browsing environment or longing to access geo-blocked content.
Offering unseen-before features, Clear VPN has caused a buzz amongst the tech community. But, is it a fundamentally secure VPN? Does it bog down internet speed?
Instead of making wild guesses, we've downloaded a copy of ClearVPN and tested it in every possible way. We stretched its connection to its limit by streaming HD movies, ensuring that it doesn't suffer from security flaws, and more to produce an honest Clear VPN review.
Read on and find out if ClearVPN is worth your money.
What Is ClearVPN?
Clear VPN is the latest product of MacPaw, a company that has spent more than a decade producing popular macOS solutions. Like any VPN, ClearVPN is built to protect users from online threats while ensuring good connection speed.
But that's where the similarity of ClearVPN with other competitors ends. MacPaw charted its own path when creating the VPN, by emphasizing personalization more than adding more technical features. The idea is to have the users accessing their preferred app or service in a single click. In other words, they aim to make life as easy as possible for VPN users.
ClearVPN uses DynamicFlow technology, which automatically selects an optimum server based on what the user intends to do, location, and network condition. It spares the users from fiddling with a list of hundreds of servers to establish an optimal connection.
MacPaw offers a free version of ClearVPN, which allows secure internet browsing with its "Browse privately & securely" shortcut. The shortcut encrypts your connection while you surf and anonymizes you over any network. An upgrade to the ClearVPN premium version, which costs $12.95 per month, is needed to access streaming and personalization features. The VPN is available for Windows, macOS, Android, and iOS.
The Pros
Good server speed.
Strict no-logs policy.
Strong military-grade encryption with AES-256.
Available on Windows, macOS, Android, and iOS.
Free version available, which works for browsing.
Connects up to 6 devices.
Unblock Netflix US, BBC iPlayer, Hulu, and HBO Max.
The Cons
The window app is laggy at times.
A serious lack of locations in the Country Picker.
No kill switch.
Our Review
Speed — 4/5
For a VPN that's focused on unblocking streaming and entertainment, ensuring a high-speed connection is crucial. Some reviews have cited good server speed as one of the winning points of ClearVPN.
You're likely to enjoy favorable connection speed if you're close to one of the 16 locations on the VPN's network. However, we tested Clear VPN from Malaysia to the closest server in Australia.
Download speed drops from 33 Mbps to 19 Mbps for a connection that crosses the Indian ocean. We then connected to a streaming server in New York and witnessed the download drop to 12 Mbps.
Still, ClearVPN's DynamicFlow did not disappoint as there's no noticeable latency when connected to its servers.
We were able to stream full HD content from Netflix US from a country in Southeast Asia. It also proves that ClearVPN is capable of unblocking Netflix US, which is a commendable feat equaled by very few premium VPNs.
Security — 4/5
When you're connected to a VPN, your public IP should be masked with one from the VPN's server, and data ought to be encrypted. ClearVPN employs AES-256, encryption used by the banks and military to protect data transmission from hacking attempts.
ClearVPN also uses a combination of its proprietary protocol, OpenVPN, and IPsec IKEV2 for data transfer. Both OpenVPN and IPSec IKEV2 are de-facto VPN protocols that are proven for safety and speed.
However, the VPN lacks a kill switch, a helpful feature that disconnects the Internet should the VPN connection drop.
Privacy — 5/5
MacPaw is headquartered in Ukraine. Ukraine is not a member of the 5, 9, and 14 Eyes Alliance, which means ClearVPN is not bound by data retention laws. The VPN's privacy policy also clearly specifies that it does not store information that can be used to identify the users using its service.
Customer support — 5/5
For a promising newcomer, this VPN has done its homework in the customer support department. It has live-chat support, which can be handy when you're pressed for instant solutions. ClearVPN is responsive to customers' queries and always provides answers in a clear and concise manner. You won't get left hanging with its professional support team.
Number of locations — 3/5
Clear VPN kicks off with an unspecified number of servers in 16 countries. It's a modest number compared to other established VPNs. This can potentially be a problem if it fails to increase its network to accommodate user growth in the future.
Ease of use — 4/5
MacPaw's brilliance in creating an intuitive interface is proven yet again for Clear VPN. The app may be unfamiliar for a conventional VPN user, but the simple layout and intuitive controls allow a secure connection to be made in a couple of clicks.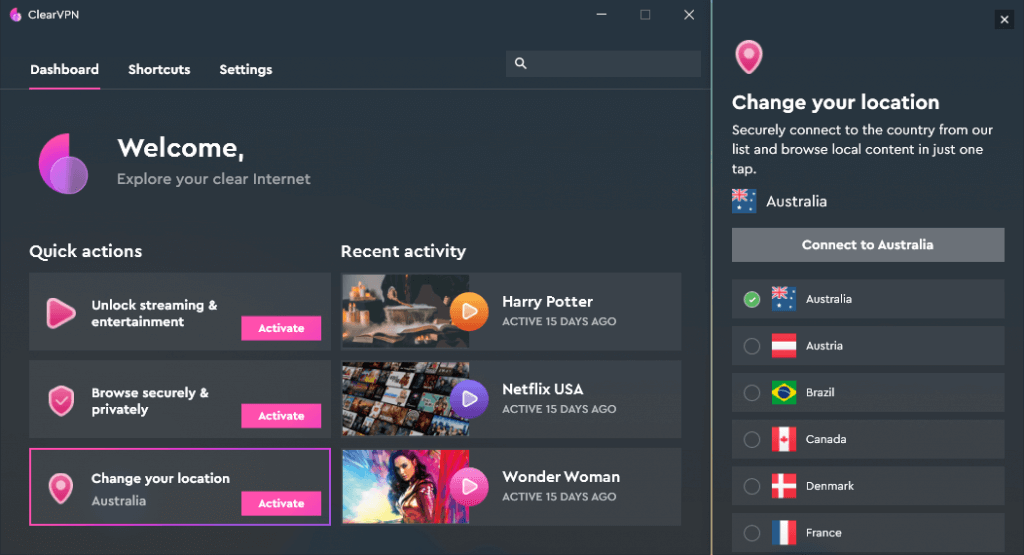 Number of devices — 5/5
A single account supports up to 6 different devices. With the exception of a couple of VPNs that offer unlimited devices, MacPaw is quite generous in its device limits.
Cost — 3/5
The innovative VPN offers a free and premium version of its app. A premium subscription starts at $12.95 per month, which is comparable to other top-rated VPNs. The long term subscription is averagely priced, yet it's more expensive than PIA, with a 2-year plan costing $109.95. 
A premium subscription is backed by a 30-day money-back guarantee. You'll get enough time to test out the features before deciding if this VPN is a good choice. 
FAQ
Is ClearVPN Free?
Yes and no.
ClearVPN does have a free plan where you can connect to a secure VPN server for casual browsing but that's about it. You can't change the server location, nor get access to servers optimized for activities like streaming, downloading, chatting, or bypassing geo-restrictions if you're on the free plan. 
To get the most out of ClearVPN, you'll need to sign up for the monthly subscription, just like we did when writing this Clear VPN review.
Is ClearVPN Safe?
When judging whether a VPN poses any security concerns for its users, it's important to find out if it suffers from any vulnerabilities such as IP or DNS leaks. Thankfully, ClearVPN passes these tests with flying colors and we have every reason to believe that ClearVPN is one of the safest VPNs around.
Clear VPN also uses industrial-standard encryption, the AES-256, and secure OpenVPN and IKEv2 protocols. You will have peace of mind when using Clear VPN if security is your topmost priority.
Do We Recommend ClearVPN?
ClearVPN is an ambitious attempt to make VPN more intuitive and user-focused. Its personalization shortcuts are a refreshing change from the conventional layouts that are cluttered with a list of servers.
MacPaw has kept up with the difficult standards of balancing speed and security. It makes streaming possible from popular content providers. If it fixes the security glitches mentioned in this review, it can potentially give the established competitors a good run for their money.
At this moment, you might find it expensive. Yet, being out one of the most innovative VPN apps ever is worth the try. Knowing MacPaw, they'll be addressing the issues as soon as possible.