Are you looking for information about your options for the best VPN for France? If so, then you probably know that cases of cybercrime are at an all-time high. This is even though many consider France to be "ahead of the curve" when it comes to data protection laws.
According to Statista (a statistics company specializing in market and consumer data), the National Gendarmerie (French National Police) recorded around 68,000 cases of cybercrime in 2018 alone. Most of these cases are related to fraud (phishing and ransomware) and identity theft.
Suppose you are not comfortable with the idea that you might be leaving yourself vulnerable to all manner of cybersecurity threats. In that case, you'd want to start looking into solutions for securing your activities over the Internet. This is where the use of a France VPN (Virtual Private Network) comes in. In this article, we'll explore why you need a VPN plus the best VPN for France.
Why Use a France VPN?
Data Privacy
Did you know that French businesses are legally obligated to retain personal information on customers for up to a year? This is so that government agencies can access that information if needed, even without a warrant. While you might doubt that any organization will take the time to comb through your personal information, it does not change the fact that it can happen. You're taking a risk if you choose to do nothing.
Using a good VPN encrypts all data between your device and the VPN server. Only the VPN server makes contact with the intended sites and applications. As a result, it will be tough (if not impossible) for any third party to intercept any personal information or monitor what you're doing online, not even your ISP.
Avoid Wifi Traps
One common strategy often employed by hackers is to use what's known as a Wifi Honeypot. They run what appears to be a legitimate free access point in public places like airports, malls, and coffee shops. What unsuspecting users don't realize is that everything they do (when connected to the wifi honeypot) is visible to the hacker. This includes passwords to social media and banking accounts, messages, and other sensitive information.
A good VPN for France can help keep your information secure by routing all data to an encrypted tunnel. Hence, even if you're connected to a compromised network, the hacker won't be able to uncover any decipherable information.
Access Blocked Websites and Content
There are certain websites, content, and applications that you normally wouldn't be able to access in France without a VPN. This includes websites like LibGen (a file-sharing site library) and video streaming services like DPstream and Alloshare.
A VPN can help you bypass blocking and content restrictions by routing your connection to a different server. It would be as though you're accessing the website/application from outside France.

For example, let's say that you're in France, and you want to watch Netflix shows that are normally only available to US viewers. You can use a VPN to access Netflix services through a US server.
So What Are The Best VPNs in France?
1. ClearVPN
While relatively new in the VPN market, ClearVPN has created a good following thanks to its affordable pricing and beautifully easy task-based UI. This makes it a good choice for people with no technical knowledge about VPNs and who simply want to secure their online activities. ClearVPN has server locations in 40+ countries.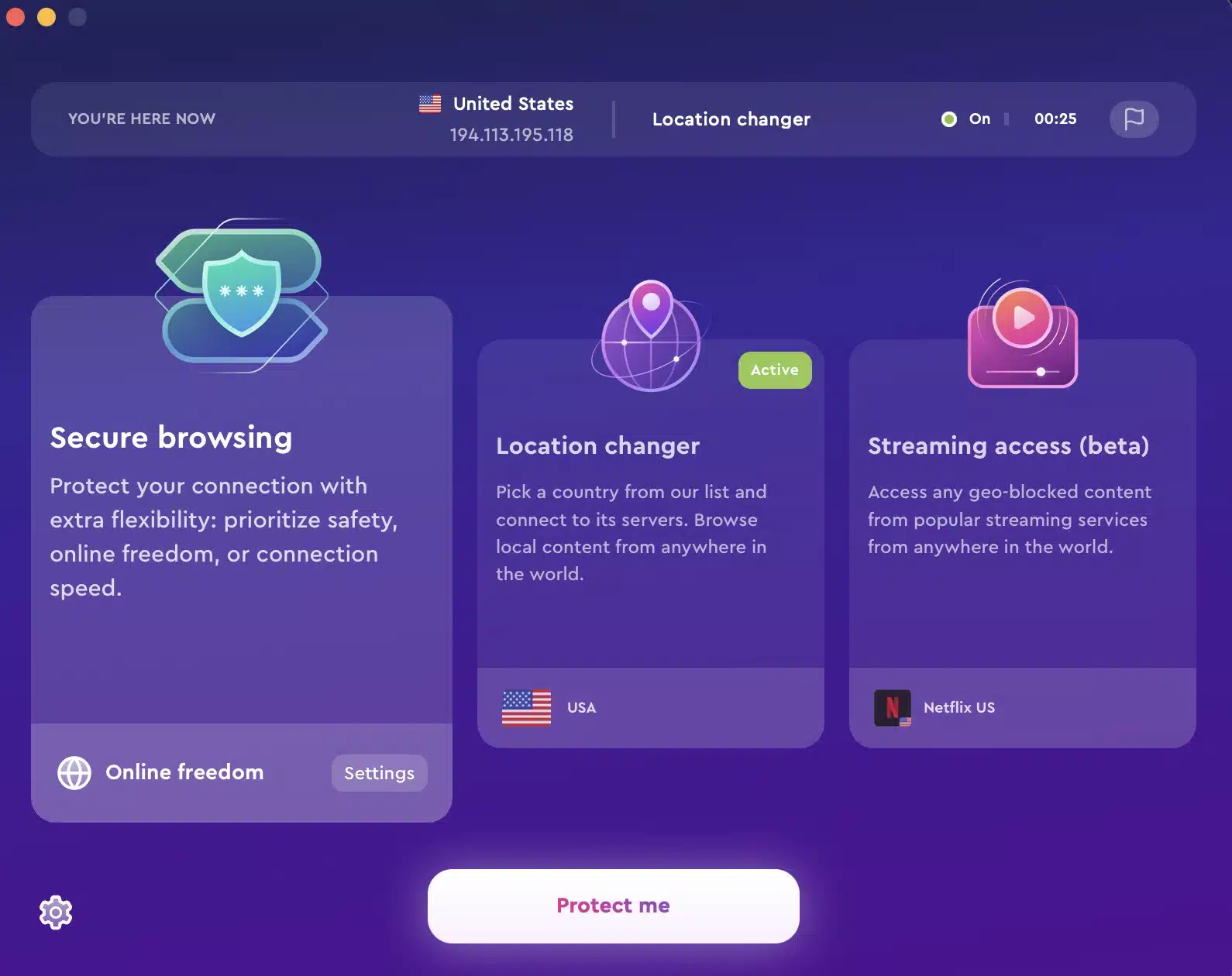 As a VPN service created by Macpaw company with HQ in Ukraine. ClearVPN covers all the essentials that you would need for a French VPN — AES 256 encryption, No-logs policy, 3 different modes for everything from watching US Netflix and gaming, unblocking torrents, and secure web browsing.
Highlights:
Great design
User-friendly Interface
More affordable than most VPNs (price starts from $3.5)
Can be used on up to six devices
Fast server speeds
Capable unblocking Netflix, Hulu, HBO Max, and many other popular services.
2. NordVPN
NordVPN is one of the most established VPN services in the world and has more than 180 servers operating in France alone. Operating in Panama for more than ten years, it has grown to become a reliable VPN service with more than 5000 servers across 60+ countries. They're also one of the few VPNs that offer advanced security features like Double VPN, an automatic kill switch, and DNS leak protection. If you're in France and need a great VPN, you can't go wrong with NordVPN – it's one of the best VPNs in France.

Highlights:
No-logs policy and reliable AES 256-bit encryption
Fast server speeds
Capable of unblocking Netflix, Hulu, and most other popular streaming services
Support torrenting (unlimited bandwidth via specialized P2P servers)
Simultaneous protection for up to 6 devices
3. CyberGhost
CyberGhost is a Romania-based VPN service that operates one of the largest VPN networks in the world. They have over 5,700 VPN servers across 90 countries (418 of which are French servers).
Launched in 2011, CyberGhost offers everything one would expect from a premium VPN service in France  — AES 256 encryption, zero-logs policy, and an Internet kill switch.
Highlights:
Simultaneous protection for up to six devices
Preset modes for various applications — torrenting, video streaming, secure browsing, etc.
DNS and IP Leak protection
They have dedicated streaming servers for popular streaming services like Netflix, iPlayer, and Comedy Central.
P2P support for torrenting
4. PrivateVPN
PrivateVPN is a small VPN company based in Sweden (only 100 servers in 50 countries). However, what it lacks in size, it makes up for in performance and affordable pricing. Their network has the same AES 256 encryption as other higher-priced VPNs.
Highlights:
Works with Netflix and other popular streaming services
Dedicated P2P servers
Supports up to six devices
Works with popular devices and operating systems (Windows, Mac, iOS, and Android)
5. IPVanish
IPVanish is a US-based VPN service with over 1000 servers spread across more than 60 countries. Around 26 of those servers operate in France, making it a good choice for people looking to access local content overseas.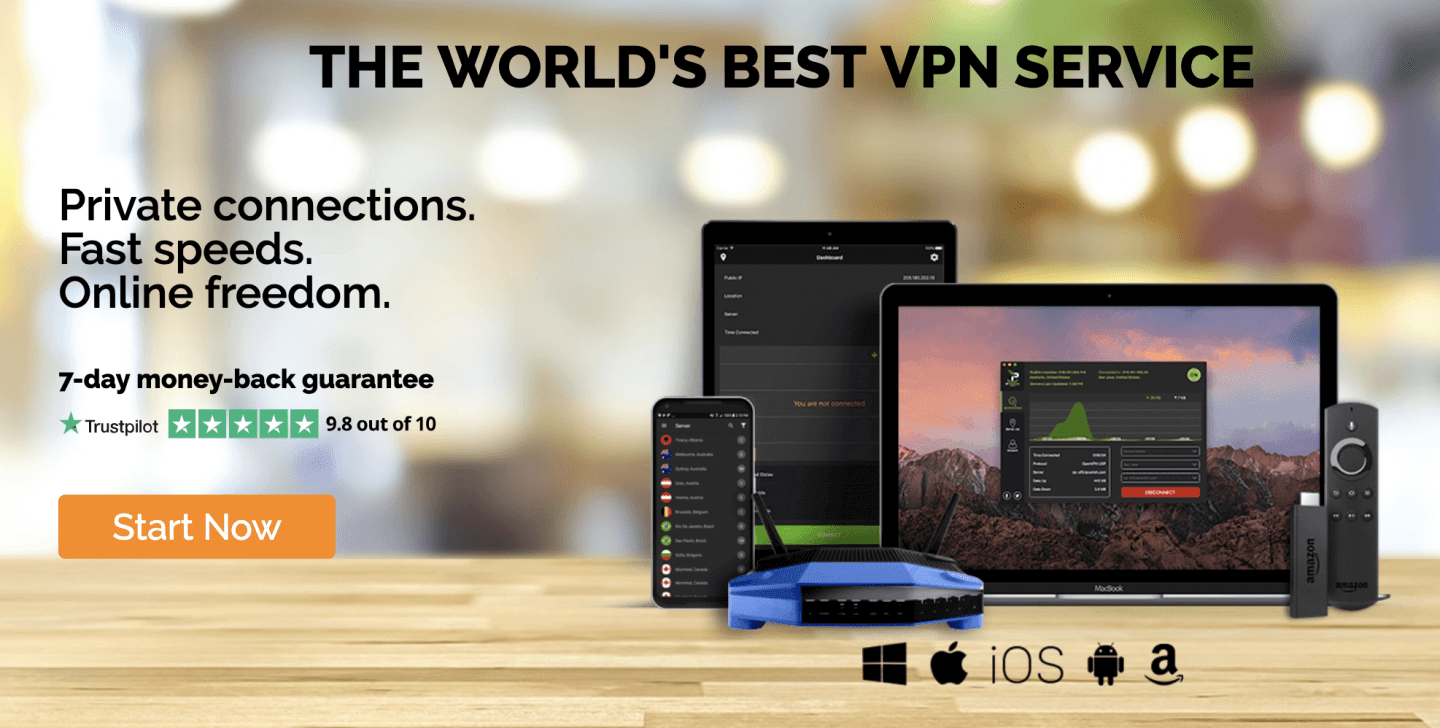 Highlights:
Supports an unlimited number of Internet devices
Decent server speeds
Industry-standard AES 256 encryption
SugarSync cloud storage for encrypting and backing up important files
6. PureVPN
PureVPN is a small VPN company based in Hongkong with around 2,000 servers spread across 140 countries worldwide. 
Based in Hong Kong — a country with no data retention laws.
Supports up to 5 devices
Strict zero-logs policy
Supports all VPN Protocols on every server (OpenVPN, PPTP, L2TP, etc.)
| | | | | | | |
| --- | --- | --- | --- | --- | --- | --- |
| FEATURES | ClearVPN |   NordVPN | CyberGhost | Private VPN | IPVanish | PureVPN |
| Kill Switch | ✅ | ✅ | ✅ | ✅ | ✅ | ✅ |
| Fast Speeds | ✅ | ✅ | ✅ | ✅ | ✅ | ✅ |
| AES-256 encryption | ✅ | ✅ | ✅ | ✅ | ✅ | ✅ |
| Server counts | Unknown | 5400+ | 6300+ | 150+ | 1000+ | 2000+ |
| Number of countries | 30+ | 58+ | 90 | 60 | 60 | 140 |
| No-logs policy | ✅ | ✅ | ✅ | ✅ | ✅ | ✅ |
| 24/7 Customer support | ✅ email or LiveChat | ✅ email or LiveChat | ✅ email or LiveChat | ✅ email or LiveChat | ✅ email or LiveChat | ✅ email or LiveChat |
| No of devices | 6 | 6 | 7 | 6 | unlimited | 5 |
| Supports chain VPN connections | Yes (Double VPN) | Yes (Double VPN) | No | No | No | No |
Summary
There's no denying that the French value their freedom. That includes the freedom to go about one's business online without having to look over our shoulders or deal with content restrictions. That freedom could be yours with a good VPN for France.