It's always exciting when a new VPN provider joins the competition. If you're lucky, you'll be spoiled with promotions and, hopefully, amazing service. In this VPNCity review, we'll leave no stones unturned as we test out this newbie in the VPN world.
VPNs tend to promise unparalleled security and speed while throwing in extra features in their plans. Will VPNCity live up to the early hype and positive ratings from users? Read on to find out and get exclusive insight from our tests.
What is VPNCity?
VPNCity is a Hong Kong-registered VPN that's barely a year old at the moment of writing. Owned by Think Huge Ltd, VPN City started out by offering basic protection for internet users. It has since beefed up its services, and here is what you'll get from VPNCity.
It operates on 3,167 servers that span across 42 cities.
You can connect up to 12 devices per account, depending on the plans that you sign up to.
VPNCity supports popular platforms, such as Windows, macOS, iOS, Android, and FireTV.
It's also available as browser extensions for Chrome, Firefox, and ShadowSocks Proxy.
VPNCity's immense network of servers puts it on par with some of the industry leaders. 3K+ servers suggest that VPNCity will do well in the speed department.
It's also rare for VPN providers to offer more than 10 devices per account. However, VPNCity is generous and breaks this limit in its 2-year subscription plan.
VPNCity Review
It's fair to claim that VPNCity is one of the most affordable VPNs that we've ever reviewed. It offers four types of subscription plans. Each plan offers an amount saved and a limit on devices. The longer the plan, the more you save and the greater the number of devices.
2-year plan: $2.99 per month, up to 12 devices.
1-year plan: $3.00 per month, up to 10 devices.
6-months plan: $5.99 per month, up to 8 devices.
1-month plan: $9.95 per month, up to 6 devices.
Trying out VPNCity is risk-free as each of the plans is backed by 30-day money-back guarantee policy.
Because it's a fairly-new VPN, we hoped that this review would start on a good note. But it didn't. Unfortunately, the VPN app refused to log us in on Windows.
We received the following error and contacted customer support via live chat.

Kudos to the support personnel, I was informed that our IP had been blocked.
However, despite having the account unblocked, we were still unable to connect to any server. It was only after uninstalling and reinstalling the VPNCity app that we got a successful connection.
Perhaps some bugs are yet to be ironed out in this young VPN. We decided to give it the benefit of the doubt and test the important features.
The Pros
As a new kid on the block, VPNCity has got the basics right. Here are some areas where the VPN provider lives up to expectations.
1. Secure Encryption and Protocol
Like most VPNs, VPNCity employs the AES-256 encryption to protect data from spies and hackers. 256-bit encryption is used by government agencies, militaries, and banks. This gives you an idea of how safe it is.
VPNCity initially supported SoftEther, a TCP/IP based protocol used in transferring data packets on VPN networks. It has since introduced OpenVPN on its apps, which is a common protocol used by most providers.
You can choose the protocol manually in the app settings.

2. No Logs Policy
VPNs should be trustworthy, in the sense that the servers do not store information that can reveal your identity. VPNCity has clearly specified that it doesn't store IP Addresses, traffic logs, and other info that may incriminate its users.
3. Safe Jurisdiction
You may have stumbled on VPNCity's Australia-based address on its support page. Australia is part of the 5-Eyes alliance, which isn't the best place to start a VPN service. However, the business is registered in Hong Kong, which is known for its strong privacy laws.
VPNCity also provides an updated warrant canary on its site, which lists the number of requests from governments in turning in the information. At this moment, the warrant canary is a clean slate.
4. IP Leaks
Some new VPNs are known to suffer from IP or DNS leaks. These are flaws that inadvertently give your location away by failing to mask the original IP address or DNS. We did a quick test and found VPNCity to be reliable.
Our physical location is in Malaysia, and here's what connecting to a US server looks like on an IP leak test via NordVPN.
VPNCity also passed the DNS test.
5. No Virus Detected
With new VPNs, there's always the risk of a couple of viruses being installed. Thankfully, VPNCity commits no such offenses. Our quick virus test triggered no alarms.
6. Easy To Use
Bright-colored and easily-identifiable icons are what you'll have after launching the VPNCity app. The app supports easy-connect, which allows users to connect to an optimal VPN server immediately.
The list of servers can be accessed on the Locations tab. Some of the servers are optimized for streaming and they are highlighted on the list.

You can also manually enable the kill switch, which disconnects the Internet when the VPN connection drops on the Settings tab.
7. Supports Netflix
The ability to bypass Netflix's clampdown on VPNs has been an informal benchmark amongst VPN providers. VPNCity has landed itself as one of the few that manage to unblock Netflix.
We successfully connect to Netflix US, with the US Streaming server. The same feat was repeated with Netflix UK, by connecting to the streaming server in London.
8. Live Chat Support
Getting help is easy with VPNCity. We've found the live-chat support to be responsive and very professional. The support personnel joined the chat room almost instantly, and our queries were quickly dealt with.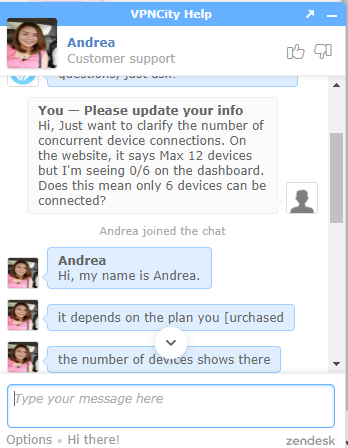 The Cons
Our VPNCity review shows promising signs to compete against the big boys. However, it does need to drastically improve in the following areas.
1. Inconsistent Speed
We were initially surprised by the lack of latency when we connected to a server in a neighboring country. Here's what a VPN-less connection looks like in Malaysia.
We then connected to Singapore, with impressive download speed.

The download speed continued to remain at the peak on an Australian server.
However, the numbers nosedived when we hooked up to a server in Los Angeles. A speed test result showed a drop of more than 70% in download rate.

Connecting to a streaming-optimized server in the US fares better but isn't the least impressive.
2. Confusing Device Limits
You have to pay attention to the text to realize that the proclaimed "supports up to 12 devices" is only available for the 2-year subscription plan.
This practice isn't a norm in the VPN industry as other providers offer a fixed number of devices regardless of the packages.
In a way, having a tiered device limits forces you to opt for a long-term commitment. We feel that less-informed consumers may be misled by such practices.
How to Install VPNCity
If you're planning to give VPNCity a try, here's how to do so.
Visit VPNCity's website and click Get Started.

Choose your preferred subscription plan.
Fill in your email address.

Select the payment method and complete the transaction.
Set up your password on the dashboard.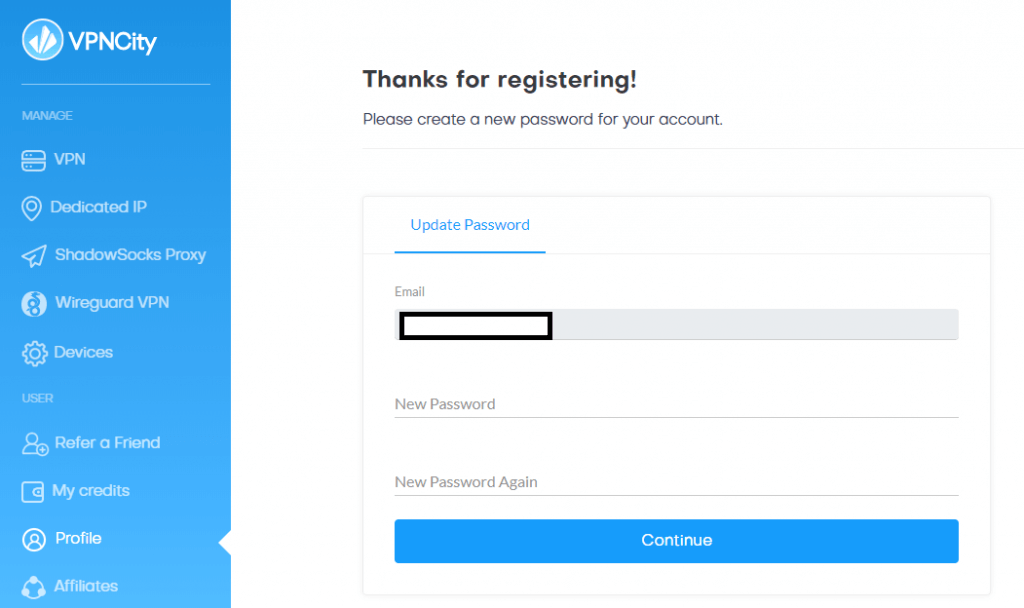 Download the respective app for your device. In our review, we chose the Windows app.
Install and launch the VPNCity app. Log in with your credentials.
Сonnect to a VPN server.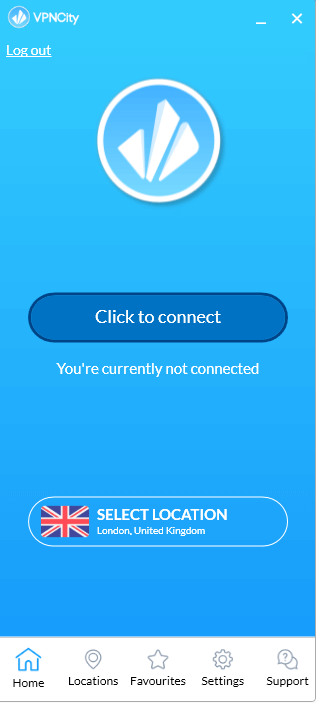 Summary
Testing out VPNCity has been a roller coaster journey. We were not impressed by the wasted time spent trying to get the app to work. But the real downer is how the speed tumbles when connected to a server half-way across the planet.
On the bright side, VPNCity is built with simplicity in mind. The app is easy to navigate, and you'll have nice friendly live chat support. It also gives you access to Netflix, which isn't something that many VPNs can boast about.
VPNCity is also hitting the sweet-spot in terms of pricing, although we feel it could be more generous by having 12 devices across all of its plans. Still, starting with 6 devices is a fair number for a VPN.
There's no harm trying out VPNCity, as it has been pulling its weight in such a competitive industry. As a newcomer, it is offering great value for money, with great improvements since its beta testing days.
Try out VPNCity risk-free now and stay protected on the Internet.