The news is in, and Hotspot Shield is officially under Pango, a new company offering privacy solutions. Will ownership change reflects improvements, particularly in terms of privacy? This Hotspot Shield review bares it all.

What is Hotspot Shield?
Hotspot Shield is a popular VPN that boasts more than 650 million users and is known for having impressive connection speed. It was launched in 2005 by then-owner AnchorFree.
The VPN was recently taken over by Pango, a new company featuring the founder of AnchorFree and some new faces on the board.
Here are some quick facts on this self-proclaimed fastest VPN, particularly for streaming.
Hotspot Shield has a vast network of 3,200+ servers in 70+ countries.
The VPN app is downloadable for Windows, Mac, iOS, Android, and as a browser extension for Chrome.
It doesn't use industry-standard protocols but relies on its proprietary Catapult Hydra, which is optimized for speed.
Up to 5 devices can be connected on a Hotspot Shield premium account.
You could get Hotspot Shield for free, but it will be a highly limited version of the otherwise powerful VPN. Besides, you'll be greeted by ads and payment walls when accessing certain sites.
Hotspot Shield offers premium subscriptions, which unlocks all the features available in the VPN. Here are the available options:
$6.99 per month for 2-years (billed $167.76)
$7.99 per month for 1 year (billed $95.88)
$12.99 for 1 month.
All of the plans are backed by 45-days money-back guarantee policy. That's more than sufficient to try out Hotspot Shield and decide if it's the one for you.
Hotspot Shield Review—The Pros
This is easily one of the most pleasant experiences we had of reviewing a VPN. Here's why.
1. Military-Grade Yet Efficient Protocol
You don't get terms like OpenVPN, IKEv2, or AES-256 with Hotspot Shield. These are common protocols and encryption used by leading VPNs.
Instead, you'll be introduced to the Catapult Hydra protocol, which, according to Hotspot Shield, is equally secure but with reduced latency on the VPN connections.
Catapult Hydra is audited by 3rd party security experts and is also used by leading companies like McAfee, BitDefender, in their apps.
On paper, the Catapult Hydra is supposed to ensure faster connection speed, and our test suggested likewise.
2. No Malware Found
Before we installed Hotspot Shield on our PC, we did a quick check for the presence of malware, and we found none.
3. Passes IP/DNS Leak Test
There were claims that Hotspot Shield suffered DNS leaks in the past. It will be a shame if the issue is still prevalent for this speedy VPN.
We held our breath as we did a check on our IP address and DNS after connecting to a server in the US. For your information, we're testing the VPN in Malaysia, which is half-the-planet away from the US.
Thankfully, our IP address indicates that we're in the US.
As far as we're concerned, Hotspot Shield is now safe from IP/DNS leaks.
4. Easy To Use
There's nothing fancy in Hotspot Shield's design for both the Windows and Android app. The Windows app launches with an unmistakable quick-connect button.
Clicking the button connects you to a VPN server. Once connected, you're able to track your usage, IP address, and change the server location.
A simple drop-down menu contains all the available servers in Hotspot Shield's network.
So, where are the advanced settings hidden? It's all neatly tucked in the vertical lines icon at the top left of the Windows.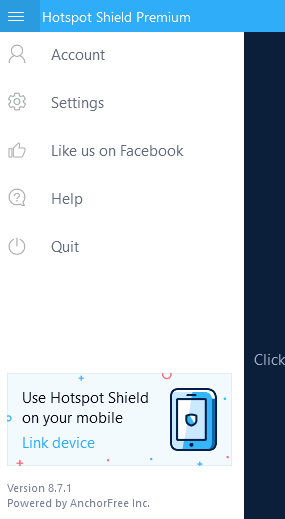 The same intuitive layout is replicated in the Hotspot Shield Android App. It doesn't take a wizard to figure out the controls and configuration on the app.
5. Clear No-Logging Policy
When you're trusting your privacy with a VPN provider, you'll want to know what happens to your data when connected to its services.
Hotspot Shield seems to have taken note of past criticism on its logging policy and featured a brand new Privacy FAQ page with a concise and straightforward explanation.
First of all, your IP address is not logged, stored, or shared by Hotspot Shield.
Also, none of your browsing activities while connected to Hotspot Shield is retained or tracked.
We've combed the fine prints in the privacy policy, and there aren't any inconsistencies in these claims. Do note Hotspot Shield will still need to retain personal data such as payment details when you subscribe to its premium plan.
6. Impressive Connection Speed
Does Hotspot Shield's choice of using the Catapult Hydra protocol result in better connection speed?
It seems so if the speed test results are a worthy indication.
We're testing Hotspot Shield against an ISP in Malaysia, which is notorious for throttling connection speed.
Here's our speed without connecting to a VPN.
We started by connecting to Hotspot Shield's server in Australia, and obtain a marginally improved download rate..
What amazes us is the download speed we managed to get in the UK, which has only one server.
But Hotspot Shield's stake for being the fastest VPN is not replicated in the US. Here's a screenshot for Atlanta, US
The download rate miserably suffered when we connect to a San Francisco server.
With the rare exception of some servers in the US, we managed to get pretty decent speed. Besides that, connecting to a VPN server only takes less than 5 seconds, which is quite impressive.
7. 24/7 Live Chat
Getting a response to queries is key to a worry-free VPN experience. We're initially disappointed by the lack of Live Chat icon on the homepage.
However, it turned out that Premium users are given the privilege of accessing live chat support.
The live chat is hosted on Pango, the current owner of Hotspot Shield. It can be accessed on your account dashboard.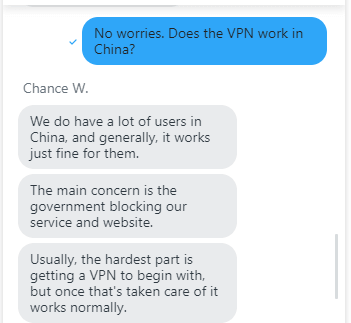 We found the support to be quick and the personnel helpful. Our question on Hotspot Shield's functionality in China was replied concisely.
Hotspot Shield—The Cons
Are there any downers with Hotspot Shield? Well, there are a few aspects which don't make us comfortable.
1. Not The Best Jurisdiction
According to the privacy policy of Hotspot Shield, two registered companies are responsible for handling users' data.
Pango Inc, which is based in the US, handles the personal data of US residents, while the Swiss-registered Pango GmbH handles those outside of the US.
While Swiss is known for its privacy protection and a safe haven for VPN users, the US is not. The US, being part of the 5,9 and 14 Eyes countries, have legal authorities on requesting data stored by VPN providers.
Some VPN users may be uncomfortable by the location of Hotspot Shield's parent company, but with its no-log policy, Pango couldn't reveal any user data.
2. Risk Of Using FREE Hotspot Shield
If you don't mind the limited speed and location, you can use Hotspot Shield for free. But the free version is monetized by ads display. If you click on those ads, there is a risk of having your data collected by the advertisers.
Except for the actual IP address, third party advertisers may still obtain other personal data on their means to serve you 'better ads'.
We're staying away from the free version of Hotspot Shield for sure.
How to Install Hotspot Shield on Windows or Android
Installing Hotspot Shield on both Windows and Android is relatively simple. Follow these steps for the respective platforms.
Hotspot Shield for Windows
1. Go to Hotspot Shield homepage and click Pricing or Buy Premium.
2. Choose your preferred subscription plan.
3. Enter your email address and complete the payment with Paypal or Credit Card.
4. Wait for the download to start and click Finish Account Setup.
5. Fill up your password to finish setting up your account.
6. Install Hotspot Shield from the downloaded installer. Launch the program when it's done.
7. You can start connecting to any of Hotspot Shield's servers.
Hotspot Shield for Android
1. Open Google Play Store and search for 'Hotspot Shield VPN'. Install the app.
2. At the start-up screen, choose Sign In to log in with your Premium credentials.
3. Tap on the Connect button.
4. Choose Always Allow when prompted for permission to connect to Hotspot Shield VPN.
5. You're now connected to Hotspot Shield VPN.
How to Install Hotspot Shield Chrome Extension
1. Visit Chrome Web Store and search for "Hotspot Shield VPN"
2. There are two VPN proxy listed. For free Hotspot Shield browser extension, click Add To Chrome on the topmost extension.
3. Check out the icon once the download is completed.
4. You can now secure your browser with the Hotspot Shield extension.
Can I Use Hotspot Shield to Watch Netflix?
There were no mentions of Netflix support on Hotspot Shield's website, but there are claims of the VPN being ideal for streaming purposes.
The customer support personnel confirmed that Hotspot Shield does support Netflix in selected countries.
We tried our luck by watching Daybreak and we're successful in servers in the US, Canada, and Australia.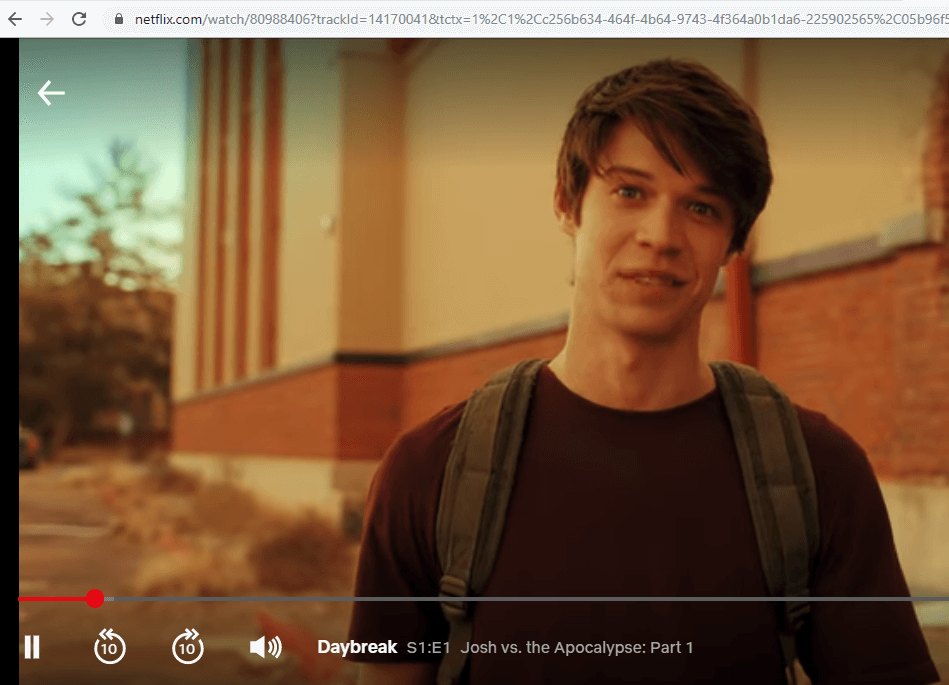 As for Netflix UK, we tried connecting to the only server in the UK but was greeted with the dreaded black screen.
Still, getting access to 3 out of 4 countries for Netflix streaming is a decent result, considering how the streaming giant is working hard to block VPNs.

Can I Use Hotspot Shield to Torrent?
Hotspot Shield does not openly advertise its ability to support torrenting. But there's an article in its FAQ that out its strength as an ideal VPN for torrenting.
With impressive connection speed, unlimited bandwidth secured VPN tunnel, and no-log policy, Hotspot Shield is a decent choice for P2P users.
Is Hotspot Shield VPN Safe?
Some VPN users may be troubled by Hotspot Shield being headquartered in the US. It's an open secret that privacy is a myth in the country.
However, Hotspot Shield practices a strict no-logging policy and publishes a transparency report that affirms its commitment to uphold users' privacy.
When connected to Hotspot Shield VPN, users are protected with the Catapult Hydra protocol, which is audited and trusted by some cybersecurity giants.
We've also confirmed that Hotspot Shield does not suffer any DNS or IP leak during our testing. Therefore, Hotspot Shield is as safe as you get for a trustworthy VPN.
Summary
Even at a marginally pricier range, Hotspot Shield has earned its spot as one of the top VPNs around. Its proprietary protocol has proved to be effective as the connection speed is generally impressive.
The app is kept at minimal so that even the most non-technical users can easily connect to the VPN. Hotspot Shield supports Netflix and torrenting, which are both crucial elements that define a decent VPN.
Also, you'll have access to 24/7 live chat support and have your questions answered concisely. You don't get such professionalism in many VPNs.
We'll give a huge thumbs up to Hotspot Shield in this review. Sign up to Hotspot Shield now and stay protected online.