In today's digital age, the most precious commodity is information. Thanks to the Internet, the latter has become readily accessible and has brought all sorts of modern conveniences to people's lives — Internet banking, instant messaging, social media, and the like. Unfortunately, this also includes our personally identifiable data, and it seems you can't rely on anyone online to keep them safe. Therefore, it's wise to take steps to secure your information when online. One of the solutions is to start using the best anonymous browser on the Internet.
If you're reading this, then you are probably interested in using an anonymous browser to protect your online activities. If so, then we urge you to read on and learn everything that you must know about securing your personal information online.
Why Keep Your Browsing Anonymous?
So why use an anonymous browser in the first place? What's wrong with standard web browsers like Google Chrome and Firefox? Well, as we've tried to point out at the beginning of this article, the Internet isn't as safe as most people cut it out to be.
You might be surprised to learn that businesses are making money selling your personal information — the websites you visit, the things you've bought online, your Google searches, and the like. Your ISP, the government, and even reputable organizations like Google and Facebook collect information about their users in one form or another. Even more concerning are the rising cases of cyberattacks, including identity theft, phishing, and internet-related crimes.
According to the Insurance Information Institute (a US-based Trade Association), there have been more than 3 million reported cases of identity theft in the US alone in 2018. More than a quarter of these cases resulted in financial losses for victims. You might think that these things can't happen to you, and you can bet that those people probably thought the same. If you aren't sure, then it's time to take concrete steps to protect your personal information on the Internet.
While some might argue that it's impossible to erase your tracks on the Internet completely (digital footprint), there are measures that you can take to mitigate your risks. One such action is to use what's known as an anonymous browser. These browsers are different in that they are designed to hide the personally identifiable information of users from the websites that they visit.
Best Anonymous Web Browsers
Now that you've learned what anonymous web browsers are and why they're necessary, you might be wondering — which one should you use? Like any data security solution, anonymous browsers aren't perfect, and some do a better job than others in protecting the personal information of users.
If you have no idea where to start your search for the best secure browsers, then you might want to consider the following options:
Brave Browser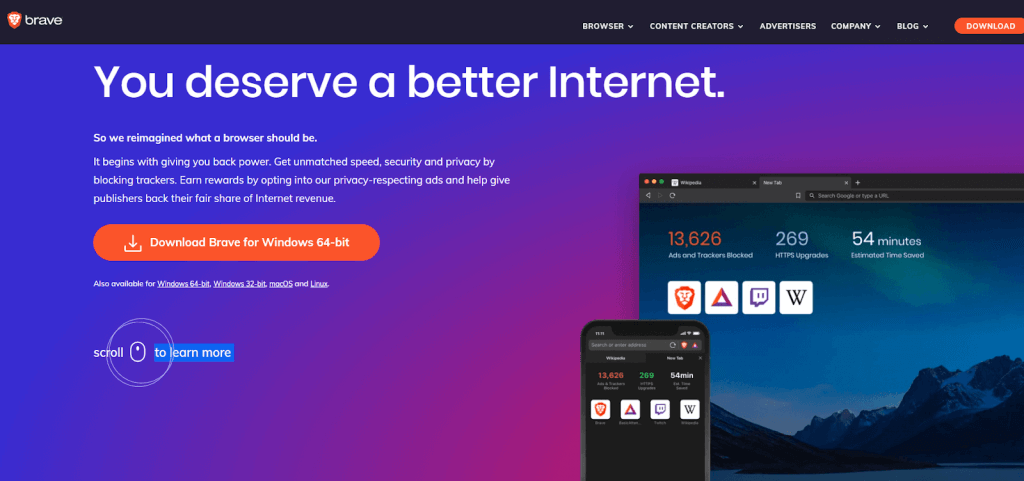 Brave browser is a free and open-source anonymous web browser based on Google's Chromium software project. Content creators continuously expand the features of the browser by publishing add-ons in exchange for recognition (and cryptocurrency donations). This allows Brave users to customize the browser however, they want while hiding the details of their browsing activities from prying eyes.
The Brave browser comes with an integrated ad-blocker that wards off annoying ads and stops unscrupulous third parties from installing trackers and malware through websites that you visit. The browsers support most major platforms and operating systems, including Windows, macOS, Linux, Android, and iOS.
Because they share the same code (Chromium), Google Chrome users will feel right at home with Brave Browser and find that it's easy to get used to. It also supports most of the Chrome extensions in the chrome web store. If you want a free and reliable alternative to Chrome, then Brave might be the anonymous web browser for you.
SRWare Iron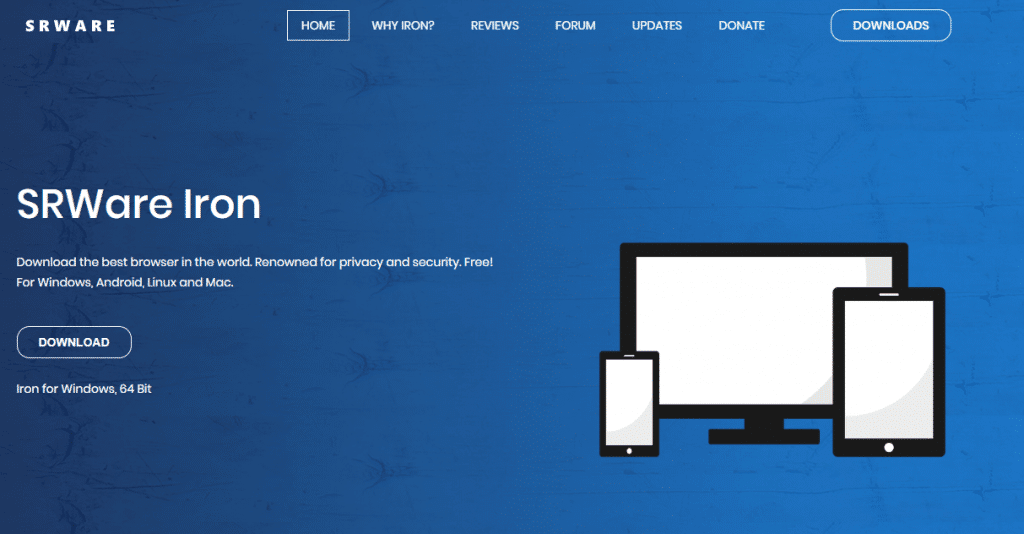 Another anonymous browser based on the Chromium architecture, SRWare Iron is another good option for users who have become tired of Chrome leaking their data to third parties without permission. The layout is almost identical to Google Chrome, which makes for a smooth transition. It's available for most major platforms like Windows, macOS, iOS, and Android.
Unlike standard web browsers, SRWare Iron doesn't require any additional software to run or possess any location tracking feature. It also blocks suggestions from search engines and does not keep logs of queries that can be used to track browsing activities.
Like most anonymous web browsers, SRWare Iron relies on donations to keep the project running. Hence, it's free to use and will remain so for the foreseeable future.
Comodo Dragon Browser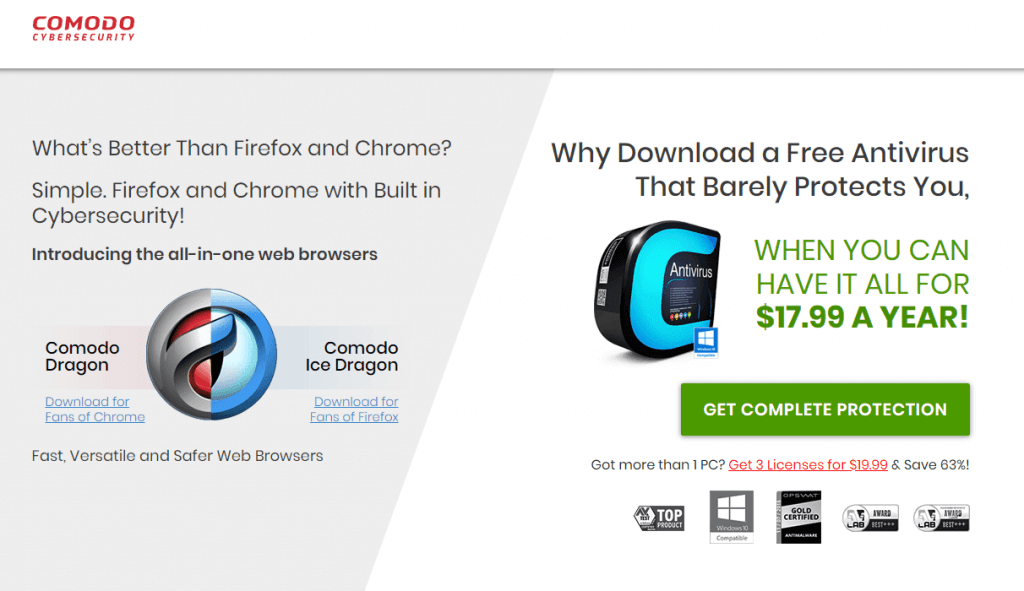 Comodo is an anonymous browser designed for Windows, Mac, iOS, and Android. In addition to usual features like ad blocking and SSL validation (indicates whether a website is secure or not), Comodo is unique in that it features a complete anti-malware and antivirus suite. That said, users will have to pay for mentioned security features, which starts at $17.99 per year, which is still cheaper than most stand-alone antivirus software on the market.
Best VPN for Private Browsing
While you can expect the anonymous browsers mentioned above to do an excellent job of hiding details about your browsing activities from prying eyes, they alone are not enough to become truly anonymous on the Internet. Personal information can still leak through activities outside the incognito browser — messaging apps, online games, video streaming apps, and the like. This is why we recommend the use of a good VPN (Virtual Private Network) in conjunction with anonymous web browsers.
VPNs encrypt all data coming in and out of your device so that not even the government or your ISP can glean any information about your activities on the Internet. It achieves this by routing your connection to a network of servers that mask your real IP address and make information indecipherable to third parties.
Don't know which VPN to use along with your anonymous web browser? Well, you can't go wrong with any of the following:
FEATURES
Surfshark
NordVPN
PIA
ClearVPN
Functional
in UAE
✅
✅
✅
✅
AES-256 encryption
✅
✅
✅
✅
Number
of countries
61+
59
30+
50+
No-logs policy
✅
✅
✅
✅
24/7 Customer
support
✅
✅
✅
✅
No of devices
Unlimited
6
10
6
Supports chain VPN connections
Yes (Multihop)
Yes (Double VPN)
No
Yes (Double VPN)
Summary
So there you have it — anonymous browsers and how they help keep your personal information safe online. If used in conjunction with an excellent VPN service, anonymous browsers help ensure that your Internet activities are genuinely private and known only to you. No matter which anonymous browser or VPN you choose, you get peace of mind knowing that your information is safer compared to when you were using a regular web browser on an unencrypted connection.