When you're trying to figure out how to use Avast for torrenting, it shows that great changes are taking place in the online world. Back in the day, when the Internet was young, an antivirus software program (AV software) was all you needed to keep your computer safe from nasty viruses.
Avast, as you probably realized, is a familiar brand of antivirus software. Chances are, you may be already subscribing to Avast antivirus to keep your computer safe. But the fact that the company launched Avast Secureline VPN P2P five years ago, is a subtle hint that having a piece of antivirus software is not enough, particularly for torrenting.
Why is Antivirus Software Not Enough?
Torrenting was developed when the Internet was at turtle pace. Despite the convenience it provides to share and download large files at your own pace, it is a risky business. If you've had half of your files wiped out after launching a seemingly "legit" installer, you know what we're talking about.
But viruses are not the sole concern for modern-day torrent users. Some files that are shared amongst the torrent community are protected by copyright. While we don't condone copyright-infringement, sometimes you can get caught in the process unknowingly.
Privacy has become the biggest myth in the modern internet. All of your torrenting activities can be monitored by your ISP, government, and other enforcement agencies. And, using a torrenting software program only increases your vulnerability.
Have you noticed that the IP address of every user is listed in the torrenting software when you're sharing or downloading a torrent? Those IP addresses expose your identity on the torrenting platform. If any hackers are lurking amongst innocent users, they will have a field day with the unprotected IP addresses.
Even if you escape attacks while torrenting, some ISPs might throttle your internet speed. Torrenting software like BitTorrent and uTorrent are known for occupying massive bandwidth. This often irks ISPs and they throttle you.
Enter the VPN or Virtual Private Network. The VPN is a technology that creates a secure internet connection for your devices by employing encryption and cloaking the IP address. It drives the information across a network of VPN servers before connecting to the Internet.
In an instant, you are no longer under the watchful eyes of others when you're downloading a torrent. Even if the data from your device is intercepted, it's unintelligible due to the highly-impenetrable encryption. As a result, you don't get your speed throttled by the ISP or risk getting caught up in legal suits.
Of course, not all VPNs support torrenting activities. Nor are they great options for torrenting. A VPN needs to fulfill these criteria to be considered for torrenting:
No-logs policy.
No DNS-leak issues.
Fast connection speed.
P2P/Torrent support.
Avast VPN, however, is one that deserves a try as it meets the fundamental requirements. But is Avast VPN the best option that is worth subscribing to? Read on, and we'll dive deeper into torrenting with VPN, particularly with Avast VPN.
IS Avast VPN Good For Torrenting?
Avast Secureline P2P VPN or popularly known as Avast VPN was launched in 2014 by a company that has been in the antivirus business since 1988. It is downloadable on popular operating platforms like Windows, MAC, Android, and iOS. Up to five different devices are allowed to connect to Avast VPN from a single account.
But here are the reasons why we feel you ought to give Avast VPN a try.
1. No-logs policy
For torrenting activities, you'll want to ensure that your privacy is protected at all cost. Avast VPN has a no-logs policy that ensures that no information that identifies its users is stored in its database. However, it does store connection logs, such as bandwidth usage and session duration for diagnostic purposes.
2. Highly Secure Connections
As a VPN offering from a reputable antivirus software company, you'll find that Avast VPN offers military standard AES-256 encryption. Coupled with OpenVPN or IPSec protocols, your connection is impenetrable at the hands of hackers or inquisitive ISPs. Avast VPN is also free from DNS-leaks, a privacy vulnerability that may expose your IP address.
3. Impressive Connection Speed
For all the hype of using VPNs for torrenting, speed is an often underrated factor. A slow connection means it takes a substantially longer duration to torrent. Avast VPN's server speeds are incredibly fast, making the VPN ideal for torrenting activities.
4. Dedicated Servers For Torrenting
Rather than trying out each server to find out which works for torrenting, Avast VPN has listed those that are dedicated for such purposes. You'll find that connecting to any of these 8 locations gives access to torrenting.
Prague, Czech Republic
Frankfurt, Germany
Amsterdam, Netherlands
New York City, New York
Miami, Florida
Seattle, Washington
London, United Kingdom
Paris, France
5. Phone Call Support
You don't get phone call support with most VPNs. In fact, we couldn't recall any. Avast VPN has a dedicated hotline that you can reach out to and get help if you're not so keen on using its ticketing system.
How to Use Avast Secureline VPN for Torrenting
Avast has different pricing plans depending on the platform that is installed. They are backed by 30-day money-back guarantee policy. But what's more intriguing is that you can enjoy a 7-day free trial period for any of its plans.
If you wanted to try out Avast VPN for p2p (torrenting), you could do it with peace of mind by following these steps.
1. Head over to the Avast homepage, click For Home → PC → SecureLine VPN. Or load Avast VPN from this link.
2. Click the Download for PC button. (We're using Avast VPN for p2p/torrenting on a PC).
3. Install Avast VPN on your PC.
4. Once the installation is finished, launch Avast Secureline VPN P2P. Click on the "OFF" button.
5. A dialog will pop up, prompting you to select the licensing plan. Choose Start 7-Day Trial.
6. Click on Get Started once the trial license is activated.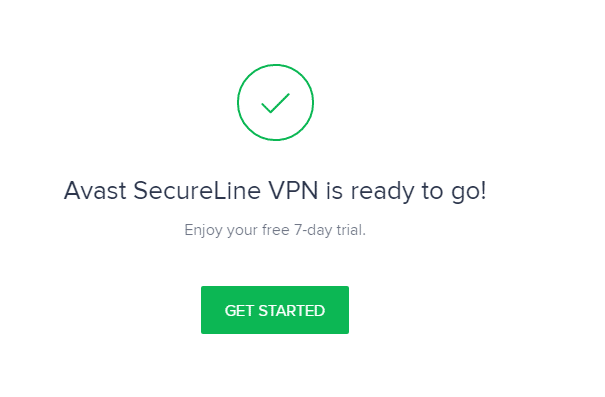 7. At the Avast SecureLine VPN dashboard, click on Change Location at the bottom of the screen. Choose a location that is marked with P2P. In our case, we chose the Netherlands.
8. Wait for the Avast SecureLine to establish a connection. You'll get the following screen when you're successfully connected.
9. Once connected to a P2P-friendly server with Avast VPN, you can launch your torrenting client and start sharing files.
Is Torrenting With Avast VPN Safe?
With your concerns about possible data breaches and hackers, it's understandable that you'll be questioning the safety of Avast VPN torrenting. You know that Avast's antivirus products are one of the best around, but what about its VPN service?
Avast VPN uses AES-256, which is as secure as you can get when it comes to encryption. By encrypting P2P connection with AES-256, you'll ward off any potential eavesdroppers. The fact that Avast VPN transports data with OpenVPN and IKEv2 also helps in ensuring the security of P2P users.
You can heed the fact that Avast explicitly supports torrenting, with 8 dedicated P2P-optimized servers, as a positive sign. It means that Avast is pouring additional initiatives to ensure that P2P users can torrent in a secure environment.
Another concern about downloading Avast VPN torrent is whether there will be digital footprints left on its servers. Thankfully, Avast has a clear privacy policy where it doesn't store information like IP addresses and browsing sessions. This means that there's no chance of having your privacy exposed in the event of a breach.
Avast did suffer a breach to its internal network, in what's a suspected attempt to inject malware into its CCleaner software. The company's VPN service was not affected and even if it is affected in a future breach, Avast's no-log policy will spare users from any potential fallout.
How Does Avast VPN Compare To Top VPNs for Torrenting?
In all honesty, Avast VPN borders on the high side when it comes to the subscription plan prices. Considering that the trial period only lasts for 7 days, you'll need to decide on whether to stick with Avast SecureLine for Torrenting or opt for one of our recommended VPNs for torrenting.
To make your decision easier, we put Avast VPN against these highly-favored VPNs so check out how it fared in various aspects.
1. Server Network
Avast VPN only has a total of 55 servers spread over 34 countries. This is a relatively low number as far as VPNs are concerned. NordVPN, arguably the most popular VPN, boasts more than 5,000 servers in 60 countries while ExpressVPN, known for its impressive speed, has over 3,000 servers spread over 94 countries.
2. Security
Being developed by a reputable anti-virus company, Avast VPN employs highly secure encryption in the form of AES-256. It transmits data with OpenVPN or IPSec protocol, which is the norm of VPNs. It's safe to say that Avast VPN's security rivaled other top VPNs such as TorGuard and Private Internet Access, which we recommend for torrenting.
3. Netflix Support
Netflix fans will be disappointed by the fact that Avast Secureline doesn't provide support for the popular video streaming service. If you need a VPN that works for both torrenting and Netflix wherever you are, NordVPN, Surfshark, and ExpressVPN are great options.
4. Jurisdiction
While Avast VPN has a no-logs policy, the fact that it is based in the Czech Republic may unnerve some users. The Czech Republic is known to be friendly with the Five-Eyes nation where intelligence information is shared amongst governments. If this bothers you, opt for VPNs like NordVPN or ExpressVPN, which are based in countries that do not require VPNs to share data.
5. Speed
Avast Secureline (for Torrent) features impressive speed that puts it on par with some of the top VPNs, like NordVPN, Private Internet Access, and ExpressVPN. It's crucial to have a reasonably fast connection to enjoy torrenting over a VPN.
It's obvious that Avast VPN holds its own when it comes to torrenting. But when factoring the price factor, you may want to take a closer look into our list of top VPNs for torrenting.
Summary
If you're still sticking to good old anti-virus software to keep your computer safe when downloading torrents, you're highly vulnerable to cyberattacks and other legal complications. Installing a VPN is key to staying safe on the Internet while torrenting.
The introduction of Avast Secureline VPN for P2P/Torrenting indicates that a major anti-virus software company recognizes that modern threats are better countered by anonymity and encryption.
Avast VPN is designed with the torrenting community in mind with dedicated P2P servers. With commendable connection speed and military-grade encryption, torrent users are protected from hackers and the prying eyes of authorities.
While Avast VPN is a decent VPN for torrenting, the fact that it's based in the Czech Republic may cause concern for some users. Also, it's not the best VPN to have if you're on a tight budget.
Regardless of whether you're sticking with Avast VPN or opt for our recommended VPNs for torrenting, you shouldn't be taking reckless risks by torrenting without one.
Sign up to the Avast Secureline or check out these top VPNs for torrenting now.