You've heard the rave about using a VPN to keep your device from being compromised on the Internet. After being terrified with stories of how hackers and governments are eagerly intercepting your data, which are unfortunately true, your best decision is to install a formidable VPN on your device.
With growing cases of data breaches and cyber attacks, VPN providers have been competing to put forth their services, and each is claiming to offer impenetrable stealth. For ordinary users, it can be a daunting task to choose between the hundreds of VPN providers.
Questions like: "What are the best encryption protocols and does the number of VPN servers matter?" makes deciding between VPNs harder. You may even find yourself wondering if you should try out a free VPN before subscribing to a paid version.
Well, it all depends. We generally don't recommend trying out or using a free VPN, as it is quite limited in protection and features. However, when it comes to a free trial of NordVPN, arguably the most reliable VPN in the whole industry, we highly recommend it.
Here's the thing, Nord VPN doesn't have a free version of subscription, and the monthly fee ranges from $3.49 to $11.95 depending on the billing period. However, this doesn't mean you can't try out Nord VPN trial and verify if it is as impressive as its reputation before paying.
In this article, we will guide you through the steps to set up a Nord VPN trail. That's more than enough to check out all the features provided by this top-ranked VPN to see if it meets your requirements.
Why NordVPN?
NordVPN is arguably one of the best VPNs around with unrivaled security and excelling in other departments. It boasts a network of over 5,200 VPN servers in 60 countries with impressive connection speeds.
The security offered by NordVPN is second to none. It uses the highly secure OpenVPN protocol and the 256-AES encryption. In other words, it means that the data tunneled through VPN is impenetrable. For the super-paranoid, NordVPN has a double-data protection feature, which relays the data through two VPN servers, ensuring the data is encrypted twice.
To have a great experience with Netflix, you'll need VPN servers that allow access to the streaming media provider and reliable connection speed. Netflix didn't disappoint on both. Most of the VPN servers on NordVPN allows streaming from Netflix with decent speeds.
The VPN is a tool to ensure your online privacy, and you'll want none of your data being logged or handed over to the authority, whether forcefully or not. NordVPN is based in Panama, which made it free from any obligations to turn in user data to governments.
Also, it has a strict no-logging policy that ensures no data that compromises your identity, or online behavior is retained.
You'll find that Nord VPN free trial is easy to use with the interface cleverly designed. In case you're stuck, you can choose between the live chat support or drop an email on your issue.
How to Activate NordVPN Free Trial
NordVPN has made it relatively simple to sign up for a free trial account. Here's the actual process that you need to go through to start enjoying unlimited Nord VPN free trial access.
1. Launch the NordVPN website and click on the Get It Now button on the screen.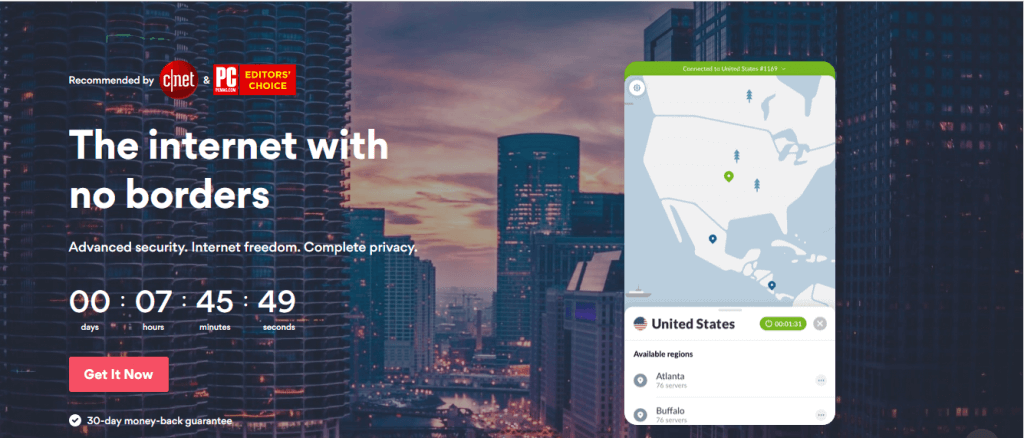 2. Choose from one of the four subscription plans. They are all covered by the 30-day money-back guarantee policy.

3. Insert your preferred email as your username and select a payment method.
4. Once you're done, click Continue to create your Nord VPN account. A dialog will pop up indicating that an activation link has been sent to your email.
5. Check your email and activate your NordVPN account.
6. You'll be asked to set a new password for your account. Do that accordingly.
7. Once you're done, you'll be presented with a list of download links for the NordVPN app. Choose and download Nord VPN for your device.
8. Launch the NordVPN app, and enter your login credentials to proceed.
9. You now have access to the unlimited features and security offered by free trial NordVPN.
How to Ask For a Refund During a Free NordVPN Trial
Once you've tested out all the features of the Nord VPN 30 day trial, you can cancel Nord VPN account and get the payment refunded irrespective of whether you enjoy the service or not.
To do so, follow these simple steps.
1. Log in to your account in NordVPN website with your username and password.
2. Navigate to My Services and click on the vertical dots button beside Change Plan.
3. A dialog will pop up prompting if you would like to cancel the automatic payments. Click Cancel Automatic Payments and confirm your decision by clicking Confirm Cancellation on the next popup.
4. A confirmation dialog will appear noting that you've successfully canceled your subscription.
5. You can now start to get your refund by getting in touch with NordVPN customer support. To do that, click on the question mark icon on the bottom right of the screen.

6. In the support popup, select the email icon to request a refund via an email.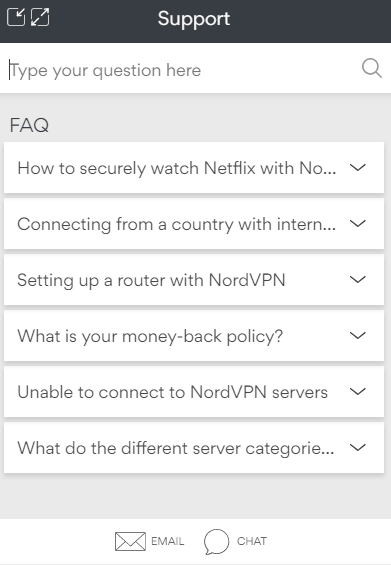 7. On the email dialog, select Payment from the list of departments and you'll find fields for payment method, plan, date, and the amount appeared. Fill in the information accordingly.
As for the Description, you can just mention that you don't think NordVPN is the right service for you.
8. You'll then receive an email from NordVPN customer support seeking your confirmation for your refund request. Confirm your decision and you can expect the refund to be processed in a couple of days.
Summary
There is no doubt that getting the right VPN is vital to stay safe when browsing online and accessing geo-restrictive content like Netflix. With the vast amount of VPNs available, the best way to evaluate a VPN is by subscribing to a free trial.
NordVPN has the envied reputation of being the safest VPN in the industry. While it doesn't offer a free version, you can leverage the 30-day money-back guarantee on any of its paid plans. We have shown how easy it is to subscribe to Nord VPN and enjoy all the features available.
What's more important is that you're able to terminate the auto payments on the subscription and get your money refunded before the Nord 30 days trial period ends. The fact that this can be done without complications allows you to try out NordVPN trial without worrying about any financial commitment.