No recent news in the tech industry is quite as controversial as that of the US ban of Huawei — the second largest smartphone manufacturer in the world and the leading telecommunications company for 5G technology.
However, what does any of this mean to the average consumer? If you own a Huawei device, should you be concerned? These are good questions and well worth looking into if you've purchased a Huawei device or plan to do so in the future
What Is the US Huawei Ban?
The Huawei US ban refers to a recent US executive order spearheaded by the Trump administration that added Huawei to a list of blacklisted companies. The latter effectively bars Huawei from selling any of its products to American consumers or doing business with US companies.
As you might imagine, getting banned from the US market is poised to deal a devastating blow to Huawei. Despite reaching the status of the fastest growing smartphone vendor of 2018 and selling over 200 million smartphone units, Huawei is heavily reliant on the US for sourcing critical technology and components such as radios, Gorilla glass, and flash storage.
When did the Huawei US ban begin?
The decision to ban Huawei from the US market did not happen overnight and had been brewing for quite some time. One Bloomberg (a private media software company) report states that Huawei has built at least a three-month stockpile ahead of the US ban which hints that the situation didn't come as a complete surprise for Huawei.
The following is a brief timeline of events leading up to the US Huawei ban, from 2018, and what has happened since (up to the time of writing):
2018
February 13 — FBI Director, Chris Wray, cautions people about buying Huawei and ZTE phones after receiving reports of potential security risks.
May 2 — The Pentagon prohibits the use of Huawei and ZTE phones on military bases.
July 11 — Australia bans Huawei from their 5G network.
August 1 — Huawei dethrones Apple as the second-largest smartphone vendor.
December 5 — Britain starts removing Huawei equipment from its 4G infrastructure and announces that they won't be using Huawei technology in their 5G rollout.
2019
January 3 — Trump studies the option to ban Huawei from the US market through an executive order.
January 29 — The US hits Huawei with 23 indictments including fraud and technology theft.
February 6 — The US warns Europe about including Huawei in their 5G rollout.
February 17 — The UK concludes their study on security risk posed by Huawei and deems it manageable.
March 12 — The US pressures Germany to ban Huawei from their 5G network and threatens to restrict intelligence sharing.
March 14 — Rumors surface about Huawei developing their operating system to mitigate reliance on Android and Windows OS.
March 19 — Germany refuses US demand to exclude Huawei from their 5G rollout.
April 8 — Huawei agrees to sell 5G chips to Apple.
April 9 — The US withdraws the demand for Germany to exclude Huawei from their 5G infrastructure.
April 21 — The CIA files a report stating that Huawei receives funding from the Ministry of State Security (China's Intelligence and Security Agency).
April 30 — Vodafone reports that they have found hidden security risks in Huawei telecommunications equipment.
May 3 — The US warns international security experts about the "Huawei threat" during the nonbinding Prague proposals — a global discussion involving more than 30 countries regarding the future of 5G technology.
May 15 — Trump issues a national security order banning Huawei from doing business in the United States.
May 19 — Google cuts ties with Huawei and blocks access to the Play Store and upcoming Android updates.
May 20 — Huawei gets a temporary respite from the US ban to last until August 19, 2019 (90 days). Google temporarily resumes support for Huawei devices.
May 21 — Huawei offers app developers a share of their market in return for help to populate their app store to compete with Google.
May 22 — ARM (a chip design company) cuts ties with Huawei.
May 23 — The US claims that Huawei has hidden ties with the Chinese Military.
May 26 — Huawei confirms the existence of their mobile operating system called "Hongmeng" poised to launch internationally by 2020.
May 29 — Huawei files a motion with the US court to deem the US ban unconstitutional.
Why did the Huawei US ban happen?
As you may have surmised from the timeline above, the Huawei ban primarily stems from concerns that their technology can be used by the Chinese Intelligence and Security Agency to spy on the United States and steal vital state secrets. After all, China has what is called the "National Intelligence Law" which obligates all Chinese companies to cooperate and provide information if requested by the state to aid in any investigation for its national interests. Even more concerning is the fact that Huawei founder Ren Zhengfei was a soldier in the People's Liberation Army and a member of China's ruling Communist Party.
While Huawei has consistently denied any wrongdoing and points out that allegations against them are mostly speculative with no substantial evidence, the US has deemed it too risky to include their technology in their 5G rollout.
Surprisingly, Trump raised the possibility of using the Huawei ban as a bargaining chip for trade negotiations with China fueling speculations that the executive order may have been a politically motivated decision.
What Is Huawei Google Ban?
The executive order banning Huawei from the US market prohibits companies from doing any business with the embattled Chinese tech company. This, of course, includes Google who had no choice but to suspend Huawei's Android license in the aftermath of the Trump ruling.
What happened with the Huawei Google ban?
Just one day after Google announced that they are discontinuing support for Huawei devices, the US Commerce Department grants Huawei a temporary license to continue operating its network and provide updates to their products in the United States. The said provisional license is valid until August 19, 2019, and to that effect, Google announced that they would resume business with Huawei until said date.
What are the implications of the Google ban?
Considering the sheer amount of business that Google will lose as a result of the Huawei ban, the tech giant is expected to do whatever it can to help overturn the Trump ruling. That said, its willingness to abruptly comply with the executive order has shaken investor confidence, particularly in the smartphone space for foreign companies. Many are quick to point out that nothing is stopping the US government from eliminating competitors that they deem a threat to American interests.
What Does This Mean for Huawei Device Owners?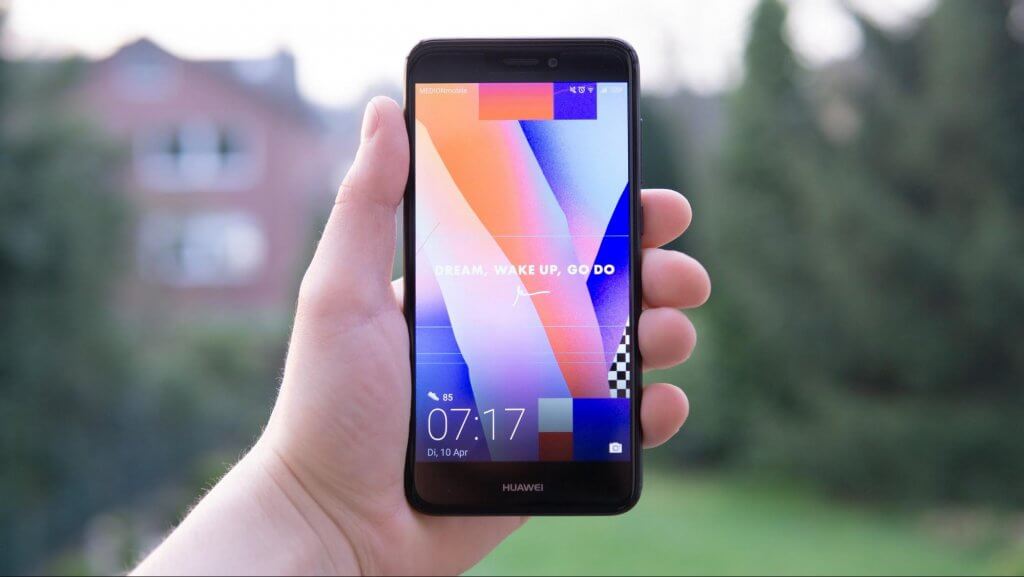 For the time being, owners of Huawei products will be able to use their device as usual and will experience no disruption of Google services at least until their temporary license expires.
This was the response from Android's Twitter account, 19th May 2019: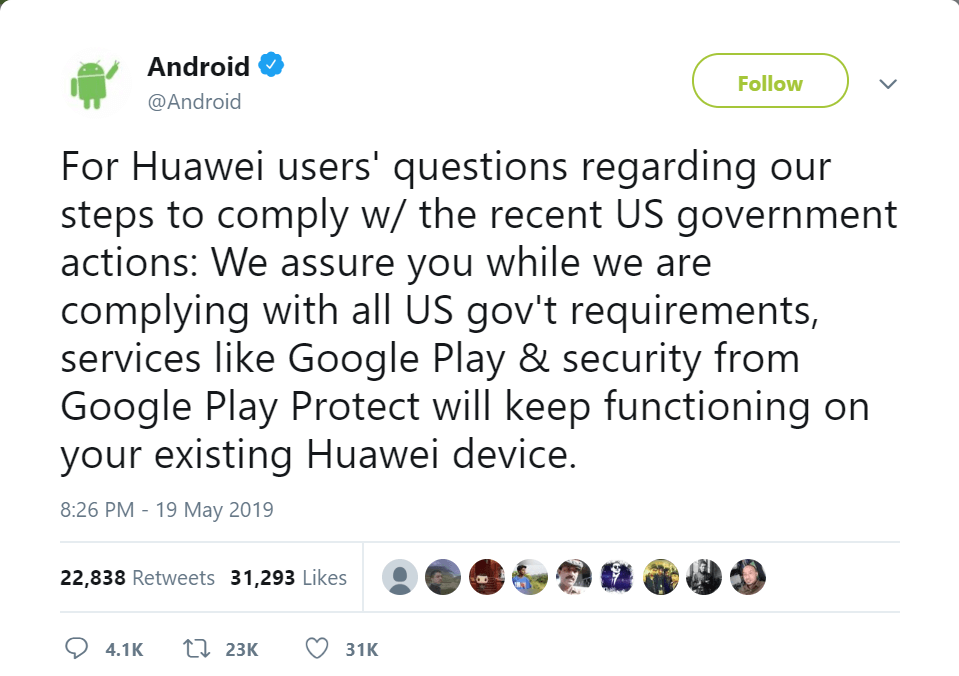 After the temporary license expires, people run the risk of losing access to Google-related services, including the Play Store and Google Protect. If the ban is fully enforced, Huawei users will no longer be able to update their device to the latest version of Android or download/update apps directly from the Google Play store.
For their part, Huawei assures its users that they will continue to provide security updates and after-sales services to all of their products. Huawei also has the option to switch to the open-source version of Android at least temporarily, until they can establish their proprietary operating system. That said, the question of whether or not Huawei can remain competitive despite losing access to the Google Android operating system remains to be seen.
What Huawei devices are currently unaffected by the ban?
Existing Huawei devices will be unaffected by the ban. These include:
Huawei P30 Series – P30, P30 Pro and the P30 Lite
Huawei P Smart
Huawei Mate 20 Series – Mate 20, Mate 20 Pro, Mate 20 Lite and Mate 20 X
Huawei P20 Series – P20, P20 Pro and P20 Lite
Huawei Mate 10 Series – Mate 10 Mate 10 Lite and Mate 10 Pro
Huawei P10 Series – P10, P10 Lite, and P10 Plus
How much the ban will affect future releases is still uncertain, but it is something to keep in mind if you are planning to upgrade your phone.
How Can You Protect Your Device From Privacy Issues?
If there is one thing we can all take away from the controversies surrounding the Huawei ban, it's the fact that the Internet isn't as safe as we would like to think. Ensuring privacy and security online is ultimately one's own responsibility and is something we should all become more aware of.
How to secure your device
Regardless of whether you use a Huawei device or not, the best way to ensure that your online activities and sensitive information remain safe from unscrupulous third-parties is to start using a good VPN (Virtual Private Network) service. Such services keep users anonymous online by encrypting and routing data traffic to an external VPN server. This makes it impossible (if not very difficult) for anyone to collect personally identifiable information on VPN users.
Here're TOP 5 VPN services to protect your privacy while surfing online:
Summary
So there you have it — an overview of everything that you need to know about the Huawei ban and how it might affect you as a consumer. As you have probably realized, the circumstances surrounding the Huawei ban is a complex mix of cybersecurity concerns and political posturing between two great superpowers — the United States and China. Caught in the middle is a company with humble beginnings and that was well on its way toward becoming one of the most successful multinational tech companies in the world.
People may have conflicting opinions about whether the ban is justified or not but we can all agree on one thing — the Internet isn't as safe as we want it to be and people need to claim responsibility for ensuring their privacy and security as we journey further into the digital age.