You've written the most genius proposal you've ever had and sent it to a prospective client. As you're waiting for a positive reply, a hacker may have intercepted your email and used it for malicious purposes.
Email interception is not a myth. It is one of the many security threats faced by both business executives and normal internet users. Such a threat is further magnified when you're patronizing cafes and using their public WiFi.
While it's true that some email services implement encryption, hackers are still preying on the slightest security flaws. It makes perfect sense to invest in a more secure connection that offers comprehensive protection when you're connected to the Internet.
VPNs (Virtual Private Networks) are the upcoming trend for today's internet security. It offers secure point-to-point encryption between your device and the receiving server. This means that any eavesdropping hackers will have no chance in deciphering data originating from your device.
With numerous VPN services available, there's no excuse in not using one. However, getting the right one can be tough if you don't know what to look for. Windscribe is one of the few VPNs that caught our attention with its superior privacy and encryption features.
That being said, we feel you ought to try out Windscribe's full service for free before committing to it. After all, that's what being a responsible consumer is all about. We've managed to gain full access to Windscribe without putting our money at risk, and we'll guide you on how to do that later on.
Why Windscribe?
Windscribe shines for its simplicity and security. Besides the impenetrable AES-256 encryption, it offers various protocol choices to send data over the Internet. You'll have an option of OpenVPN, IKEv2, and SOCKS5, which are known to be reliably secure.
Security is only one half of the coin for VPNs. What's equally important is privacy and Windscribe has been proven reliable in keeping your identity anonymous online. The service suffers no DNS-leaking, a technical flaw that may inadvertently give your IP address away.
You'll also want to keep an eye on viruses infecting your device when installing a VPN. With Windscribe, you'll be perfectly safe as it has a clean installer file. Windscribe also helps to keep your device safe as it also functions as an ad tracker and malware blocker.
Flexibility is what puts the shining edge on a VPN, and Windscribe is as flexible as you can get. It supports all the major operating systems including Windows, Mac, iOS, and Android. The icing on the cake is that Windscribe does not limit the connections, which means you can connect all your devices to the VPN.
You can also expect a considerably large network of VPN servers with Windscribe. Its servers are present in 110 cities in 60 countries.
Have we mentioned that Windscribe's VPN is incredibly easy to use?
Windscribe is built with a simple user interface, where all the controls are easily accessible. Also, Netflix users will love the fact that Windscribe allocates dedicated servers that allow uninterrupted access to content streaming.
When you need a helping hand from Windscribe, you can chat with a "live bot" called Garry or if you need a human touch, it has a ticket-based support system.
Overall, Windscribe is a decent VPN if you're hoping to protect your device from potential security breaches online.
Why Try Out Windscribe's Paid Version for Free?
Generally, VPNs are useful services to keep you safe on the Internet, but you'll need to be a paying subscriber to enjoy their features fully.
Some VPNs offer free plans to help users to get started. Windscribe offers the easiest access to a free VPN where you can download the client software without giving away your email address.
But like any free VPNs, Windscribe limits the data capacity to 2GB per month, and you'll have access to only 10 locations on its free plan. Of course, you'll get to increase the data limit to 10 GB when you submit a valid email address to Windscribe.
However, you'll use up the 10GB quickly if you're transferring massive files or streaming videos on the Internet. Also, the free version of Windscribe does not allow access to its Netflix-dedicated server.
Honestly, we don't feel the free version of Windscribe is useful if you're a Netflix user. Also, the limitation on the servers and data capacity limits your experience, and it isn't a good yardstick to judge the VPN as a whole.
The best way to try out Windscribe is to sign up for its paid plan or Windscribe Pro, where you'll have access to all of its servers with unlimited data capacity. You'll also have access to two Netflix-friendly servers.
Windscribe's paid plan also includes a 100% money-back guarantee, within 3 days from the signup or 10 GB of data usage. While the duration is pretty short for industrial practice, you'll have sufficient time to try out the key features before deciding if it's the right VPN for you.
How to Activate Windscribe's Free Trial
Whether you're looking for additional protection from cyberattacks or to access Netflix anywhere in the world, you'll want to access Windscribe Pro for free.
We'll show you how you can do so in the following instructions.
1. Open Windscribe homepage on your browser. Hover your mouse at the Login Button. A Sign Up button will appear and you'll need to click on it.

2. Fill in your preferred Username, password and click Create Free Account when you're done. Ensure that you provide your email address as it is used to reset your password when required.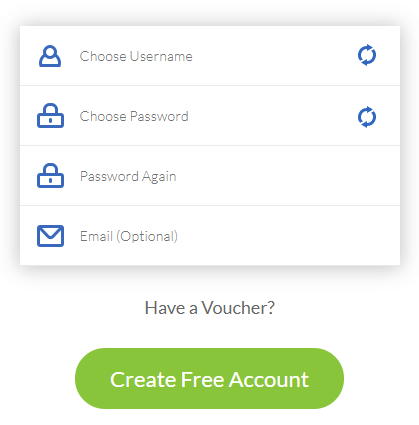 3. You'll be directed to the Account Overview dashboard. Click the Pricing tab on the top menu.

4. The pricing page lists the price for Windscribe Pro. Click the Buy Now button on either the monthly or yearly package.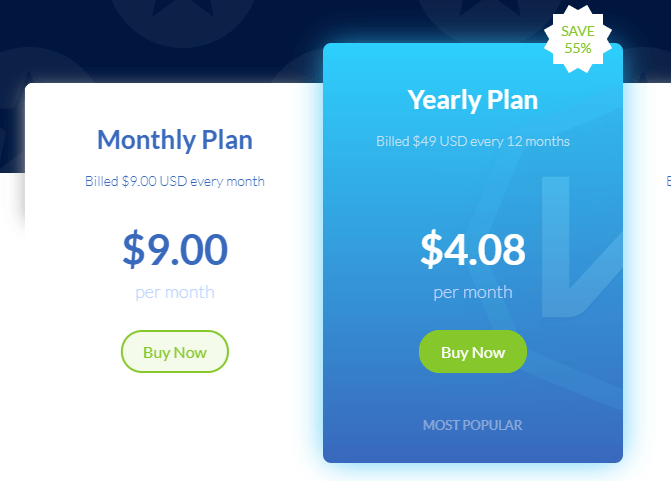 5. Choose your preferred payment mode. Windscribe supports Credit Card, Paypal, Cryptocurrency, and Payment Wall.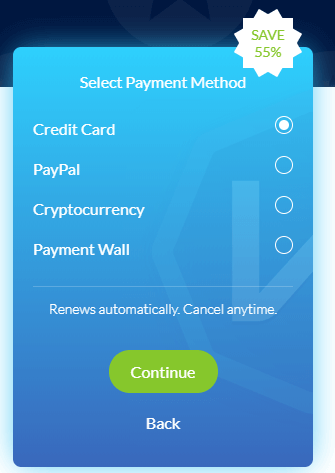 6. Complete the payment process. You'll be greeted by the Payment Successful message on the browser.

7. Click Download on the top menu.

8. At the download page, click the download link for your device. In our test, we've downloaded Windscribe for Windows.

9. Complete the installation and launch the Windscribe Pro client software. Windscribe will automatically launch. You'll now have access to servers in all locations with Windscribe Pro.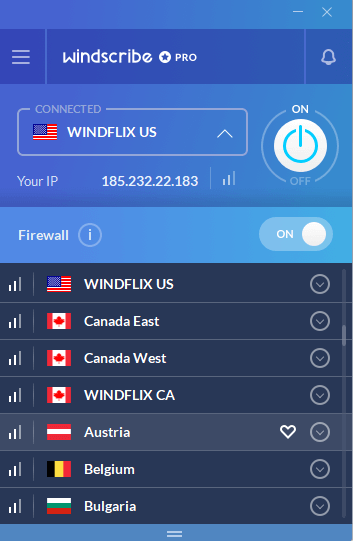 How to Claim Your 3-Day 100% Money-Back Guarantee from Windscribe
Now, you'll want to bear in mind that the money-back guarantee policy for Windscribe is only valid for 3 days or 10 GB of data download.
To check your data usage, go to Account Dashboard and you'll find the value for Bandwidth Usage.

To get your money refunded, you'll need to do so before the 3 days are up and your usage does not exceed 10 GB.
Follow these steps to request a refund.
1. Click Support on Windscribe's menu.

2. On the support page, click Submit Ticket.

3. Describe your issue in the textbox to unlock the ticket submission button. Click the Submit a Ticket button.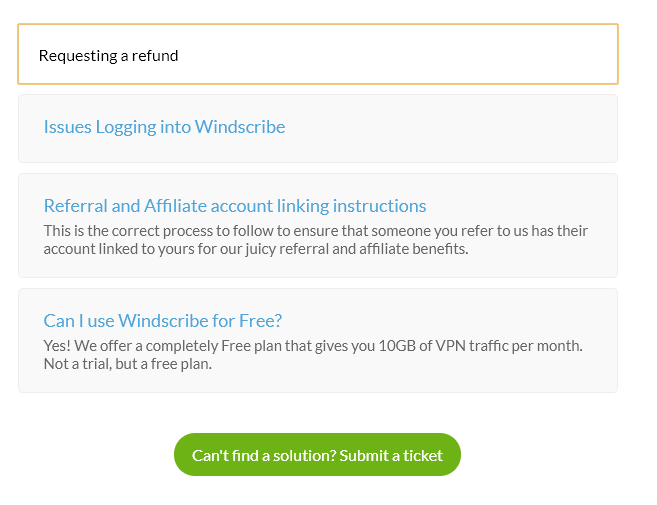 4. Fill in the subject, select Account Administration/Changes and write your request for a refund.

5. Scroll down and click the Submit Support Ticket button.
6. Ensure that your ticket has been submitted. You'll see the following message on the screen. Check your email for messages from the support team and confirm that you want your money refunded.

Windscribe's policy states that it will take no longer than 30 days to reimburse a refund. Chances are, you'll have the refund credited back within a reasonable period.
Summary
It's high time that you stop taking chances with internet security or the lack thereof. An intercepted email or other forms of online attacks can result in grave consequences. You'll want to take advantage of Windscribe to protect yourself from the endless threats online.
Windscribe has proven to be a reliable VPN that employs the strongest encryption and protocol.
Its application is user-friendly and it has built-in dedicated Netflix servers to allow unrestricted streaming for Netflix fans.
It's understandable if you'd like to try out Windscribe before committing to a subscription. While Windscribe has a free plan, we strongly suggest that you test out the paid Windscribe Pro by taking advantage of its 100% money-back guarantee.
Just follow our guide in claiming the free trial and requesting your refund. Unlike other VPNs, Windscribe has very strict money-back guarantee policy. The policy is only valid for 3 days and the condition of not exceeding 10GB of data usage.
You really don't want to mess this up so be sure to remind yourself to claim your refund before the end of those 3 days. Of course, there's a huge chance that you'll love Windscribe and would want to continue the subscription.
Either way, you should stop hesitating and putting your devices at risk. Instead, sign up to Windscribe to start your free trial now.