Surfshark is a feature-packed VPN that claims to offer sound security and privacy to online providers. But as wise consumers, you wouldn't want to take those claims at face value, especially if stated on its website. Therefore, it is important that you're able to try out Surfshark free trial before committing to a paid plan.
Instead, you'll want to get your hand on Surfshark VPN and try out all the features for yourself before determining if it is the right VPN for you. Of course, it will be great if you could do so without paying anything.
Not all VPNs are built equal. While some boast a huge number of VPN servers, others may offer reliable access to Netflix, which is an undeniably a major factor in choosing a VPN.
In this guide, we will show you how to claim your free trial with Surfshark and access all the features offered to premium members. With 30 days of the trial period, you're able to test out each aspect of Surfshark VPN to your heart's content.
Why You Should First Try a VPN
A VPN is only as good as it claims until you try it out. Common sense dictates that you shouldn't be risking your money for services like a VPN until you're sure that it meets all your requirements.
Every VPN claims that they are boosted with industry-grade protocol and encryption to protect your privacy and security online. However, there are some cases where VPNs can suffer from DNS-leaks, which exposes your IP address despite turning the service on. Trying out a VPN with its maximum security ensures that your online security is not compromised.
Setting up and using a VPN should be a hassle-free affair. But that definition may vary between users. By first trying out a VPN for free, you're able to decide if the user interface has an easy learning curve or if navigation will be a nightmare.
The ability to access Netflix while traveling abroad is one factor that has drawn users to subscribe to a VPN. Most VPNs claim that they are Netflix-friendly. However, there's a huge difference between accessing Netflix via a single VPN server vs. dozens of them. It's best to try it out if you're a Netflix fan.
Also, if you're not technically inclined, or have the time to figure out how to work things on your own, you'll want responsive customer support. And there's no better way to verify that by reaching out to the virtual helpdesk from a free trial account.
Why Surfshark?
Surfshark is a relatively new VPN in the crowded marketplace. But judging on users' feedback, it is making a strong impact in the industry.
If online security is your primary concern, you'll find that the choice of OpenVPN and IKEv2/IPSec coupled with the AES-256-GCM encryption, will keep you safe from the prying eyes of hackers and government agencies.
The strict no-logging policy and the fact that Surfshark is registered in the British Virgin Islands means it is not obliged to share users' data with authorities.
For Netflix fans, Surfshark does not disappoint. A great number of servers allow access to Netflix, including those located in the US, UK, and Canada. Of course, you'll need a reliable fast connection speed, and Surkshark has been up to expectation in that respect.
While its competitors often restrict connections to a limited number of devices, Surfshark does away with such limitation. That means you can connect every device that you own to Surfshark with a single account.
Besides the standard killswitch, Surfshark has a couple of features that can be handy. The MultihopTM allows enhanced protection by connecting to servers in multiple countries simultaneously. If you're obsessed with privacy, you can turn on the Camouflage Mode which renders your ISP clueless to the fact that you're using a VPN.
The Surfshark VPN app has a minimal design and is easy to use. But if you stumble across any problems, help is only a click away, in the form of a live chat. Alternatively, you can leave Surfshark a message on its contact form.
Surfshark's Free Trial – the Details
Technically, you don't get a Surfshark free trial in the strictest sense. All of the plans offered by Surfshark require a minimum financial commitment. However, that doesn't mean you can't try Surfshark for free.
Surfshark VPN offers a 30-day 100% money-back guarantee on any of its subscription plans. That means you're able to try out its premium features for 30 days and request a full refund during the trial period.
The reason why it's better to make use of the money-back guarantee instead of a "traditional" free trial is that, usually, free trials have limited features and they don't allow users to test out the full potential of the service. With the money-back guarantee, you have full access to all the features which allows you to test every aspect of the VPN to see if it meets your requirements.
By subscribing to Surfshark free trial, you'll have access to a highly secure VPN, considerably quick connection, and the access to Netflix from its range of servers. Also, you'll get to check out its customer support, which is an important factor when choosing a VPN.
Technically, there's no difference from Surfshark's free trial than a regular paid subscription, except that you're able to get your money back within the first 30 days.
How to Start Surfshark's Free Trial
If you're ready to take advantage of Surkshark's free trial, follow these simple steps:
1. Go to Surfshark's website and click on the Get Started button.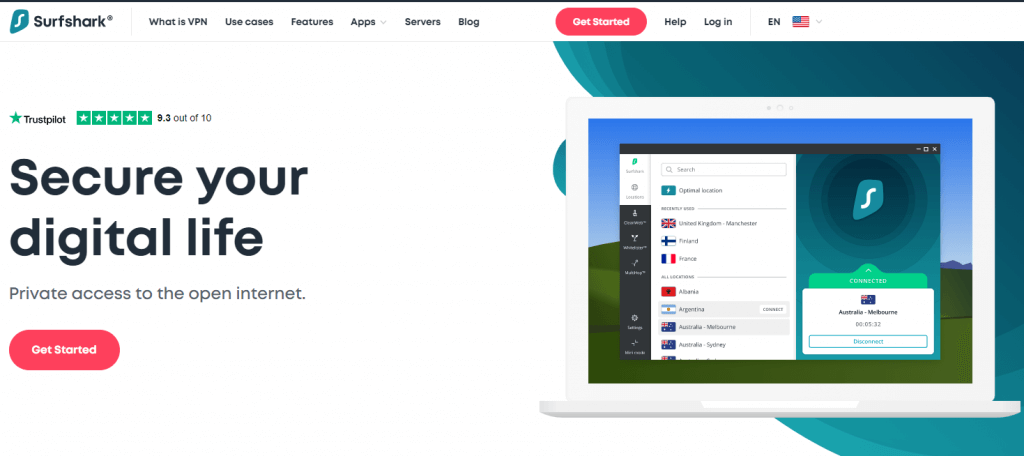 2. Choose any of the subscription plans. They are all covered by the 30-day money-back guarantee policy.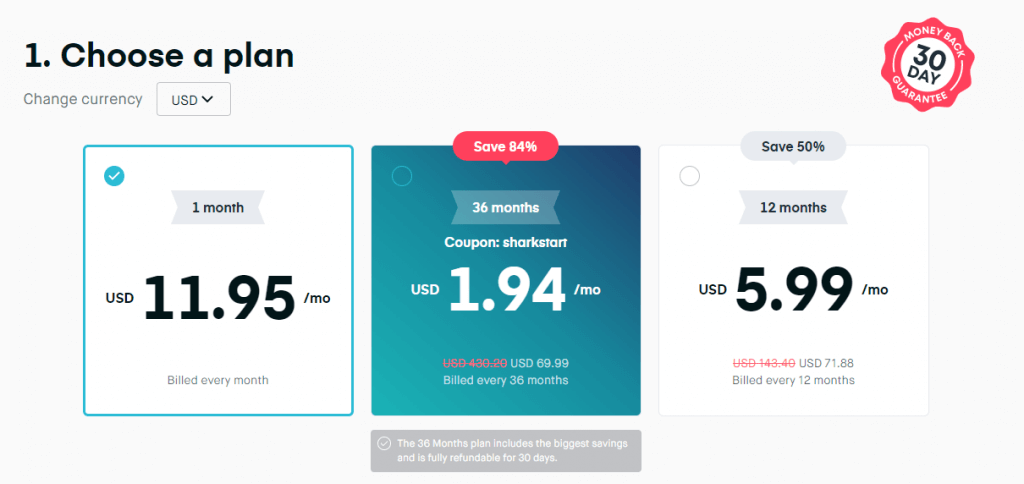 3. Enter your email to create an account.

4. Select your preferred payment method from the list provided. Fill in the details where applicable and click Complete Purchase.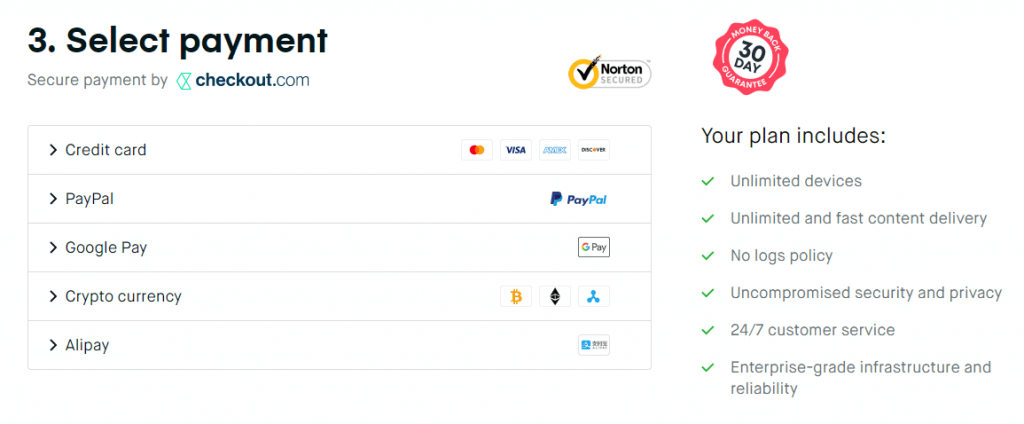 5. Confirm your order in the payment page as follows.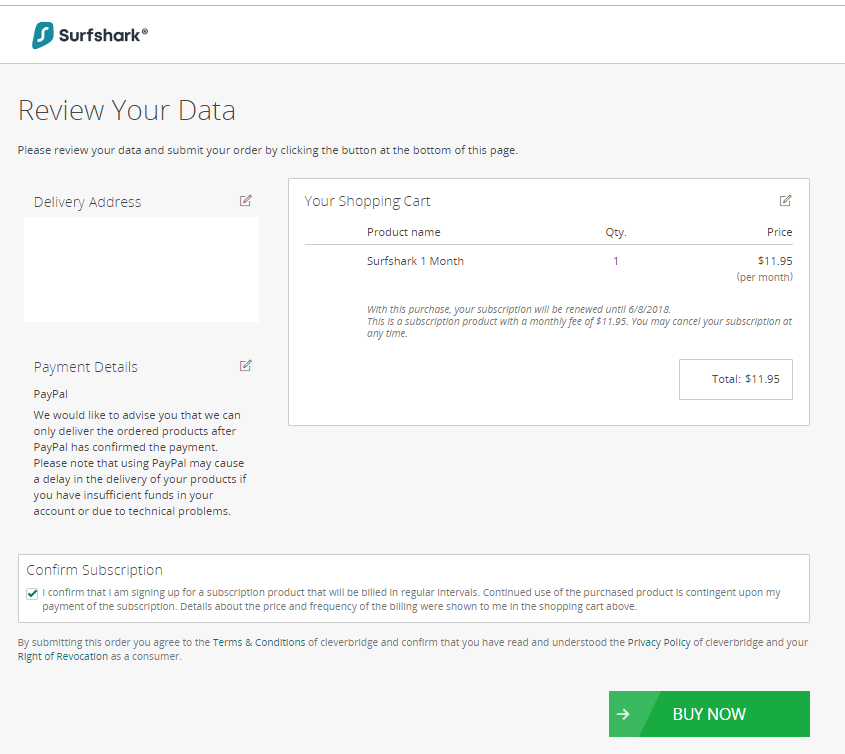 6. Click Continue to your Surfshark account.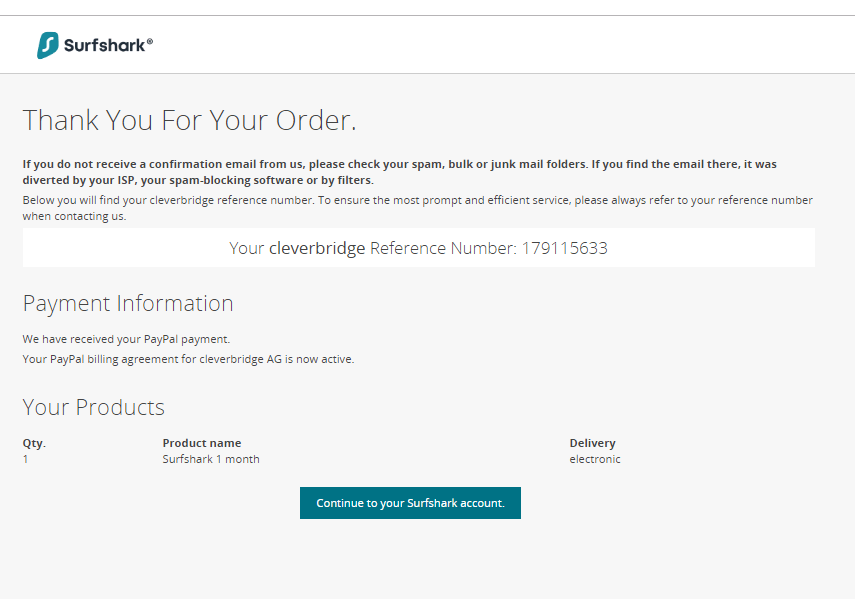 7. You will be redirected to a screen with a system-generated password. It is advisable that you change the password.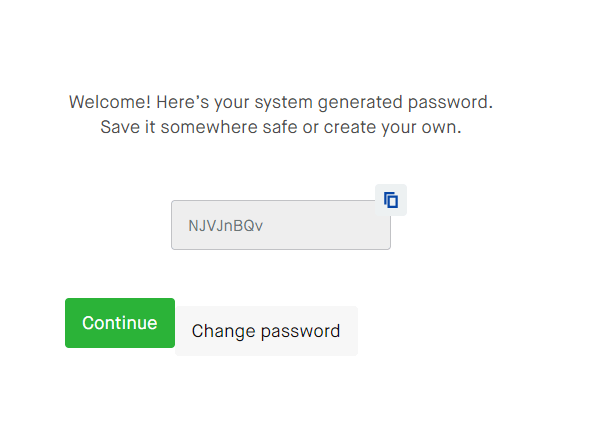 8. After changing the password, hit back to access your account.
9. Download the Surfshark app for your devices listed.

10. We've downloaded the Windows version of Surfshark and installed the application. Once the installation is done, click Run to launch Surfshark.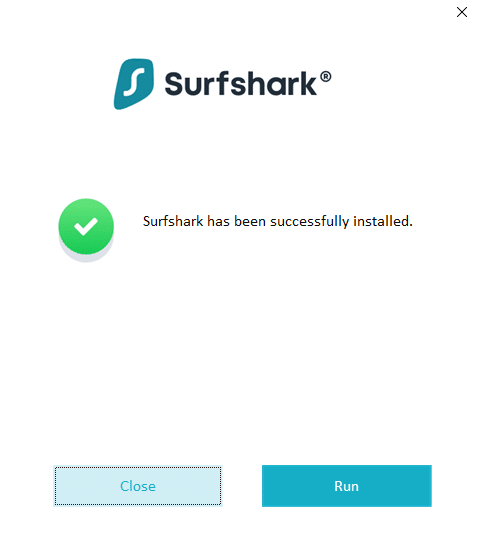 11. Log in to Surfshark client app with your credentials.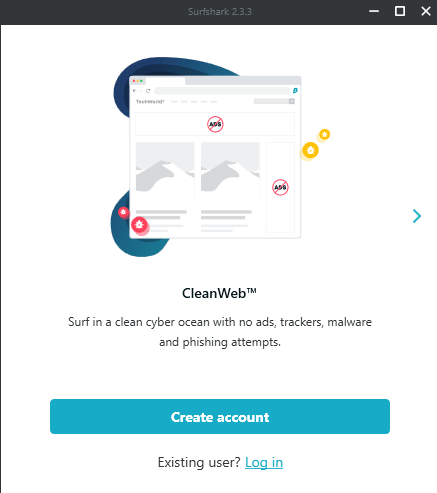 12. Once you've logged in, you'll be greeted with a dashboard and you can start connecting to a VPN server.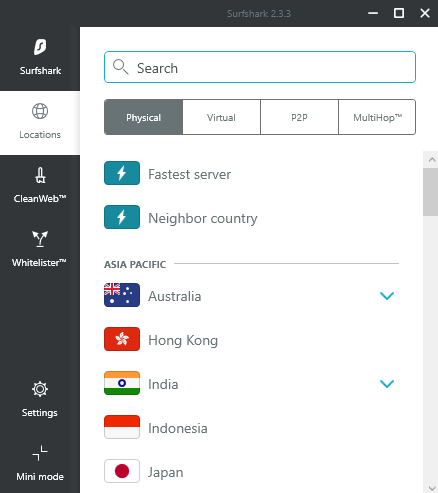 13. You're now able to enjoy an unlimited Surfshark free trial for 30 days.
How to Claim Your 30-Day 100% Money-Back Guarantee From Surfshark
If you're happy with Surfshark, you can continue the subscription without any other procedures. Otherwise, you can request your money back as long as it's within the 30 days of the free trial period.
Here's how to initiate a refund request from Surfshark.

1. Go to Surfshark's website and click Help on the top menu. You can request a refund by using the live chat, contact form, or sending an email to support@surfshark.com. In this case, we're going to use the contact form. Click Submit a Request to open up the contact form.

2. Fill in your email address and select billing. Then, indicate that you'd like to cancel your subscription and get a refund in the Description box.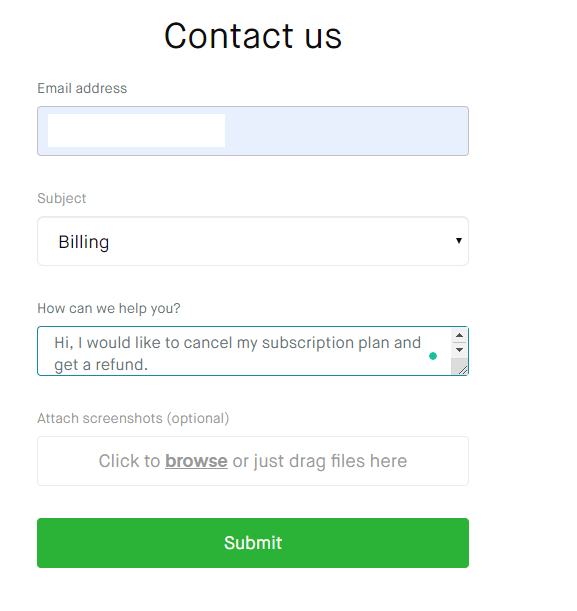 3. Click Submit to send the refund request. You'll be contacted by Surfshark within 24 hours and confirm that you want to get a refund.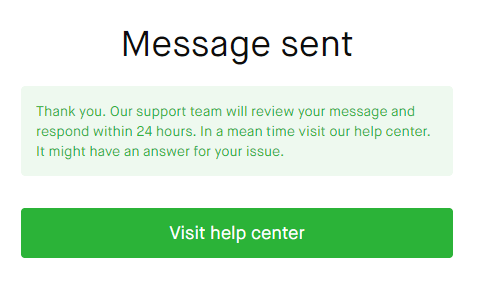 Of course, if you can't wait for 24 hours, you can use the live chat support to request your money back.
Summary
It's always a great idea to try out all the features of a VPN service before you make a long-term financial commitment. There's a great difference between trying out a free limited plan and enjoying full access to the features of a VPN without worrying about paying for it.
Whether you're enticed by its security or the Netflix-friendly feature, Surfshark is a newcomer that deserves your attention. While it doesn't have a free subscription plan, we have shown how you can make use of the 30-day money-back guarantee to try out the VPN.
By requesting a refund during the trial period, you're able to try out the full potential of Surfshark. It has solid security, and your privacy online is guaranteed. Besides, Surfshark is Netflix friendly and has a reliable quick connection.
Now that we've cast aside your worries of paying for a service you have not tested, you can try out Surfshark right now.