Swiss-based ProtonVPN is the brainchild of the same team of internet security experts who created the most secure email network in the world, ProtonMail.
The original intention behind this team of brilliant scientists, engineers, and developers was to ensure a more secure environment for journalists and activists around the world.
By putting their combined efforts together, ProtonVPN was born as the extension of the super-secure email network. At a glance, ProtonVPN lacks the hype of the marketing gimmicks of other competing VPNs.
It doesn't boast blazing VPN connection speed, nor does it blatantly claim that it supports Netflix. Instead, it focuses on privacy, security, and freedom. Judging by its dark-themed VPN software, ProtonVPN appears to be conveying its message loud and clear.
But did their emphasis on building a highly-protective VPN network result in the oversight of other nice-to-have features of a decent VPN?
Can you unblock Netflix with ProtonVPN? Is the software user-friendly or riddled with technicalities from the team that created it?
We'll tackle these questions and more in this comprehensive ProtonVPN review.
ProtonVPN at a Glance
Before we dig deeper into one of the most secure VPNs ever, here's what ProtonVPN is like at a glance.
Servers: The latest count of servers is 628, and they are spread over 44 countries.
Platforms: This VPN is available for Windows, Mac, iOS, and Android. ProtonVPN is also supported by selected routers.
Devices: With the ProtonVPN Visionary plan, users can connect up to 10 devices on a single account.
Security: Its Secure Core technology uses secure servers in the company's Swiss-hardened data center to effectively render IP address matching impossible.
ProtonVPN offers a free subscription of its services, but with limited speed, device connections, and only certain servers in the US, Netherlands, and Japan are supported.
Advanced features like P2P, Tor over VPN and Secure Core are only available for premium plans users. ProtonVPN offers 3 types of premium plans with different sets of features:
Basic – $4 / month (billed as $48 per year)
Plus – $8 / month ( billed as $96 per year)
Visionary – $24 / month ( billed as $288 per year)
All of its paid plans are backed by 30-day-money-back guarantee policy.
Read on and learn if it's worth subscribing to ProtonVPN.
ProtonVPN Review—The Pros
We had high hopes with ProtonVPN, especially in terms of security. Surely, a team of tech specialists that created a fully-encrypted email service could do no wrong with a VPN?
We were not left disappointed and are equally impressed with other aspects of ProtonVPN.
Here they are:
1. Fortress-Like Security
ProtonVPN has every reason to boast about its VPN fortress-like security. Indeed, the team proves once again that they are at the top of the game in developing a VPN with impressive security features.
Here's what impressed us.
Secure Core Servers – Instead of directly connecting devices to VPN servers, ProtonVPN introduces Secure Core architecture, which channels data to its secure core servers before the data is routed to the web.
You can enable Secure Core for additional protection. It will be impossible to identify the original IP address of your device as it is hidden by multiple layers of servers.
Industrial-Grade Encryption – Like any other decent VPN, ProtonVPN uses AES-256 to ensure that VPN connections are not compromised. AES-256 is literally unbreakable, even by brute force techniques.

If that's not enough, it ensures that the encryption key is only valid for a single session, which means attempts to acquire encrypted messages in the hope to have them decrypted later are futile.
Standard Protocols – ProtonVPN launched its service with only OpenVPN but has since supported IKEv2/IPSec. These protocols are proven to be secure and have been widely adopted in the industry.
2. Strict No Logs Policy
As a company that believes in internet freedom, ProtonVPN has a strict no-log policy. It has clearly spelled out what information is being retained in its privacy policy.
ProtonVPN does not keep logs of your IP address, browsing activities, and other information that may compromise your privacy.
Like any VPN services, ProtonVPN does store a minimum amount of data to facilitate payment and technical support.
ProtonVPN listed the following as part of the essential data stored:
Email address
Username
Billing information
3. Safe Jurisdiction
ProtonVPN is based in Switzerland, which is deemed a favorable country for services like VPNs. There are no data retention laws in Switzerland, and that means ProtonVPN is not compelled to log and store the data of its users.
Switzerland is also not a member of the Five Eyes or Fourteen Eyes alliances, which promote intelligence sharing between the member countries. This means it has no legal obligation to share intelligence with other countries.
In the rare event that ProtonVPN is requested to hand over data stored on its servers, the company will be unable to provide information that exposes the privacy of its users. That's because it doesn't store any.
Here's a case of data requested by a foreign country, but thanks to ProtonVPN's no-logging policy, nothing was handed over.
4. Easy To Use
Credits must go to the ProtonVPN team for keeping both the software and app simple.
The ProtonVPN Windows software features a modern-dark theme with a world map of available servers dominating the interface.
You can choose the preferred server location from the world map or from the countries list placed on the left panel.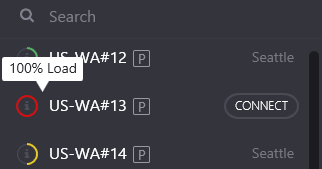 Each server has a load indicator that indicates traffic on the server with different colors. Avoid connecting to red-colored servers as you may experience slower connection speed due to the high traffic.
Advanced settings like accounts, profiles, and settings are tucked away in the expandable menu icon on the top left corner.
You'll also find the same navigational controls in the mobile app, albeit with slightly different arrangements.
Countries list, a map view, and the profiles are easily accessible on the home screen. A connection can be made by choosing a server and tapping on the connect button.
Alternatively, you can bring up the quick connect screen by tapping on the connection status at the bottom of the screen.
5. No DNS/IP Leak Detected
It'll be a shame if ProtonVPN suffers a breach of privacy in the form of DNS or IP leaks. Such a flaw exposes the IP address of the user even when he or she is connected to the VPN.
Thankfully, ProtonVPN has no such blemish, and we've tested to confirm that our IP address stays protected.
Here's a screenshot from IPLeak.net after we connect our computer to the ProtonVPN server in the Netherlands.
It was clear the ProtonVPN has successfully hidden our Asia IP address with one in the Netherlands.
6. Netflix Support
ProtonVPN does not openly claim Netflix-support, but it does state so in its FAQ page.
Netflix can be accessed via servers marked "P," which are available to paying ProtonVPN users.
Now, we know that Netflix has been blocking numerous VPNs from accessing its content, and we wanted to find out if ProtonVPN has been left off the hook. So we conducted our own test.
After connecting to a random ProtonVPN server in the US, we attempted to stream a Netflix TV show. We're pleased that we manage to stream Stranger Things without any hiccups.
Of course, you'll want to choose a server that is not heavy with traffic for a better experience.
We then connected to another random server in New Jersey and got the same unhindered access to Netflix.
7. Supports Tor Over VPN
Tor is the gateway to the underground of the Internet or the deep web. While the deep web has a shady reputation, it's also a means for journalists to keep communication safe from the prying eyes of governments
The conventional way to access the Tor network is to use special browsers. However, ProtonVPN allows you to access .onion websites in the deep web by connecting to specific VPN servers.
To turn on Tor over VPN, browse for servers with a postfix -TOR such as below. After connecting to the server, you can access the deep web with regular browsers.
8. Kill Switch
Every decent VPN needs a kill switch. A kill switch protects your privacy by blocking the data traffic when the VPN connection is interrupted.
Not only is ProtonVPN equipped with a kill switch, but it also has a feature that reconnects to the VPN server to recover from the dropped connection.
9.Torrenting-Friendly
ProtonVPN is a torrent-friendly VPN, although it didn't explicitly proclaim so on its homepage. It is a VPN service built by the best cryptography experts in the world and guarantees the anonymity of torrent downloaders.
Some servers on ProtonVPN are specifically optimized to handle P2P transfers. You'll find them marked with a double-arrow icon.
ProtonVPN—The Cons
While ProtonVPN impressed us with its security, the VPN does fall short in some other areas:
1. No Live Chat Support
The glaring absence of the live chat support is a huge let down for ProtonVPN. It helps to have someone on the other side of the screen to assist when you're stuck with the app or have other queries.
Users are stuck to the conventional ticketing support, which promises a response in 1-2 days. Depending on the urgency, the wait can be frustrating for some users.
We did try sending a ticket request, and we got a reply after 16 hours.
Of course, you may find the answer to your queries on ProtonVPN's support page, which is rather comprehensive.
But nothing beats a personal human touch when help is urgently required.
2. Inconsistent Speed
There's tremendous room for improvement when it comes to connection speed. ProtonVPN, for all its prowess in the security department, seems to fall short in providing blazing speed connection.
Despite its claims that all ProtonVPN servers have a minimum of 1 Gbps connection with some hitting the 10 Gbps mark, our speed test results showed nothing but frustration.
Here's our connection speed without connecting to a VPN.
We hit quick connect, and were connected to a random server in Singapore and noticed a slight drop in both download and upload speed.
Here's a result of what the connection speed looks like when we connect to a Tor-enabled server in Switzerland that has the lowest load.
We then connected to one of the low-traffic servers in the US and repeated the test. It isn't surprising that the download speed is half of what we get without a VPN.
The VPN speed test is affected by various parameters, including proximity to the VPN servers and the congestion at these servers.
You may have different results depending on your physical location, but these screenshots give you a rough idea of what to expect with ProtonVPN.
3. Expensive Long-Term Subscription
ProtonVPN offers 3 different packages of paid subscriptions: Basic, Plus, and Visionary. The Basic plan costs $4 per month but has limited features.
Most users will opt for the Plus package, which unlocks all features of ProtonVPN, except the ProtonMail Visionary. The Plus package has all the features needed by most VPN users and is priced at $8 per month.
It seems a fair price for a VPN, but if you intend to stick with ProtonVPN, there are no options to sign up for a 2 or 3 years plan with potentially higher savings.
There's also a catch in the 30-day-money-back guarantee policy. Unlike most VPNs, ProtonVPN will only return a prorated rate of the unused portion of the plan when you cancel during the 30 day trial period.
Check out the highlighted fine prints of ProtonVPN's T&C page.
Somehow, we feel that ProtonVPN could be more generous in this aspect.
Summary
ProtonVPN is undeniably one of the most secure VPNs available. The founding team of ProtonMail, the largest network of encrypted email in the world, worked their wonder with ProtonVPN.
With the secure core technology and critical infrastructure located in a military shelter, ProtonVPN takes security literally. The Netflix-support, Tor, and P2P servers on ProtonVPN are sweet icing on the cake.
However, the inconsistent speed, coupled with the lack of live chat support, may cause doubts for some users who are considering signing up for ProtonVPN.
Our verdict?
ProtonVPN is an excellent choice if you're a journalist or a career where online security triumphs above all else. However, if you're looking for a blazing speed VPN at a lower cost, there are other VPNs that are better options.