If you're hoping to watch HBO Max or sign up for its launch on May 27th, you might be out of luck. Unless you're in the US, loading HBO Max's homepage will return a discouraging message that states "HBO Max is not available in your region."
HBO Max is intended for the US audience, which means if you're outside of the US, you can't be a subscriber. How to watch HBO Max in Korea? However, there's a neat trick that will get you watching some of the most exciting shows on HBO Max even if you're in Korea or Japan.  
What's on HBO Max?
The hype that's surrounding HBO Max's premiere at the end of May is understandable. Subscribers will be treated to exciting titles from Warner Media and partners as well as new HBO original series.
For a start, you'll have access to the full series of Friends. HBO Max is also set to run a special airing of the Friends Reunion, where the original cast gets together in an unscripted gathering. It will be the first time the cast of the popular series has met up in years.
Other notable sitcoms that will be available on HBO Max are titles are The Big Bang Theory, Rick and Morty, and The Fresh Prince of Bel-Air. If you're a fan of these highly-rated series, you will want to sign up for HBO Max.
Like other streaming competitors, HBO max will also release original content. You can expect about 38 HBO Max's original titles in 2021. Fans of Batman will enjoy DC Superhero Night, where they'll be treated to how the Dark Knight is coping with life at high school.
Fans of horror best-selling author Stephen King can anticipate catching Overlook on HBO Max. It's an original piece that brings characters from The Shining to life in a fictional narration of haunted hotels.
You almost can't go wrong with a series featuring young ladies facing the frustrations of coping with growing and life in high school. College Girls, a comedy that follows the life of not one but three 18-year old roomies, is set to keep you begging for more.
For more, read: Friends Reunion on HBO and Other Upcoming Shows.
How to Watch HBO Max
As HBO Max is only intended for those who are in the US, it has a geo-restriction measure that blocks users with non-US IP addresses. If you're not in the US and try to access HBO Max, you'll end up with a screen like this.
Therefore, you'll need to mask your device's IP with one from the US to sign up for HBO Max.
A VPN is the perfect tool that allows you to take on a US-based IP and gain access to HBO Max's site. As long as you're connected to a VPN server in the US, HBO Max will identify the connection as local and grant you access to its library.
As simple as it is, we ought to remind you that not all VPNs will grant you the best streaming experience. It depends on the performance of the VPN servers that you're connected to. If you're in Asia or Australia, speed is crucial when streaming from HBO Max's server in the US.
Therefore, only VPN providers with fast streaming speed are worth your money. We're sticking to tried-and-proven choices when it comes to streaming high-resolution TV shows.
Private Internet Access is one of the best around.
Here's how to access HBO Max when you're not in the US.
Sign up for Private Internet Access VPN.
Install the VPN on your device. Check your email for your login credentials.
Launch the PIA VPN app and sign in with your credential.
Connect to a server in the US.
Since HBOMax now accepts only cards issued by American banks, we recommend signing up for one of the services (e.g. US Unlocked) to get an American prepaid virtual card.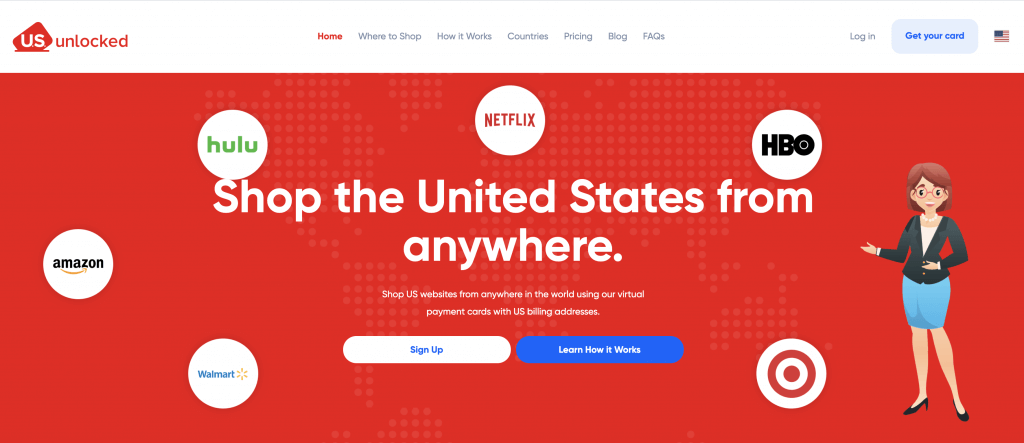 Go to HBOMax.com
You can now sign up for HBO Max.
Best VPNs to Watch HBO Max
| | | | | |
| --- | --- | --- | --- | --- |
| FEATURES | ClearVPN | NordVPN | PIA | ExpressVPN |
| Unblocks HBO Max | ✅ | ✅ | ✅ | ✅ |
| High-speed for streaming | ✅ | ✅ | ✅ | ✅ |
| AES-256 encryption | ✅ | ✅ | ✅ | ✅ |
| Number of countries | 50+ | 59  | 45+ | 94+ |
| No-logs policy | ✅ | ✅ | ✅ | ✅ |
| 24/7 Customer support | ✅ | ✅ | ✅ | ✅ |
| No of devices | 6 | 5 | 10 | 6 |
| Starting Cost (Monthly) | $10.36 | $11.95 | $9.95 | $12.95 |
Problems accessing HBO Max with a VPN
There may be times when you'll encounter problems unblocking and streaming content even if you're using an HBO Max VPN. If you're having trouble connecting to a specific server, it's possible that you're using an ineffective VPN or have an unstable connection.
Try using a different server or switching to a premium VPN like Surfshark or NordVPN. Oftentimes, this solves the problem.
Another possibility is that you might be experiencing a cache error. If you're trying to figure out how to watch HBO Max in Korea and everything was working well at some point, then this is the most likely cause. To fix it, try clearing your cache or pick a different US-based server.
If nothing else works, contact the customer support team of your chosen VPN provider (usually live chat).
Summary
Come May 27th, you don't have to feel sorry about missing the TV shows on HBO Max. Even if you're not in the US, having a VPN app installed will allow you to stream the much-awaited content.