Welcome to our Assguard VPN review! This fairly new player in the VPN business is already gaining popularity, although not much information about the service is available. In this review, we aim to bridge the gap by providing an overview of what Assguard has to offer. Only then can you decide if it's the right VPN service for your needs.
What Is Assguard VPN?
Assguard is a UK-based VPN service provider that, despite being a newcomer, promises some great features like the ability to protect users' online presence and unblock any content on the Internet. This is exactly the thing every VPN user is up for. So does it work, and how does the confidence they've put into their app translate into real-world applications for users? Let's find out!
Assguard VPN Review – the Pros
Let's start with some of the notable things we've liked about the Assguard VPN. Even though they're new and practically unheard of by most VPN users, Assguard has got a lot of things right which includes the following:
Solid VPN security
Assguard offers the usual bells and whistles you'd expect out of a VPN service. This includes the same AES-256 encryption used by big banks and government institutions for data security.
Following extensive testing, we've verified that the VPN service works and does an excellent job of concealing the personal information of users and encrypting all data coming in and out of whatever device it's running on.
Similar to most reputable VPN services on the market, Assguard also implements a no data logging policy, which means that they don't collect or store the personal information of users. The only downside is that Assguard is based in the UK, which puts it in the reach of international intelligence communities like the "Five Eyes" alliance.
Free to start and affordable pricing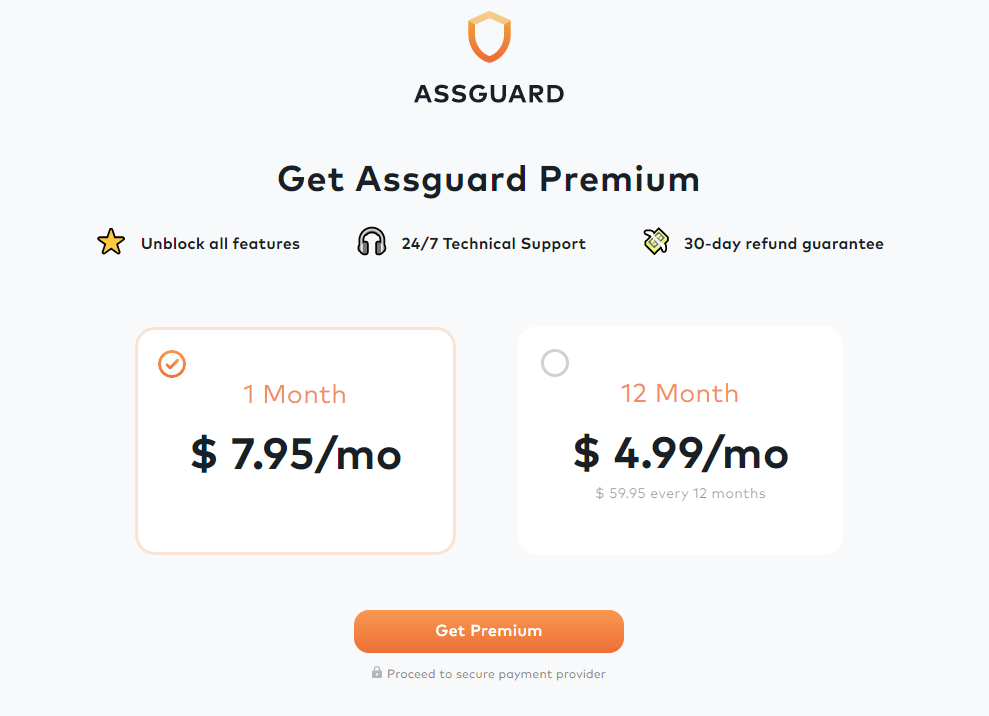 Perhaps the best thing about Assguard is that you can start using it for free (with limitations, of course). All you have to do is download the compatible VPN client for your device, which we'll cover in a later section.
In our testing, we've found out you can use Assguard for free for two things — play online games and unblock torrent sites. However, upon further analysis, we've discovered that free shortcuts vary from region to region. In our testing, other shortcuts for the VPN, such as watching Netflix US, online streaming, and encrypting your connection, these options are locked and can only be enabled by upgrading to a premium account.

As you can see from the image above, Assguard charges $7.95 per month for their VPN service, which is significantly cheaper than most other VPN services. If you pre-pay for a year, you can drop the price even lower at $4.99 per month.
They also offer a 30-day money-back guarantee. This means you'll have more than enough time to evaluate the VPN service and whether it performs to your liking.
Decent server speeds
While Assguard isn't the fastest VPN service we've tried, it performs well enough for average users. As with any VPN, download speeds dropped with the VPN enabled but not by much. We did notice an increase in ping (latency) and a small reduction in upload speeds.
We did a fair amount of testing (using a free account), and here are the results:
VPN Turned Off (Base Speed)

VPN Enabled

Easy to use
Assguard's UI is unique in that it keeps things incredibly simple for users. All you have to do is click on a toggle switch right next to your desired activity. Possibly, one of the best we've seen in quite a while.
If you've never used a VPN before and solely concerned with unblocking content and securing your privacy, then this is a quality that you'd surely appreciate.
Multiple Devices
Assguard offers up to six devices per a single account, which will come in handy if you want to have a shared account with your friend, or family, or use it on both phone and desktop.
Responsive 24/7 Support
Communication with customers is the real threshold for any service. While some VPNs claim to be 24/7 at your disposal, it's usually a mere buzzword. Assguard's team definitely did their homework for support communication. The speed, emotiveness and responsiveness to the issues make Assguard's support exemplary to the numerous other services we've already reviewed.
The Cons
Of course, this wouldn't be a proper review if we didn't go over the cons, which are all worth considering:
Lack of advanced features
We get that Assguard is trying to keep things as simple as possible for VPN users. However, we couldn't help but notice that Assguard lacks some advanced features which would have been useful.

One particular feature that has become a staple for most premium VPNs is an Internet kill switch, which disables your internet connection whenever the VPN connection fails. Unfortunately, Assguard doesn't have it, which means that in the event the latter happens, you'll be stuck with an unsecured connection and not even realize it.
However, according to the Assguard support team, this feature is in the pipeline, so hopefully, it will be installed soon.
Limited server options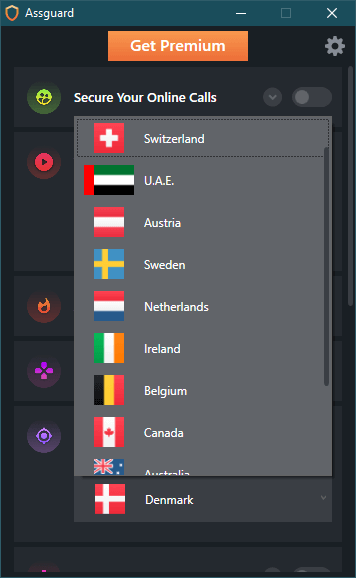 Upgrading to a paid account with Assguard unlocks the option to select a VPN server from a specific country. Unfortunately, you are only limited to 15 countries, which can be disappointing, especially when other VPN services offer so much more at a similar price range.

Mixed reviews on mobile devices
At the time of writing, Assguard (known as Azzguard on mobile) has a rating of 2.2 out of 5 stars on Google Play (Android devices). This is somewhat disappointing, with complaints mostly coming from the UAE region and varying from VPN app not working, slow performance. After research, we've concluded this might be a local UAE issue.
On the upside, the reviews in AppStore are engaging with a rating of 4.2 out of 5 stars. The overall verdict, Assguard is a new kid on the block and hopefully, they'll iron out the Android issues soon.
How to Use Assguard
So now you've learned the pros and cons as well as what to expect when using Assguard for your VPN service, you might be wondering — how do you start using it? Well, it's not as difficult as you might think and can be done in a few simple steps:
Download and install the Assguard VPN Client on your device.
Log on to the Assguard website and scroll down to the section that says, "Different Platforms." From here, you can download a compatible VPN client installer for your device. For this review, we'll be referencing their Windows VPN Client, although the interface should be somewhat similar for other supported devices.
Note that as of this writing, the macOS version of their VPN client is still unavailable. That said, Assguard has put out a statement that they're still currently working on it and that a macOS version of their VPN client will be available in the future. We'll focus on the Windows client.
Complete the installation process and run the Assguard VPN Client.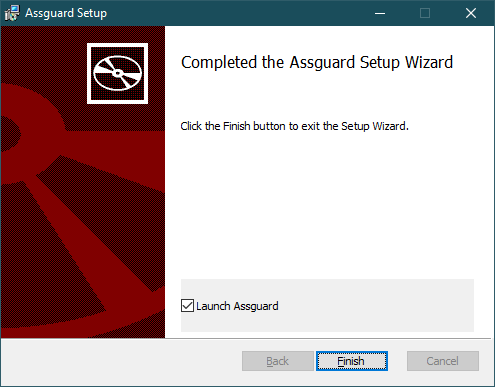 Install the Assguard VPN client just like any other application, then run it on your device.
Activate the VPN Connection.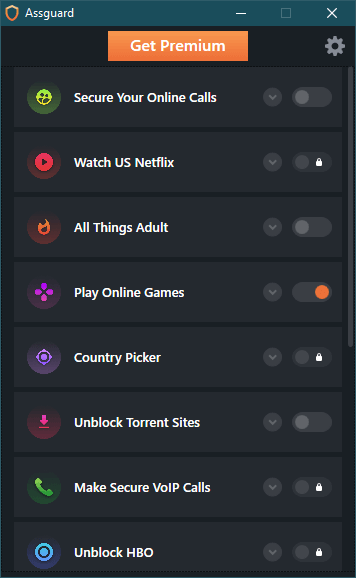 At this point, you should be looking at the Assguard VPN dashboard. Activating the VPN connection is a fairly straightforward process. Just click on the toggle switch right next to the activity that you're looking to do, and you're all set!
You may have noticed that most of the options are locked out. If you want to enable them, then you'll have to upgrade to a premium account.
To check that the VPN service is indeed active and securing your connection, you can go to WhatIsMyIP.com. Verify that the IP address indicated in the lookup is different from your real one.

Is Assguard VPN Good?
Being a considerably new VPN in the market, Assguard has attracted mixed reviews amongst users. Is it a good VPN that will keep you secure?

Yes, we definitely thought so. Assguard VPN has all the necessary features to ensure the privacy and security of its users. We couldn't find any technical flaws that may jeopardize your privacy when using the VPN. 
With that said, Assguard has a shaky reputation for its app on the iOS platform. Unless improvements are made, you may have a subpar experience compared to its Android version. Also, Assguard lacks advanced features that are offered by its more established competitors. For example, it's missing the kill switch, which is a de-facto feature in many other VPNs.
Our conclusion, Assguard is a decent VPN if you're looking for a user-friendly VPN for casual browsing. It's worth keeping an eye on it as it's sure to improve.
Summary
So there you have it — everything that you need to know and can expect out of Assguard VPN! Is it the best VPN service out there? Probably not yet, but it offers enough to get newcomers interested. This is especially for people with no technical knowledge about VPNs and just want to protect their personal information and get around content restrictions on the Internet.
Assguard also has one of the best interfaces you might get for the price. Add a truly exemplary support service to the equation, and you'll have a promising service that has its fair share of advantages. If that sounds a lot like you, then Assguard VPN is well worth a try, especially with the 30-day trial period.